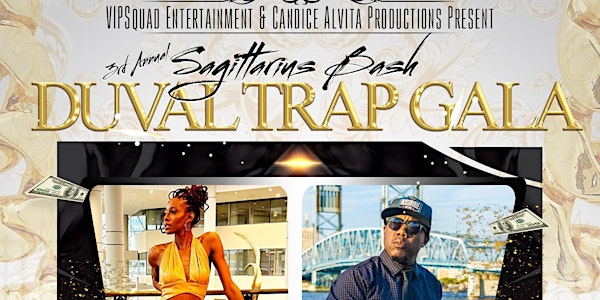 3rd Annual Duval Trap Gala: Sagittarius Bash 2022
Another dapperly dope occasion. Take a break from the usual & celebrate the culture + Sagittarius Szn at the trap
When and where
Location
Billion's Palace 5238 Norwood Ave Jacksonville, FL 32208
About this event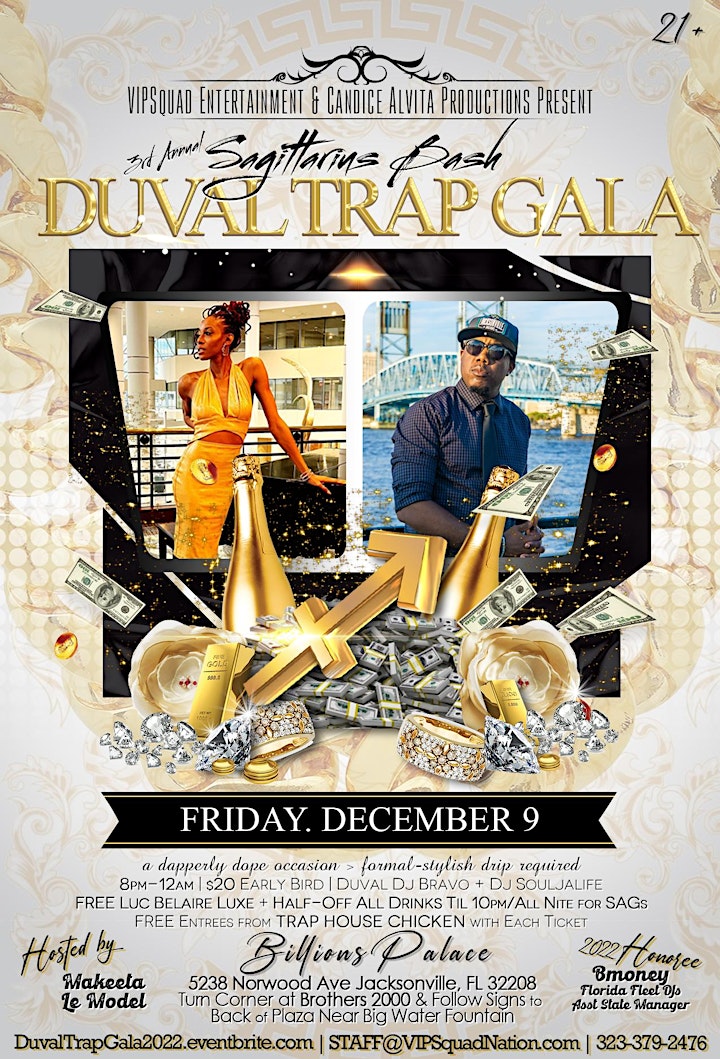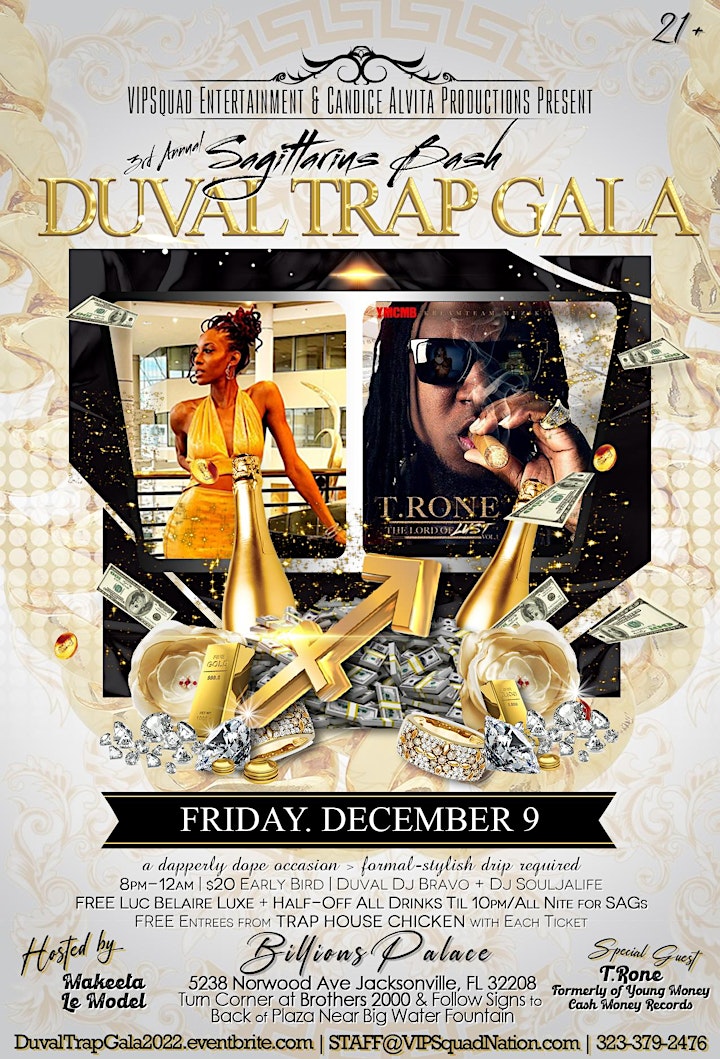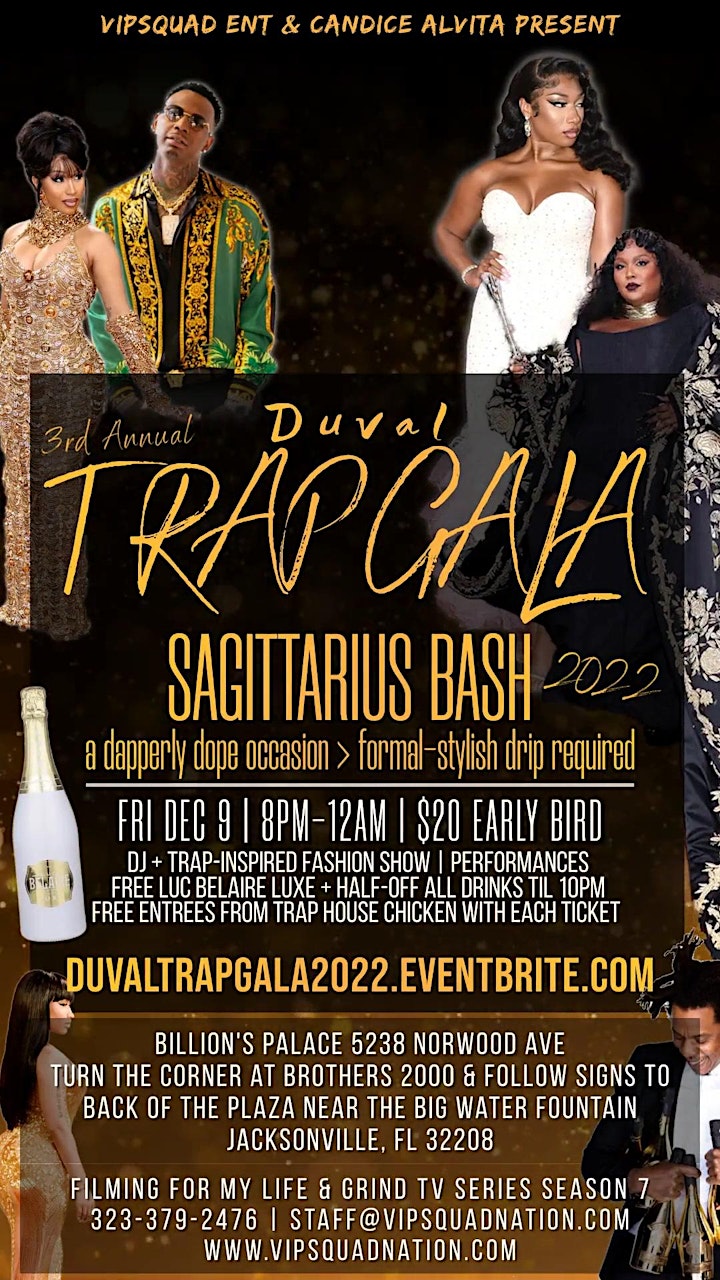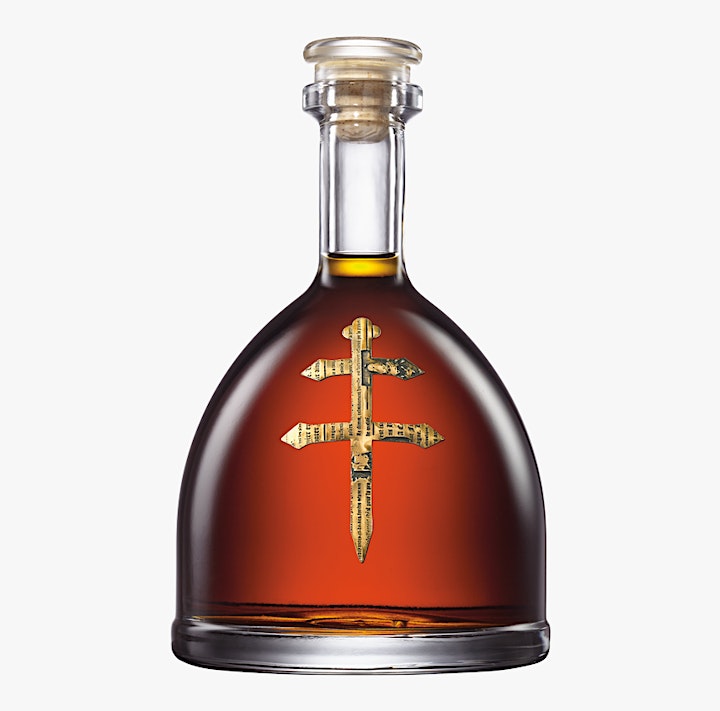 >>Each Ticket Purchased is Automatically Entered into the 750 mL D'Usse Bottle Giveaway Raffle<< (Winner Announced At Event)
VIPSquad Entertainment | Candice Alvita Productions | My Life & Grind | True Music Talent | Rollo Hustle Music Group
3rd Annual Duval Trap Gala: Sagittarius Bash 2022
a dapperly dope occasion; formal-stylish drip required -- ALSO collecting gifts and toys for underserved local youth and socks, knit caps, and clothing/sanitary supplies for those in need ♐ a carefully curated celebration of TRAP MUSIC + STYLE + CULTURE -- All Sagittarius birthdays enjoy half-off drinks all night + FREE Luc Belaire Luxe while it lasts, all night -- giveaways for best dressed male & female so come camera-ready!
>> FRI Dec 9
The Trap Gala #LITUATION commences at 8pm and concludes promptly and expeditiously at 12am @ the TRAP -- 5238 Norwood Ave, Jacksonville, FL 32208 (on the side facing Hibbett Sports/44th St., **directly across from the old Tax Collector's Office** -- turn the corner at Brothers 2000, drive down toward the big pond/water fountain at the back of the plaza)
>>Each Purchased Ticket is Automatically Entered into the 750 mL D'Usse Bottle Giveaway Raffle<< (Winner Announced At Event)
**No Drama @ the Bando** Full Security On Site | 21+ Entry ONLY | Cash Bar & Each Ticket Includes Full Access to the Buffet | Catered by TRAP HOUSE CHICKEN -- home of the famous Hennessy Wings and Side Chick Sandwiches | Drinks mixed by Stella's Bartending | Hosted by Makeeta Le Model | Music by Duval DJ Bravo + DJ Souljalife (Fleet DJs) | DTG22 Honoree: BMoney - Assistant State Manager, Florida Fleet DJs & More Surprise Guests TBA as event date approaches
Guests are encouraged to bring donations of kids' toys, school supplies, and/or sanitary supplies for our annual holiday drive for underserved local students and teachers.
-- LIVE Taping of Jacksonville-based CW17 Urban Entertainment TV Series -- LIVE from New Jax City's New Jax City: Uncut + Prime Video's My Life & Grind TV Series-- CONTENT recorded from the events TELEVISED -- like/follow these links to be the first to check out the footage which might feature YOU -->
www.youtube.com/LifeGrindDuval | SUBSCRIBE to Live from New Jax City/New Jax City Uncut: https://www.youtube.com/channel/UC45nxzzJT9dsKPzATawYWQQ
Duval DJ Bravo & DJ Soulja Life will be on the 1's and 2's spinning Trap classics and recents. Make sure you come hungry, trap-inspired buffet is provided by TRAP HOUSE CHICKEN located on Jacksonville's southside, along with a full liquor/beer bar serviced by Stella's Bartenders.
Enjoy a few performances from some of Duval and surrounding areas' best performing rap and R&B artists along with a Fashion Show showcasing a couple local designers' threads and models, coordinated by Candice Alvita Productions
Special guests include Sony Music/RHMG Rep Rollo Hustle and more surprise guests TBA -- TICKETS AVAILABLE AT SUPER EARLY BIRD RATES until October 1st | 2nd early bird phase October 2nd-November 3rd | Full price November 4th-December 9th (subject to increase at door; limited capacity event -- early purchase strongly suggested)
OFFICIAL AFTER PARTY @ DJ Gitt's All Black Sagittarius Bash ♐⛎🥂
3rd Annual Duval Trap Gala: Sagittarius Bash 2022 EventPage: https://DuvalTrapGala2022.eventbrite.com
3rd Annual Duval Trap Gala: Sagittarius Bash 2022 Facebook Page: https://www.facebook.com/events/edit/632731218565077/
TICKET INFO (ALL TICKETS INCLUDE BUFFET TICKET; EARLY ARRIVAL STRONGLY SUGGESTED)
SUPER EARLY BIRD TICKETS (9/16-10/1): $14
EARLY BIRD TICKETS (10/2-11/3): $20
REGULAR TICKETS (11/4-12/10): $26
VIP (INCLUDES BOTTLE OF CHAMPAGNE* AND RESERVED + PREFERRED SEATING): $46 Before November 3rd for Individual; $60 After | $174 for Group of 4 OR for Individual with Premium 750 mL Liquor Bottle + Service before November 3rd; $224 After; Email STAFF@VIPSquadNation.com for Full Table Reservations (good for groups of 8)
*All guests in your group must be 21 years of age or older-- individual VIP with Champagne does not include table service (bar service only) -- all group orders and premium bottle orders include table service -- bottle orders should be placed before event day December 9th
PERFORMANCE SPOT (WITH ADVANCE PROMO AND FOOTAGE): EMAIL STAFF@VIPSQUADNATION.COM FOR INFO
VENDOR SPOT (WITH ADVANCE PROMO): EMAIL STAFF@VIPSQUADNATION.COM FOR INFO
EMAIL STAFF@VIPSquadNation.com to RESERVE VIP Seating next to special guests, hosts, etc. (this option is not available on Eventbrite) or to pay for any ticket option mentioned above via CashApp, Venmo, etc.
CW17 Commercial features "BOSSY" and "Flawda Ish", new single by Dez Nado available TODAY @ SPOTIFY
and your Favorite Streaming Apps @ https://deznado.hearnow.com/
www.VIPSquadNation.com (buy the single, get the full #LPYHTwerkTape when it drops this spring for FREE) where you can also buy the whole #LPYH90sTape album for the exclusive price of $4, also @
**MASKS & SOCIAL DISTANCING ENCOURAGED FOR INDOOR AREA-- Limited Entry**
Guests MUST have tickets in order to attend, no exceptions
-Interested in Vending at these Events?
-Got a Brand/Business, Event, Talent, or Client who Could Benefit from Exposure to 80,000+ Potential Consumers that our Promotional/Marketing Campaign will Reach?
-Interested in Sponsoring any of these Televised Events and Receiving Unmatchable Visibility and Unrivaled Access to our NE Florida/SE Georgia Demographic? Let's Work!
>> CONTACT: 323-379-2476 or STAFF@VIPSquadNation.com <<
END OF EVENT INFORMATION
________________________________________________
Check Out our Affiliates' Recent Projects:
Got bars? hit us up to get on #FreestyleFilez9 the unofficial #BETHipHopAwards weekend mixtape which will include audio straight from the GREEN CARPET from the 2022 Awards -- Upload starts BET Hip Hop Awards weekend September 2022 & continues through A3C, HBCU Homecoming SZN, and Halloween wknd October 2022. Only the hottest will make this tape. Want on? Hit us up! VIPSquadNation.com
Every September/October, the unofficial BET Hip Hop Awards Weekend mixtape FREESTYLE FILEZ hits #ATL (or wherever the Awards are; #Miami in 2018 and 2017) and features some of the HOTTEST indie & major bars, freestyles, cyphers, and conscious talent all on one tape -- like the page Freestyle Filez - Mixtape Series & be the first to DL/stream 2022's release OR download the latest editions directly from www.VIPSquadNation.com in FULL for FREE today
The mixtape series that follows Freestyle Filez produced by VIPSquad DJs is Florida's Finest/ #FLAsFinest which is released in November after #FAMUHomecoming weekend & before #FloridaClassic weekend where the #FLAsFinest6 release party was held in Orlando in 2018 and again in 2019
The mixtape series that have generated over 650,000 REAL plays/downloads: Freestyle Filez + Florida's Finest!-- prod by VIPSquad DJs VIPSquad Entertainment @vipsquadent -- VIPSquad DJs
_____________________________________________________________
Check out LINKS to past versions (650,000+ REAL Plays/Downloads since 2012) @
Freestyle Filez: Volume 1 (Mixtape - Hosted by Dez Nado) - May 2012 - Indie release – DatPiff Rating: 3 Stars; 332 plays/downloads DatPiff/MediaFire, 500 CDs distributed – Album of the Summer 2011 (Hip Hop Stardom Magazine) https://www.datpiff.com/Dez-Nado-Freestyle-Filez-Volume-1...
Freestyle Filez: Volume 2 (Mixtape - Hosted by Dez Nado) - October 2012 - DatPiff Rating: 5 Stars; 1,302 plays/downloads, 350 CDs distributed https://www.datpiff.com/Dez-Nado-Freestyle-Filez-Volume-2...
#FLAsFinest (Mixtape - Hosted by VIPSquad Entertainment) - June 2013 - DatPiff Rating: 5 Stars; 128,210 plays/downloads | www.soundcloud.com/flasfinest
#FLAsFinest2 (Mixtape - Hosted by VIPSquad Entertainment) - July 2014 - Indie - DatPiff Rating: 3 Stars; 11,751 plays/downloads | www.soundcloud.com/flasfinest2
Freestyle Filez: Volume 3 (Double Mixtape - Hosted by Dez Nado & VIPSquad DJs) - Sept 2015 - Indie - DatPiff Rating: 5 Stars; 9,616 plays/downloads www.soundcloud.com/freestylefilez3
Florida's Finest 3 (Double Album - Hosted by Dez Nado & VIPSquad DJs) - Nov 2015 - DatPiff Rating: 5 Stars; 177,985 plays/downloads www.audiomack.com/artist/flasfinest3/
LaDolceVita (Album)/Futuristic A-Side; Duele B-Side Singles - March 2016 - Universal Music Group/VIPSquad Entertainment 105,000+ Sound Exchange/Pandora streams, 2,000+Spotify Streams/Downloads, 2,000+ iTunes/Amazon Streams/Downloads, Indie Digi/Physical Distribution: 13,560 (Digiwaxx/PlayMPE Int'l distribution); 389 Total DJ downloads, global www.soundcloud.com/DezNadoLaDolceVita
Freestyle Filez: Volume 4 (Double Mixtape - Hosted by Dez Nado & VIPSquad DJs) - Sept 2016 - Indie - multi-platform plays/streams; 115,000+ https://www.audiomack.com/artist/freestylefilez4
Florida's Finest Vol. 4 (Double Mixtape - Hosted by Dez Nado & VIPSquad DJs) - Nov 2016 - Indie - VibeMixtapes/Independent Release Rating: 5 Stars; 3,054 Independent Downloads (Media Fire) 17,000+ plays https://www.audiomack.com/artist/flasfinest4
https://www.mediafire.com/file/yga2pbtnxp9gsb6/FLAsFinest4_FULL_Mixtape_by_VIPSquadDJs.zip/file
Florida's Finest Vol. 5 (Double Mixtape - Released Independently & Hosted by 1017 Brick Squad Mafia Gang Nation Artist Seerious Penny & Dez Nado) - Nov 2017 - MEDIAFIRE Secure Full Download - SoundCloud -- 815 Independent Downloads, 10,011 multi-platform plays/streams Total https://www.mediafire.com/file/6d4zaz5b5jom5uc/FLAsFinest5_FULL_Final_-_VIPSquad_DJs.zip/file
https://soundcloud.com/flasfinest5
Freestyle Filez Vol. 5 (Double Mixtape - Released Independently & Hosted by 1017 Brick Squad Mafia Gang Nation Artist Seerious Penny & Dez Nado) - Oct 2017 - MEDIAFIRE Secure Full Download - SoundCloud -- 425 Independent Downloads, 5,885 multi-platform plays/streams Total https://www.mediafire.com/file/e5wmeigavgsppcp/Freestyle_Filez_5_-_VIPSquad_DJs_FULL_DOUBLE_MIXTAPE.zip/file
Freestyle Filez Vol. 6 (Double Mixtape - Released Independently & Hosted by Dez Nado) - Sept 2018 - MEDIAFIRE Secure Full Download - SoundCloud -- 296 Independent Downloads, 7,500 multi-platform plays/streams Total https://audiomack.com/artist/dez-nado-1 | https://www.mediafire.com/file/iqcjhytk71d394t/Freestyile_Filez_6_FULL_Final.zip/file
Florida's Finest Vol. 6 (Double Mixtape - Released Independently & Hosted by Dez Nado & DJ Purfiya) - Oct 2018 - MEDIAFIRE Secure Full Download - SoundCloud -- 375+ Independent Downloads, 11,000+ multi-platform plays/streams Total https://audiomack.com/artist/flasfinest6 | https://www.mediafire.com/file/lyvv04wucmpciju/FLAsFinest6_Official_Double_SauceTape_-_VIPSquad_ENT.zip/file
Freestyle Filez Vol. 7 (Double Mixtape - Released Independently & Hosted by Dez Nado) - Sept 2019 - MEDIAFIRE Secure Full Download - SoundCloud
75+ Independent downloads - 13,000+ multi-platform plays/streams https://www.mediafire.com/file/fcj1vataz6hxo67/Freestyle_Filez_7_FULL_Triple_SauceTape_BETHHA2019.zip/file
https://audiomack.com/freestylefilez7
Florida's Finest Vol. 7 (Double Mixtape - Released Independently & Hosted by Dez Nado & Sony/Divine Rep Rollo Hustle) - Oct 2019 - MEDIAFIRE Secure Full Download - SoundCloud
32,000+ multi-platform plays/streams - 125+ Independent downloads
https://audiomack.com/flasfinest7
https://www.mediafire.com/file/elrli9jkrp7kgml/FLAsFinest7_FULL_MIXTAPE_FINAL.zip/file
Freestyle Filez Vol. 8 (Double Mixtape - Released Indie & Hosted by Dez Nado) - Oct/Nov 2021 - MediaFire secure download @ VIPSquadNation.com | Stream: https://soundcloud.com/freestylefilez8 | https://audiomack.com/freestylefilez8
Florida's Finest Vol. 8 (Double Mixtape - Indie Release & Hosted by Dez Nado) - Nov/Dec 2021 https://audiomack.com/flasfinest8 | http://www.soundcloud.com/flasfinest8 MediaFire secure download @ VIPSquadNation.com
Freestyle Filez Vol. 9 - drops September 2022
Florida's Finest Vol. 9 - drops October 2022
PRESS/INFO >>>>> Follow www.facebook.com/VIPSquadDJs for up-to-the-minute updates as each month's featured event approaches
CONTENT recorded from the events will be TELEVISED on CW17 & DeKalb-Comcast 25 Atlanta -- like/follow these links to be the first to check out the footage which might feature YOU -->
www.youtube.com/LifeGrindDuval | SUBSCRIBE to Live from New Jax City/New Jax City Uncut: https://www.youtube.com/channel/UC45nxzzJT9dsKPzATawYWQQ
www.facebook.com/LifeGrindDuval | www,facebook.com/NewJaxCityLIVE -- Instagram: @LifeGrindDuval & @NewJaxCityLIVE | @SaucySundaysJax | http://www.instagram.com/saucysundaysjax | LIVE from New Jax City Past BET Awards Media Coverage -- https://youtu.be/Dnvq-NoQY8c | www.facebook.com/LifeGrindATL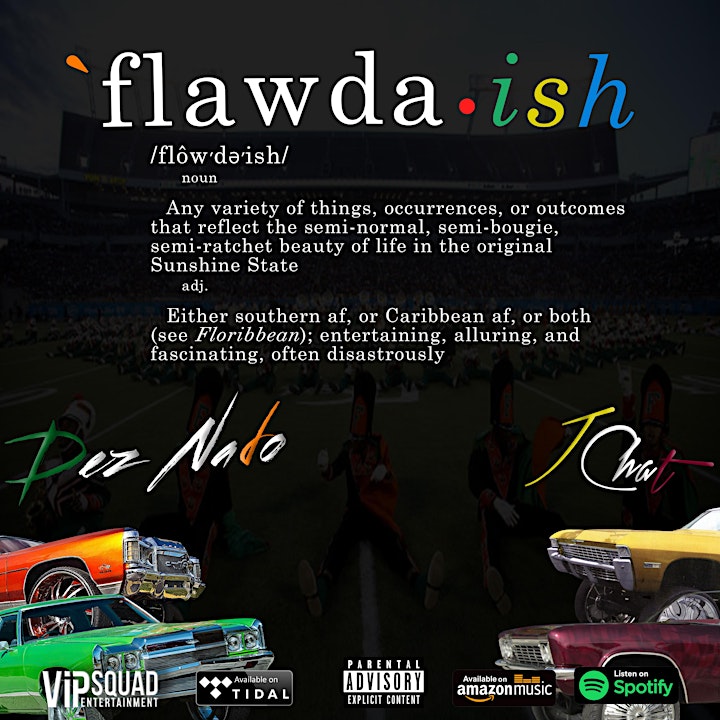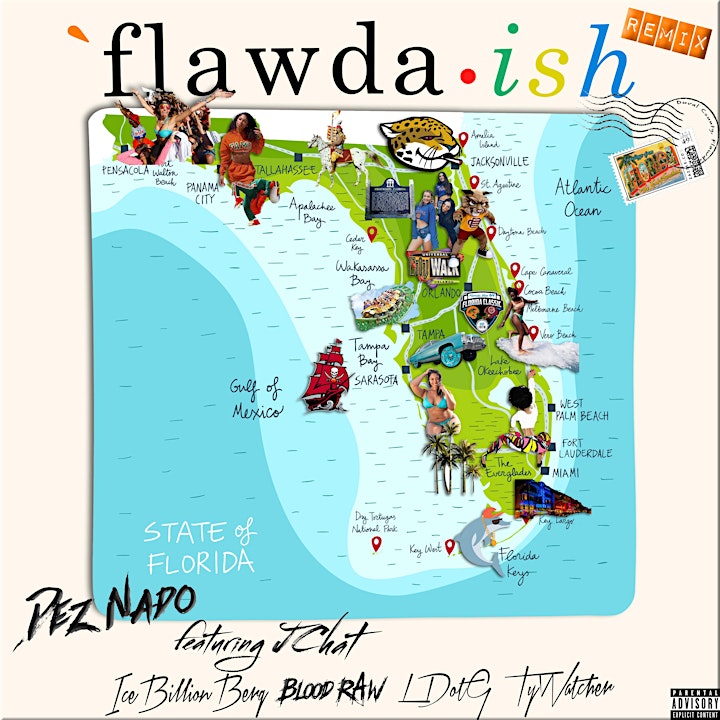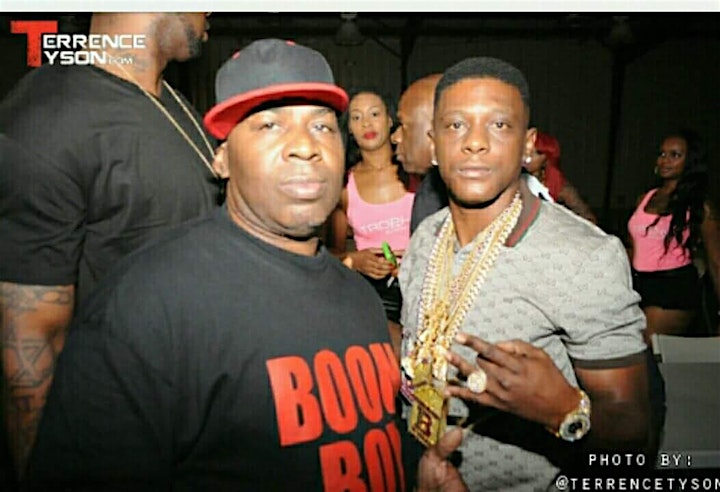 Rollo Hustle, special guest