Description
AGENDA
6:00-6:30 Registration + Reception
6:30-7:00 Introduction by co-organizers Barbara Hanna and Nora Toure
7:00-8:00 Panel
8:00-8:20 General QA for all three speakers
8:20-9:00 Networking
PANELISTS

Liza Wallach Kloski co-founded HoneyPoint3D in 2013 with her husband, Nick Kloski. HoneyPoint3D offers classes for all skill and age levels, rapid prototyping, 3D Modeling, Scanning and Printing Services. Considered a 3D Printing retail expert, Liza has been interviewed on CNN, RT Television, San Francisco Business Times, KGO, most Bay Area newspapers and many more. Liza and Nick Kloski are the coauthors of Make Magazine's newest book on 3D printing titled, "Getting Started with 3D Printing," which is on Amazon.com now.

Christina Douk has been a part of the 3D industry since 2010. From video games, commercial vfx, product design, film, and toys, she has a variety of skills through the industries that are now being implemented into her 3D printed pieces. She currently works in Film at The Third Floor Inc. in southern California as an Asset Builder for pre-visualization, as well as a 3D sculptor for Powercore.io creating toy prototypes for mass production. During her free time, Christina collaborates with several talented concept artists creating unique sculptures for games, toy production, and just for fun. Her goal for the future is to continue production of sculptures and toys for artists as well as producing her own line of designer toys releasing in November 2016. You can see her work here.

Lisa Federici successfully launched Scansite3D in 1991. Scansite3D has forge many long term and successful working relationships with a variety of companies such as Boeing, The Metropolitan Museum of Art, NASA, Tesla, NIKE, Hyundai, Warner Bros, Square, Stanford University and the Smithsonian. Scansite3D is the leading provider of high resolution 3D digitizing and reverse engineering services and the application of these technologies to advance the fields of manufacturing, automotive, industrial design, art, aerospace and cultural heritage.
MODERATORS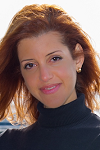 Barbara Hanna is the founder of Cyant. Barbara is a Technologist and Entrepreneur passionate about fostering technology that educates, empowers and/or connects individuals. A woman owned and led company working towards B-Corp status, Cyant is particularly committed to help empowering women and girls. Cyant is also committed to continuously developing novel tools and experiences for the benefit of its customers and community, and is proud to contribute to women-led tech innovation.

Nora Toure is an Additive Manufacturing expert and engaged in inspiring women to embrace Tech. careers in the 3D Printing industry.She started her career in the Additive Manufacturing in 2010 by joining online 3D Printing service leader, Sculpteo. Nora founded Women in 3D Printing in 2014 to feature women leaders in the Additive Manufacturing industry through interviews and portraits.Pursuing her vision for more social inclusion, she recently joined 3D Africa as Board Advisor. As part of her vocation to contribute to the development of the industry, Nora is also Board Advisor for 3DHeals.