Description
Cyant and Women in 3D Printing are presenting #3DTalk, an industry specific and educational event series focused on 3D printing and related technologies, and featuring leading women in the industry. #3DTalk panels are open to everyone: men and women, kids and adults, novice and experts in 3D Printing. Monthly events are organized in San Francisco, New York area and Paris, France all year long.

Learn more about #3DTalk, our past and future events here.
This 3DTalk will focus on design and how 3D Printing is opening new opportunities, from being able to create new types of design, working new materials, and using new methods of production, to opening avenues for research, environmental impact and creating new types of businesses.

Thank you to Inside 3D Printing and Samsung Next NYC for co-hosting us and this event!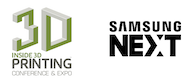 AGENDA
6:00-6:30 Registration + Reception
6:30-6:45 Introduction by co-organizers Barbara Hanna and Nora Toure
6:45-7:45 Panel and Q & A

7:45-8:30 Networking
PANELISTS

Virginia Estrada is known for her unique approach to materials and her classic but modern style. Her current work is influenced by her early years, two artful decades ago, as a painter and sculptor. She was greatly inspired by architectural form and space, which had a profound effect on the direction her work has taken over the years. Now Virginia is harnessing the newest tools of technology, specifically the 3D printing process. These tools enable the artist to expand her vision, imagination and capabilities even further, and to explore new approaches to design. Virginia designs original objects and environments for clients including CNN, Saks Fifth Avenue, Barneys New York; and for commercial and residential spaces. Her work has been featured in The New York Times, New York Magazine, Vanity Fair, Chicago Tribune , Elle, Vogue, Interview, Bazaar, Le Nouvel Observateur, Ryukotsushin and others. Her photographs have been frequently displayed as on-air set design at CNN and in private collections. Her hand carved alabaster and wood jewelry was in the biennial juried exhibition LOOT: 2010 at the Museum of Arts and Design.

Darlene Farris-Labar is an environmental artist that uses 3D printing technology to promote and educate about the natural environment, climate change and biodiversity. The goal of her work is to combine nature and technology in an attempt to bring awareness to current environmental concerns. Her most recent work involves the designing and 3D printing of native plants and flowers that currently exist with in various locations. This work serves a diverse community and provides education and awareness about a changing culture and vulnerable natural environment. Her desire is to bring attention to the health of our natural surroundings and the vulnerable species that influence our future existence. Historically, my art embodies the results of research through environmental interaction.


Selin Olmsted is a sun and optical designer for brands in the U.S. and England. She discovered her passion for art and design at a young age while growing up in Istanbul, Turkey. She was continually influenced by the diverse textures around her such as the Aegean sea and its intricate bays versus the metropolitan cityscapes. This with her love of fashion brought her to NYC to study at The Fashion Institute of Technology. After graduating from F.I.T.'s Fashion Design BFA program, Selin designed menswear for 10 years. From the menswear field, Selin became a full-time designer at Warby Parker and became educated in the field of eyewear. Along with her colleagues, she created several collections from concept to production. After Warby Parker, Selin ventured out on her own and became an independent designer.

MODERATORS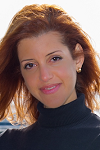 Barbara Hanna, PhD is the founder of Cyant. Barbara is a Technologist and Entrepreneur passionate about fostering technology that educates, empowers and/or connects individuals. Cyant connects art and technology to foster learning, creativity and engagement through products and experiences. A woman owned and led company working towards B-Corp status, Cyant is particularly committed to help empowering women and girls. Cyant is also committed to continuously developing novel tools and experiences for the benefit of its customers and community, and is proud to contribute to women-led tech innovation.

Nora Toure is an Additive Manufacturing expert and engaged in inspiring women to embrace Tech. careers in the 3D Printing industry.She started her career in the Additive Manufacturing in 2010 by joining online 3D Printing service leader, Sculpteo. Nora founded Women in 3D Printing in 2014 to feature women leaders in the Additive Manufacturing industry through interviews and portraits.Pursuing her vision for more social inclusion, she recently joined 3D Africa as Board Advisor. As part of her vocation to contribute to the development of the industry, Nora is also Board Advisor for 3DHeals.

Thank you to our media sponsors: 3DPrint.com!