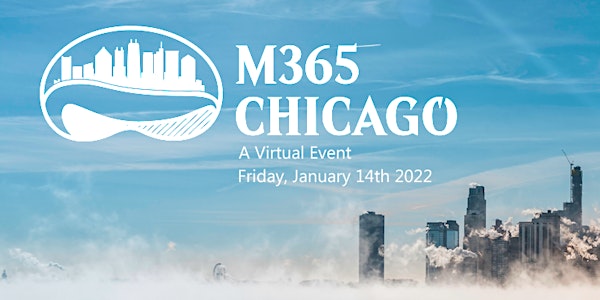 365 Below in Chicago - Virtual Event
M365 Below in Chicago!, an On The Spot Network event, on Jan 14th to share the latest information on Microsoft 365 and the Modern Workplace
About this event
​Our 11th event, "M365 Below in Chicago!"​ will be held on ​Friday, January 14th, 2022 in Microsoft Teams. The event will run from 8:30 am ~ 4:30 pm Central Time. ​
Microsoft 365 specialists, Cloud IT administrators, Power Platform administrators, end-users, architects, developers, and other professionals that work with Microsoft Collaboration or Cloud Technologies will meet to share the latest information for working with anything and everything related to Microsoft 365 and Power Platform.
"M365 Below in Chicago!" is a community-led event dedicated to educate and engage members of the technical community. Our event draws upon the expertise of IT Professionals, Microsoft MVPs, Developers, Solution Architects, and other experts who come together to share their real-world experiences, lessons learned, best practices, and general knowledge with other like-minded individuals.
It's will be cold outside, so come to our event and warm up with sessions on:
Teams
Power Platform
Employee Experience (Microsoft Viva)
SharePoint, OneDrive, Office, and Yammer
User Adoption & Productivity
M365 Security and Compliance
You will get event access information the week before the event. For more information on speakers and sessions visit: The M365 Chicago site.