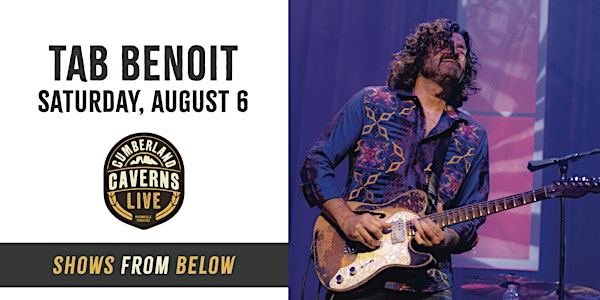 Tab Benoit at Cumberland Caverns Live - McMinnville TN - 8/06
Event Information
Performers
Location
Cumberland Caverns Live
1437 Cumberland Caverns Rd
McMinnville, TN 37110
Join Tab Benoit for a one-of-a-kind concert experience 333 feet underground in the spectacular Volcano Room!
About this event
Welcome to Tennessee's largest show cave. Conveniently located between Nashville, Chattanooga, and Gatlinburg, Cumberland Caverns Live offers a one-of-a-kind concert experience!
Located 333 feet below ground, concerts are hosted in The Volcano Room, a natural amphitheater. Here water and time entwined many years ago to create one of the most acoustically pure natural spaces on earth. No man-made sound reaches the Volcano Room and the living rock hued amid the eons is jagged and uneven, providing limited echo. The primordial silence and perpetual darkness give way to the sounds of the finest music on earth. Regardless of outside temperature, the Volcano Room is a constant 56 degrees with 99% humidity.
We recommend wearing athletic-style shoes best-suited for walking or hiking (no sandals/flip flops). Some guests feel cool immediately upon entering the cave but warm up after a few minutes of moving around. Once you are seated for your concert it can feel quite cool, you may want to bring a thin, long sleeve shirt or jacket. The walk from the parking lot to the mouth of the cave is a little under 1/4 mile, and then once inside the cave another ~1/4 mile to The Volcano Room.
Please note: The cave, and the concert venue in the cave, are not handicap accessible due to the uneven pathways, stairs, steep uphill and downhill slopes, and there are some areas that do not have handrails. Strollers, walkers, wheelchairs, etc., will not make it through the cave and we cannot shuttle guests to or from the cave. We strive to keep the cave as natural as possible, but make it safe for our guests to enjoy.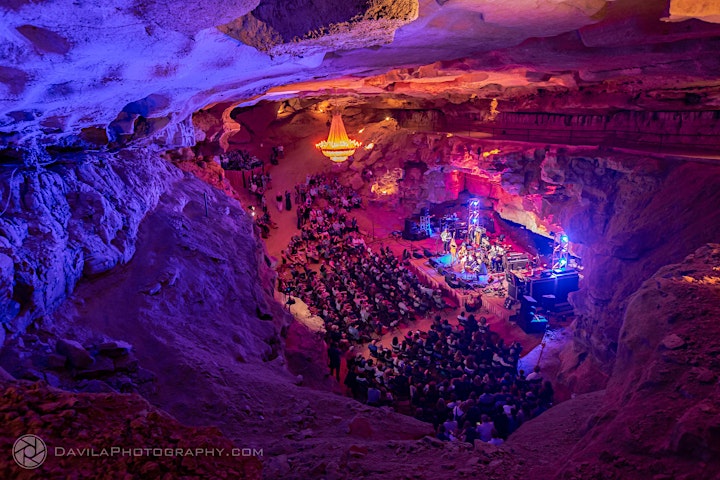 Cumberland Caverns Live is a seated General Admission venue with three entry tiers.
Premium Access - $65.00 per ticket
Enjoy access to The Volcano Room 75 minutes prior to showtime.
Early Entry - $55.00 per ticket
Enjoy access to The Volcano Room 65 minutes prior to showtime.
General Admission - $45.00 per ticket
Enjoy access to The Volcano Room 55 minutes prior to showtime.
Pre-Show Cave Tour - $16.00 per ticket
Want to explore Cumberland Caverns beyond the Volcano Room? Add the 333 Exploration Tour Package and come early for this hour-long pre-show tour that will take you to seven different parts of Cumberland Caverns. You will also be treated to a birds-eye view of the world-famous Volcano Room stage from high atop the balcony. Make the most of your time with us and explore our beautiful cavern on a concert day! $26.95 value!
*333 Exploration Tour Ticket does not act as a concert ticket. Cumberland Caverns will not allow access into The Volcano Room during the concert unless you have a separate ticket for that show*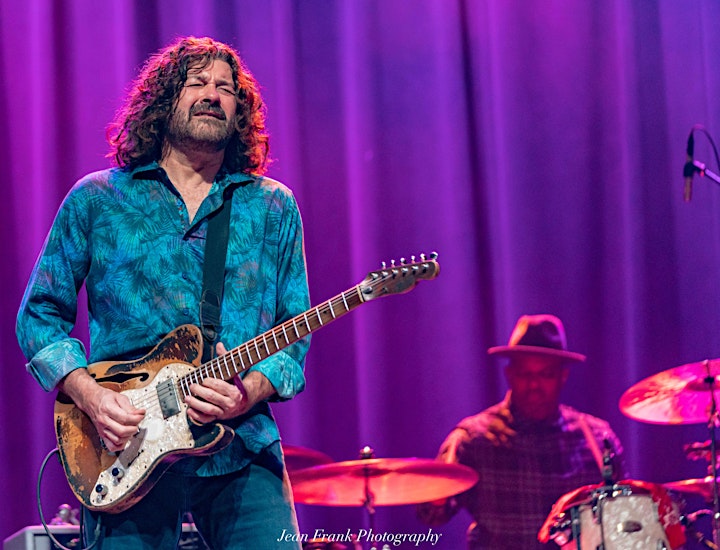 Tab Benoit is a Grammy-nominated singer, songwriter, and guitarist who has built a remarkable 30+ year career on the foundation of his gritty and soulful Delta swamp blues, acquiring a devoted legion of fans along the way, as well as 5 Blues Music Awards, including BB King Entertainer of the Year (twice) and induction into The Louisiana Music Hall of Fame. He has recorded and/or performed with Junior Wells, George Porter Jr, Dr. John, Willie Nelson, Big Chief Monk Boudreaux, Billy Joe Shaver, Maria Muldaur, James Cotton, Cyril Neville, Kenny Aronoff, Allen Toussaint, Kim Wilson, Jimmy Thackery, Charlie Musslewhite, Kenny Neal, Chris Layton, Ivan Neville, Jimmy Hall, Jim Lauderdale, Anders Osborne, and Alvin Youngblood Hart to name a few. Tab's accomplishments as a musician are matched only by his devotion to the environmental health of his native Louisiana wetlands. Benoit is the founder and driving force behind Voice of the Wetlands, an organization working to preserve the coastal waters of his home state. In 2010, he received the Governor's Award for Conservationist of the Year from the Louisiana Wildlife Federation. Benoit also starred in the iMax motion picture Hurricane on the Bayou, a documentary of Hurricane Katrina's effects and a call to protect and restore the wetlands.
Performers
Date and time
Location
Cumberland Caverns Live
1437 Cumberland Caverns Rd
McMinnville, TN 37110
Refund policy