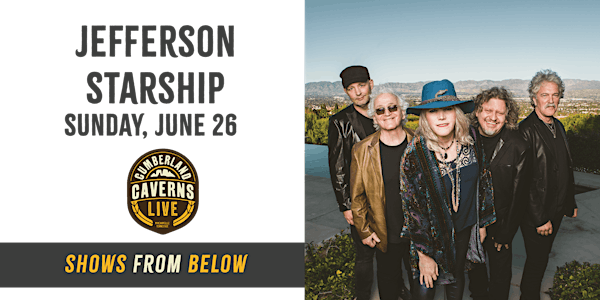 Jefferson Starship at Cumberland Caverns Live - McMinnville TN - 6/26
Event Information
Performers
Location
Cumberland Caverns Live
1437 Cumberland Caverns Rd
McMinnville, TN 37110
Join Jefferson Starship for a one-of-a-kind concert experience 333 feet underground in the spectacular Volcano Room!
About this event
Welcome to Tennessee's largest show cave. Conveniently located between Nashville, Chattanooga, and Gatlinburg, Cumberland Caverns Live offers a one-of-a-kind concert experience!
Located 333 feet below ground, concerts are hosted in The Volcano Room, a natural amphitheater. Here water and time entwined many years ago to create one of the most acoustically pure natural spaces on earth. No man-made sound reaches the Volcano Room and the living rock hued amid the eons is jagged and uneven, providing limited echo. The primordial silence and perpetual darkness give way to the sounds of the finest music on earth. Regardless of outside temperature, the Volcano Room is a constant 56 degrees with 99% humidity.
We recommend wearing athletic-style shoes best-suited for walking or hiking (no sandals/flip flops). Some guests feel cool immediately upon entering the cave but warm up after a few minutes of moving around. Once you are seated for your concert it can feel quite cool, you may want to bring a thin, long sleeve shirt or jacket. The walk from the parking lot to the mouth of the cave is a little under 1/4 mile, and then once inside the cave another ~1/4 mile to The Volcano Room.
Please note: The cave, and the concert venue in the cave, are not handicap accessible due to the uneven pathways, stairs, steep uphill and downhill slopes, and there are some areas that do not have handrails. Strollers, walkers, wheelchairs, etc., will not make it through the cave and we cannot shuttle guests to or from the cave. We strive to keep the cave as natural as possible, but make it safe for our guests to enjoy.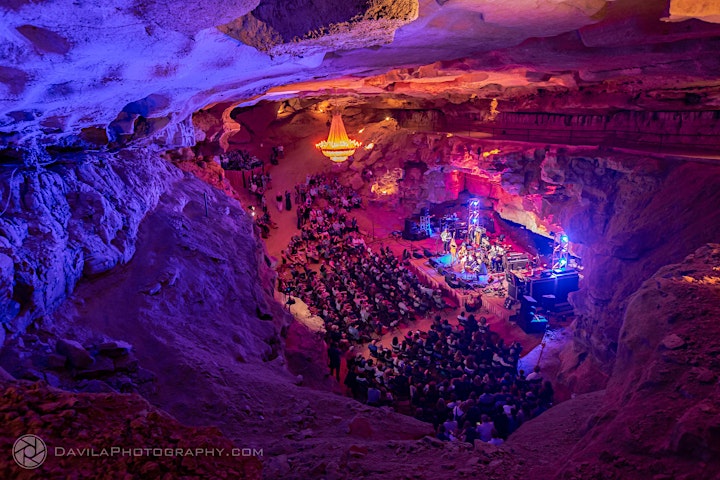 Cumberland Caverns Live is a seated General Admission venue with three entry tiers.
Premium Access - $79.50 per ticket
Enjoy access to The Volcano Room 75 minutes prior to showtime.
Early Entry - $69.50 per ticket
Enjoy access to The Volcano Room 65 minutes prior to showtime.
General Admission - $59.50 per ticket
Enjoy access to The Volcano Room 55 minutes prior to showtime.
Pre-Show Cave Tour - $16 per ticket
Want to explore Cumberland Caverns beyond the Volcano Room? Add the 333 Exploration Tour Package and come early for this hour-long pre-show tour that will take you to seven different parts of Cumberland Caverns. You will also be treated to a birds-eye view of the world-famous Volcano Room stage from high atop the balcony. Make the most of your time with us and explore our beautiful cavern on a concert day! $26.95 value!
*333 Exploration Tour Ticket does not act as a concert ticket. Cumberland Caverns will not allow access into The Volcano Room during the concert unless you have a separate ticket for that show*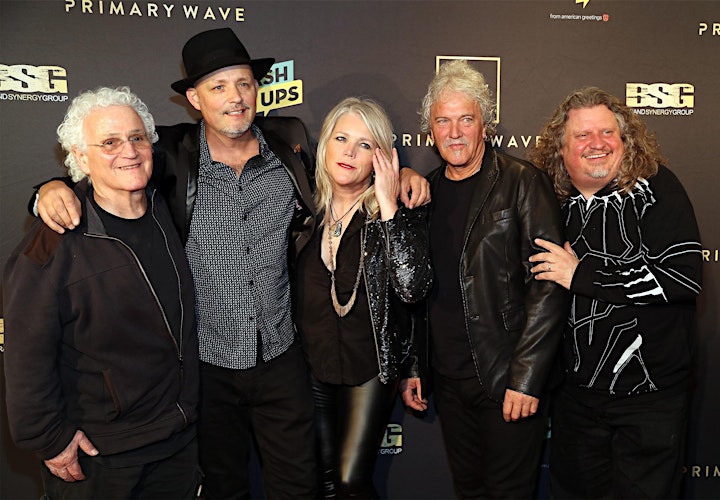 Jefferson Starship is one of the most successful arena rock groups of the 1970s and 80s, earning 3 platinum and 8 gold records, as well as numerous Top 40 singles. While Jefferson Starship continues to tour today, the band has experienced numerous lineup and personnel changes, and each of those members has contributed to the magic and alchemy that make Jefferson Starship iconic.
The legend of Jefferson Starship begins in 1970 when Paul Kantner released an album titled BLOWS AGAINST THE EMPIRE under the artist name "Paul Kantner and the Jefferson Starship". The story, however, begins with the coalescence of the band Jefferson Starship itself, in 1974. That collection of talent included John Barbata, Craig Chaquico, Papa John Creach, David Freiberg, Paul Kantner, Peter Kaukonen, and Grace Slick. They first toured as Jefferson Starship in 1974 and released the album, DRAGON FLY, which was certified gold in 1975. Kaukonen departed the lineup after that initial tour and the remaining members welcomed Pete Sears on bass. Shortly thereafter, Marty Balin joined the Jefferson Starship lineup. Balin had co-founded Jefferson Airplane with Paul Kantner, and the Airplane roster also included Grace Slick, David Freiberg, and Papa John Creach at various points during that band's existence. Balin's addition to the Jefferson Starship lineup resulted in a reunion of sorts for all those players under a new banner. The new collection of personnel returned to the studio to record RED OCTOPUS, which was released in June of 1975. The record reached #1, propelled by the success of the hit singles, Miracles and Play on Love. It has sold over two million copies. Papa John Creach quietly left the band after this whirlwind success. Jefferson Starship's hit-making streak continued with 1976's SPITFIRE, which featured the hit, With Your Love, and 1978's EARTH, powered by the hits, Count on Me and Runaway.
The band evolved again in 1979. Marty Balin and Grace Slick departed by choice, and John Barbata had to leave due to a serious car accident. Mickey Thomas stepped in on lead vocals and Aynsley Dunbar picked up the sticks. This latest incarnation of Jefferson Starship produced the band's fifth consecutive hit record, FREEDOM AT POINT ZERO, thrust to gold status by the hit single Jane. MODERN TIMES followed in 1980, finding its way to gold certification on the wings of hit single Find Your Way Back, which appropriately described Grace Slick, who sang background on the album and returned to tour with the band in 1981. In 1982, Aynsley Dunbar left the group, and Donny Baldwin assumed drum duties. The band's 1982 release WINDS OF CHANGE would also produce two top 40 hits, Be My Lady and Winds of Change. 1984's NUCLEAR FURNITURE kept the band's streak alive, planting No Way Out on the top 40 and selling over 500,000 records.
Paul Kantner left due to creative differences in 1985, and after some acrimony with the remaining band members, the name "Jefferson Starship" was retired. The remaining members of Jefferson Starship at that point morphed into "Starship" and enjoyed continued success.
In 1992, Kantner returned to touring life and revived the name "Jefferson Starship". True to its legacy, the members have changed over time, but the heart and the magic of all those hits remain. Paul Kantner died in 2016.
Currently, the Jefferson Starship lineup features founding member David Freiberg, along with Donny Baldwin, Jude Gold, Cathy Richardson, and Chris Smith.
Performers
Date and time
Location
Cumberland Caverns Live
1437 Cumberland Caverns Rd
McMinnville, TN 37110
Refund policy