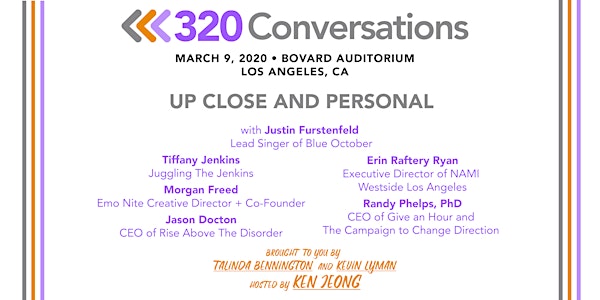 320 Conversation Series
Join us for an evening of open dialogue about mental health, as well as special performances and a special announcement.
When and where
Location
Bovard Auditorium 3551 Trousdale Parkway Los Angeles, CA 90089
About this event
320 Conversations aims to de-stigmatize mental illness by bringing together inspiring individuals to discuss their personal experiences and challenges in a safe, open environment.
Join us for an engaging & thought-provoking conversation about mental health, as well as the official announcement for the 320 Festival Benefit Show Lineup.
The event is being held in USC's Bovard Auditorium. For the most convenient parking, we advise you park in the McCarthy Way Structure on Figueroa St. Parking is a $14 flat rate. This structure is open to the public to use.
NOTE: No food or beverage is allowed inside of building. Please leave your snacks at home. 320 Conversations is free, all ages, and open to the public.
RSVP now to secure your spot, waitlist will be let in 10 minutes before the show starts pending capacity. If RSVP is not in line by 6:45pm PT RSVP is subject to cancelation.
CONTACT: info@320festival.com
PRESS: press@320festival.com
Brought to you by Kevin Lyman and Talinda Bennington
Hosted by Ken Jeong - In May of 2009, Jeong appeared as the Asian-mobster "Mr. Chow" in the sleeper-hit comedy THE HANGOVER. Jeong then reprised his iconic role in THE HANGOVER PART II and III. A few years later, Jeong appeared in the Warner Bros. box office sensation CRAZY RICH ASIANS, which earned the "Best Acting Ensemble" award at the National Board of Review awards. Upcoming projects include MY SPY starring Dave Bautista, and EL TONTO starring, written and directed by Charlie Day. In February 2019, Jeong returned to his stand-up roots for his first-ever hit Netflix comedy special, "Ken Jeong: You Complete Me, Ho." In television, Jeong was most recently seen as a judge on the FOX hit celebrity reality singing competition "The Masked Singer." Prior to that, Ken starred on ABC's "Dr. Ken", for which he was the creator, writer, and Executive Producer. Jeong dedicates his spare time to volunteering with Stand Up 2 Cancer, which is a cause very dear to his heart. He currently resides in Los Angeles with his wife and twin daughters.
Panel Moderated by Kevin Lyman - Founder + Producer of the Vans Warped Tour, USC Professor, CEO at KLGroup
Performance: Justin Furstenfeld, Lead Singer of Blue October, will be performing his one man show.
Panel Guests:
Justin Furstenfeld Lead Singer of Blue October - The San Marcos, Texas-based band (vocalist Justin Furstenfeld, multi-instrumentalist Ryan Delahoussaye, bassist Matt Noveskey, drummer Jeremy Furstenfeld, and guitarist Will Knaak) have earned a reputation for being remarkably dynamic, consistently delivering anthemic songs filled with rousing melodies, and precision playing. And with this latest release, the members are even more in synch than ever because they wrote much of the material while they were on the road supporting their last album, 2018's I Hope You're Happy, often fine-tuning songs in front of audiences. During the 25 years since the band first began, Blue October's track record proves that this ultrahonest approach is working: so far, seven of their albums have achieved chart success, amassing Fourteen Top 40 hits, writing some their best music to date. Most recently, 'I Hope You're Happy' reached #14 on the Alternative chart in 2019. Their highest-charting single, "Hate Me" (from 2006's Foiled), went to #2 on Billboard's Alternative Songs chart. It's been a long and remarkable career - but, as the Blue October members themselves have admitted in characteristically candid fashion, things certainly haven't always been easy. Their struggles over the years with substance abuse, and their subsequent treatment and recovery, have been well-documented in their songs. They also allowed themselves to be filmed over the course of seven tumultuous years for a documentary, Get Back Up, which will be released in May 2020. The film takes an unwavering look at the band - and Justin, in particular - as they grapple with the fallout from addiction and the resulting damage done to their families, professional relationships, and each other. It is ultimately a redemptive story, with all members now sober and mending their relationships, but not without going over some harrowing ground first. Focusing on the future with both sobriety and maturity has already resulted in a notable career resurgence: during the last couple of years, Blue October are doubling and tripling their audiences in many places, which means that the majority of their fans are sticking around - and the band continues to attract even more. And those fans, new and old, are remarkably loyal, with some attending several hundred shows - and a few who have been at every show. This unswerving belief in Blue October's music and message - and fans' unusually strong connection as a result - has carried this band through many good and bad times. As they head into their 25th anniversary year, Blue October members know there is probably always going to be some darkness in life - and that's all right.
Tiffany Jenkins - Juggling The Jenkins - Tiffany Jenkins is the funny lady behind "Juggling the Jenkins". She has over 3.8 million Facebook followers and counting! Tiffany is a wife, mother, best-selling author, content creator and recovering addict. Although best known for her funny viral Facebook and YouTube videos, Tiffany is incredibly passionate about bringing awareness to mental illness.
She speaks shamelessly, openly and honestly about her past and addiction, as well as her struggles with depression and anxiety and has been featured on national television shows like The Today Show and The Doctors. Tiffany shares her story of hope in jails, rehabs, and high schools, and has traveled across the country headlining her own tour. Her story had such an overwhelming response from followers that she decided to share other stories of recovery submitted by people from all over the world. On this site, you will find inspiring stories of overcoming obstacles, funny videos, and more. To reach Tiffany personally, check out her Contact Page.
Morgan Freed - Creative Director + Co-Founder of Emo Nite - Morgan grew up in Tucson, Arizona during the early 90's and 2000's playing in hardcore/emo bands. He became familiar and friendly with many underground AND mainstream artists during this time. When he was 15, he went to Drive Thru Records in California with his band, Table For One, and presented the music to Richard, the owner at the time. They ended up not getting signed due to being beat out by another little known band called Jacks Mannequin.
In 2008, due to getting clean from heroin and alcohol, he moved to California and began to work in the entertainment industry. With little to no experience, he was hired as a studio manager at The Uprising Creative. He was bad at this job (very bad) but turns out he was good at creative marketing and writing/directing music videos. During this time, he met his now business partners, TJ and Babs. They bonded over their love of emo music as the rest of the Uprising were old metal heads and hated that shit. They decided to do a night of music they like at a small bar called The Short Stop in Echo Park in 2015. With no socials and no promotion, over 200 people showed up on a rainy night in Los Angeles. They decided to do it again. 500 people showed up. Because they have worked in the music/entertainment industry, they put out a request to see if Tyson from The All-American Rejects would come and guest dj. His people said he was unavailable but they had someone else that was. That person was Mark Hoppus. The rest is history. Since that moment, they quit their day jobs at the agency (well, Morgan got fired because he was taking calls about Emo Nite during work hours and honestly, he was still really bad at being a studio manager) and started working on Emo Nite full time. They used their experience in digital, marketing, creative, and video to do WHATEVER they wanted with a night THEY would want to go to. Emo Nite has since become a phenomenon and has grown into a constantly touring event in over 35 cities and even internationally, forming pockets of little fight club like cult followings in these cities. They've successfully thrown 2 large scale festivals called Emo Nite Day (lol) with surprise headliners such as Demi Lovato. Post Malone came and dj'd the day his single "Congratulations" went #1. They threw a surprise event where Skrillex reunited with his band, From First to Last, for the first time in 10 years. They have continued to stay authentic to what they would want to see in an event as well as forming their own clothing company out of Emo Nite, which is now sold in all Hot Topics and have collaborated with brands such as OBEY, The Hundreds, Urban Outfitters, Chinatown Market, and Pleasures. There is too much on Emo Nite to talk about here but you can check it out at www.emonite.com.
Morgan decided he also liked doing what he was doing at the Uprising Creative so the 3 started their own agency called Ride or Cry (www.rideorcry.com). Morgan has since helped brands, bands, and companies including Dillon Francis, Paramount, Worldstar Hip Hop, The Lumineers (and many many more) with creative marketing, content, music videos, digital, and much more. He has continued to use his platform to create Community Meeting, a monthly event for youth to promote mental health awareness and safe spaces for nightlife culture. He's directed music videos for artists such as Tears for Fears, The Naked and Famous, Teenage Wrist, Simple Creatures (Mark Hoppus' new band), Morgxn, Movements, Grandson, The Chain Gang of 1974, and many more. He has directed content for Coachella, Khalid, BMW, Ford, Tinashe, Tesla, and many more. He has been featured in Forbes (twice), Billboard (a zillion times), Rolling Stone, Kerrang, The LA times, and many more. He is legit as shit and cares about a ton of stuff very much maybe a little too much.
Erin Raftery Ryan - Executive Director of NAMI Westside Los Angeles - As the Executive Director, Erin provides a loving and supportive environment that helps nurture the emotional health of the lives of many affected by mental illness. Her drive and passion is in bringing people together through support and services. Erin directs the operations at NAMI Westside Los Angeles, which includes education, support, volunteer coordination, peer outreach, collaborative partnerships, fundraising, and advocacy. These efforts lead to improvements in the lives of those affected with mental health conditions and to the family, friends, and others that support them.
Jason Docton - CEO of Rise Above The Disorder - Jason Docton is the Chief Executive Officer of Rise Above The Disorder, a non-profit hospital focused on providing mental health care to youth. For the past five years, Jason has worked with his team to develop a private universal mental health care system that has helped over 30,000 people have access to free mental health care. Recently, Jason has worked with the United Nations to develop frameworks for better social services in developing nations.
Randy Phelps - CEO of Give an Hour - Bio: Randy Phelps, Ph.D., a clinical psychologist, is the Chief Executive Officer of Give an Hour. He served on the Give an Hour Advisory Board for over a decade, was a consultant to the GAH Board of Directors in 2017, became GAH's Vice President of Operations in 2018, and was appointed GAH's Chief Executive Officer in 2019.
Randy was formerly a senior executive of the American Psychological Association (APA) for 25 years as well as APA's liaison to the U.S. Department of Veterans Affairs for a decade and a half.
We would like to remind guests of current public health practices that ensure a comfortable environment for all:
Please do not attend the event if you have a fever, cough or respiratory symptoms.
Handwashing is a best practice (20 seconds with soap and water).
Avoid touching your eyes, nose and mouth.
Cover your cough or sneeze with a tissue.
We encourage all attendees to consider using a non-contact greeting instead of shaking hands. (Ex: "Fight on!" sign, prayer hands, simple wave, etc.)
The health of everyone in attendance is our top priority. Please let us know if you have any questions or concerns. We look forward to having you join us at this event.