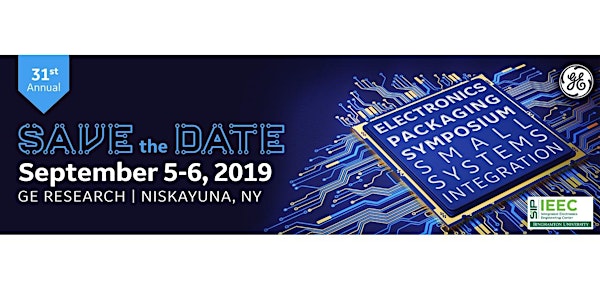 31st Annual Electronics Packaging Symposium- Small Systems Integration
Location
GE Research
1 Research Circle
Niskayuna, NY 12309
Sales Have Ended
Ticket sales have ended
Registration is closed. Thank you for your interest and we hope to see you for our 2020 symposium next Fall at Binghamton University!
GE Research and IEEC-Binghamton University are proud to host the 31st Annual Electronics Packaging Symposium- Small Systems Integration.
About this event
*LAST DAY TO REGISTER: AUGUST 26, 2019!*
GE Research and IEEC-Binghamton Univerisity invite you to attend this two-day event on September 5 and 6, 2019 at GE Research Center in Niskayuna, NY.
Our keynote speakers this year are:
Mukesh V. Khare - Vice President- Semiconductor & AI Hardware, IBM Research
Joseph M. Kolly - Chief Safety Scientist, National Highway Traffic Safety Administration
Brett Hamilton - Distinguished Scientist for Trusted Microelectronics, Naval Surface Warfare Center
Benjamin Leever - Technical Director, Industrial and Manufacturing Technologies, Airforce Research Laboratory
This symposium brings together leaders in academia, industry and government to discuss electronics packaging topics of:
• 2.5/3D Packaging
• mm Wave in Packaging
• Automotive & Harsh Environments
• Bioelectronics
• Flexible & Additive Electronics
• Materials for Packaging & Energy Storage
• MEMS
• Photonics
• Power Electronics
• Sensors, Embedded Electronics & IoT
• Thermal Challenges
• Wearable and Flexible Electronics for Medical Applications
Agenda : https://www.binghamton.edu/ieec/2019eps/agenda.html
This year's program includes 12 sessions with technical presentations, a half-day IEEE EPS Heterogeneous Integration Roadmap workshop on September 6, a student poster session with students from local Universities in NY, and exhibits from leading companies.
We aim to share quality, up-to-date information through different lenses on trending electronics packaging topics, and provide opportunities to network, share ones expertise, learn, and build partnerships.
We highly encourage graduate students to join us in the poster session to showcase their research! Make sure to register before AUGUST 26!
Registration , required forms and program details can be found on our website:
https://www.binghamton.edu/ieec/2019eps/
Contact us at: epsympos@binghamton.edu
REGISTER TODAY and join a community which seeks advancement in the electronics packaging field. We look forward to seeing you this fall.
Sincerely,
2019 EPS Organizing Committee