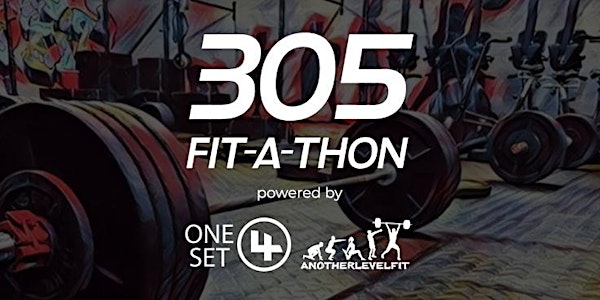 305 Fit-A-Thon - Powered by One Set 4 and Another Level Fit
One Set 4 and Another Level Fit have partnered up to host the 1st Annual 305 Fit-A-Thon, raising funds to aid families in extreme poverty.
When and where
Location
AnotherLevelFit 895 Southwest 67th Avenue Miami, FL 33144
About this event
The goal of this Fitness Fundraiser is for you to experience an exciting workout competition, while contributing to an important cause. Prizes for the top women's, men's intermediate, and men's advanced (RX) categories will be awarded.
You benefit from the challenging and fun workouts. Event fees will be donated to support NuevaLife's efforts of developing sustainable systems for aiding Latin American communities in extreme poverty. These include providing clean water, shelter, sources of food, access to health care and education.
In this season of giving you will have the opportunity to give towards something more meaningful than material or personal gifts, as your donations are impacting Latin American families to a greater extend.
When: Saturday, January 5th, 2019
Participant Registration: Starts 10:00 AM (EST)
First Competition Event: Starts 11:00 AM (EST)
Where: 895 SW 67th Ave, Miami, FL 33144 (Another Level Fit)
Workout 1: Strength
Workout 2: Endurance
Workout 3: Cross-Fit/Functional
Workout 4: HIIT (High-Intensity Interval Training)
Benefits of Participating
FREE 7 days of UNLIMITED GROUP CLASSES at Another Level Fit
FREE Fitness Tee
Catered food, courtesy of Diced Food
On-site personal trainers to help you get through the workouts
Chance to WIN a Luxury Auto Rental, courtesy of Intomoto
Chance to WIN 3 Months Membership at Another Level Fit (1st Place of each category)
Chance to WIN 1 Month Membership at Another Level Fit (2nd Place of each category)
Chance to WIN a $350 gift certificate for Expert Nutritionist Consultation (Top 3)
CONTRIBUTING TO A GREAT CAUSE!
and more...
For more information about the event or sponsors contact us at info@oneset4.com.
Follow us on Instagram @oneset4 @anotherlevelfit @nuevalifeorg
Like us on Facebook One Set 4, Another Level Fit, and Nueva Life