Join three nationally-recognized trauma-informed consultants to explore the opportunity to re-imagine education in the age of a pandemic
About this event
Pre-pandemic, educators said we were facing challenges not experienced by older generations. This pandemic makes that notion truer than ever.
And yet, in every crisis opportunity lurks.
This pandemic is a rapidly emerging collective stress that is reshaping the structure and fabric of experience in most every facet of life, but especially in education. It pushes us to adapt creatively and to think outside our "box."
Three nationally recognized trauma-informed consultants have redesigned their trauma-responsive schools conference to reflect the most pressing considerations of this time as acknowledged from a wide-variety of evidence-informed sources.
We want to help educators slow down, reorient, and move forward through this time with as much support, consciousness, and safety as possible.
Please join Emily Daniels, James Moffett, and Lara Kain and special guests Shannon Fuller and Scott Daniels as they gently guide participants through interactive presentations, whole group and breakout discussions:
Impact of Collective Stress on the School Community and Preventing Collective Trauma
Pandemic Grief
Social-Emotional Growth During Prolonged Social Distancing
Cultural and Digital Equity
Preparing for the Fall of 2020
MTSS (Multi-Tiered Systems of Support), 504 Plans, and Special Education During a Pandemic
June 1
Understanding Individual Trauma, Collective Stress, and the Case for a Trauma-Informed Framework During and Post Pandemic
* NMT™ Core Principles of Brain Development and Functioning amidst COVID
* Polyvagal Theory of Safety and the Realm of Social Engagement and the Newly Recognized Intervening Variable in Human Behavior - Physiological State
* Dr. Perry's Sequence of Engagement During and Post-Pandemic
* Dr. Jack Saul - Healing the Collective and Redefining New Social Order
* SAMHSA's 6 Guiding Principles of Trauma-Informed Care and How They Apply In Schools
June 2
Starting with the Adults: Pandemic Change, Loss, Grief in Staff and An Opportunity to Re-imagine Education
* Change as Grief and Loss and Collectively Holding Space for:
- Loss of Predictability/Certainty
- Loss of Control
- Loss of Safety and Security
* Piling a Pandemic onto Exhausted Staff : Understanding and Addressing Staff Overwhelm and Burnout
* Practical Strategies for Staff Support
Opportunity Lurks
*Issues of Equity - Prioritization
*Voice, Choice, Empowerment, Relevance
*Grading
*Standardized Testing
*Greater Resource Engagement - Education Support Professionals / Tutors / Mental Health / Pediatric Care / Family Resource Support
Special Guest: Shannon Fuller, NH Para Educator of the Year 2020
June 3
Re-Imagining Education in a Pandemic
* Fall 2020 in school or virtually
* Family Engagement
* Flex Scheduling
* Designing the First Two Weeks of School with an Emphasis on Relationships, Regulation, and Community Building
* Looping / Meeting with Class From 2019-2020 - Ways to Repair and Build Relationships
* Trauma-Informed Discipline, Accountability, Expectations / Boundaries, Finding Middle Ground (Firm Compassion), Consequences - Logically and Compassionately Driven.
* How to Embed these Principles Into Tier 1, Tier 2, Tier 3, Special Education and 504 Plans
Special Guest: Scott Daniels, seasoned Special Education Administrator and School Psychologist
Here's What Participants Said About Our First Annual Conference
"This was an incredible journey of professional and personal growth. Lots of application to so many areas of professional and personal life."
– Laura Thomas, trauma-informed coach, TREE, Maine
"I have attended many professional conferences and this far surpasses any of them. The level of engagement, knowledge, and experience shared by the presenters is unsurpassed."
– Tracie Travers, JMG coach, Maine
"This was, by far, the most engaging, intentional and powerful training I have ever attended. I have been working on TIC practices/understanding for a few years, but the depth and richness of this information was new."
– Julie Voelker, Principal, WISD, Michigan
"The presenters provided content and space to grapple with the content. The whole experience was so informative and powerful for the continued work!"
– Heather Freeman, Director of Special Education, OSSU, VT
"Best conference I have ever attended! Above and beyond expectations and truly life changing. Thank you!"
– Kelsey Stephenson, School Counselor, Biddeford, ME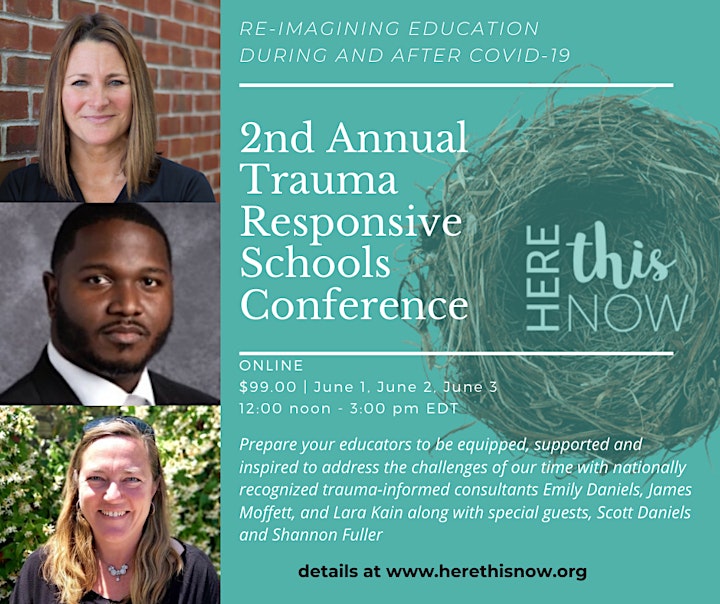 Organizer of 2nd Annual Trauma-Responsive Schools Conference - Virtual