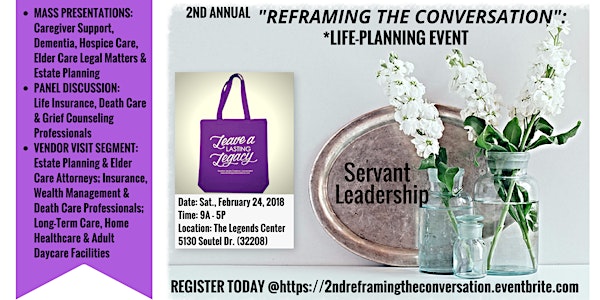 2nd Annual "Reframing the Conversation": Life-Planning Event
By Kandice Jacobs Creations, LLC
Date and time
Saturday, February 24, 2018 · 9am - 5pm EST
Location
The Legends Center 5130 Soutel Drive Jacksonville, Florida 32208
Description
Kandice Jacobs Creations, Incorporated wants to help you! We understand the emotional discomfort many individuals & families experience in confronting end-of-life care and pre-planning decisions. Therefore on Feb. 24th, from 9A – 5P -- at this comprehensive, FREE community event, you can expect mass workshops on the following: caregiver support, dementia, hospice care, elder care legal matters, estate planning & asset protection. As well, there will be a panel discussion addressing: life insurance, grief support and end-of-life options regarding disposition and ceremony. Understanding the painful memories often associated with the funeral home & cemetery setting, KJC is taking this conversation to a more emotionally neutral environment -- The Legends Center here in Jacksonville, FL.
WHY YOU NEED TO ATTEND... [Watch]
My question to you today is: "Are you willing to engage in a responsible conversation regarding a plan for the latter years of your life?" Realize, this conversation is not about you dying, it's about leaving a lasting legacy for your loved ones. Having taken on the role of caregiver for my own father in the past year, I am utterly passionate about equipping you to develop a plan for your loved ones. So, "let's life-plan together!" Then, you can just GET ON WITH THE JOYS OF LIVING! REGISTRATION IS NOW OPEN! Countless professionals are graciously donating their time and expertise.

HOW YOU CAN HELP...
While we anticipate receiving repeat support from many of last year's sponsors, we can still use your support to ensure 100% of our event funding goals. Thus, we invite you to make a $12.00 donation, (or more if you can), to help defray the associated costs. In return, IF YOU DONATE BY JAN. 31ST, your name will be listed on the event program as a special donor. TO DONATE, PLEASE CHOOSE THE DONATION TICKET TYPE WHEN REGISTERING. Your help is truly appreciated!
Warm Regards,
~ K. Jacobs-Armstrong, LFD, Social Entrepreneur & CEO of Kandice Jacobs Creations, Incorporated #LeaveALastingLegacy / #LetsLifePlanTogether / #ParadigmShift / #ItsAboutTheLiving / #Prepare4PeaceJAX
---
**VISIT KANDICEJACOBSCREATIONS.COM FOR A COMPLETE LIST OF EVENT FACILITATORS, PANEL EXPERTS & EVENT SPONSORS!
**WATCH OUR 1ST TELEVISION INTERVIEW & LEARN ABOUT THE INSPIRATION BEHIND THIS IMPORTANT COMMUNITY EVENT!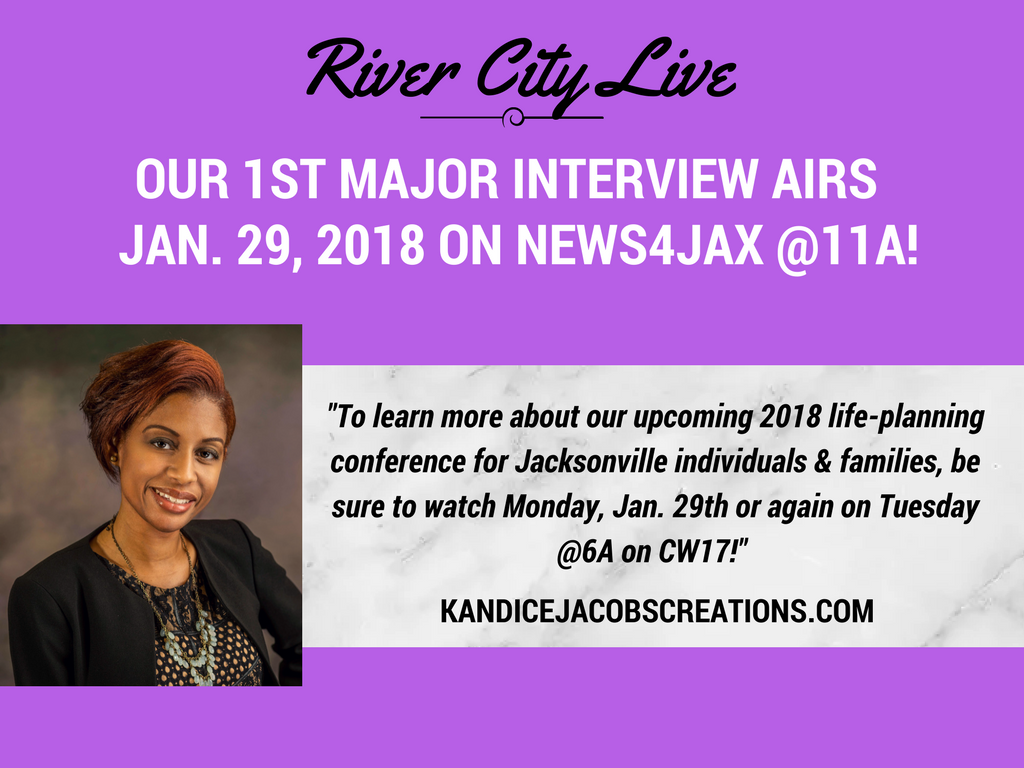 About the organizer
Hello, I'm Kandice Jacobs Robinson, CEO of Kandice Jacobs Creations. We provide end-of-life care and pre-planning advisory services, as well as self-care and empowerment products, to treat the emotional discomfort associated with making such overwhelming decisions. I am our target consumer – a member of the Sandwich Generation – a military spouse, balancing entrepreneurship and caregiving for my (2)-time-cancer-survivor father, who now has dementia. I relaunched KJC (3) years ago after becoming my own customer...when I lost my god-brother. On Jan. 5, 2015 we were texting "Happy New Year" greetings as I prepared for work, making plans to talk later about getting together. However, just a couple hours later -- as I was directing a service in our on-site chapel -- Titus's heart stopped beating. He fell to the floor just feet away from his 1 1/2 year-old son, and he died. At 41 years old, Titus left behind (6) children and a widow. He had no life insurance; thankfully though, he was a Navy veteran. #MyWhyNowIsTi / As a licensed death care professional, I have chosen to turn my own painful experience of loss into passionate pursuit of purpose and fulfillment of my own Greatness Call to "Equip you to Live Life Abundantly & Leave a Lasting Legacy." This has led us to develop our "Lasting Legacies" program & product series. One way we've successfully delivered value for the past (3) years is our annual life-planning conference -- where industry professionals, through workshops and a panel discussion, address such topics as: caregiver and grief support, elder care legal matters, life insurance, funeral pre-planning, and more. We're excited to now also offer our signature care package, branded by color to bring awareness to specific illnesses and to uplift the 43.5 million U.S. caregivers, the chronically ill and bereaved. As an author, keynote speaker & workshop facilitator, I am actively engaged in disrupting the at-need only approach to end-of-life care and pre-planning decisions, as well as creating a supportive infrastructure for caregivers and grieving families. In this capacity, I have developed a suite of community education workshops & resource materials. Visit kandicejacobscreations.com today to learn more about the KJC Distinction.