Location
CrossFit Tilt V
12 Southville Road
Southborough, MA 01772
24 HEROES is a unique fundraising event to honor our Nation's heroes and to raise money to support veterans and their families.
About this event
6th Annual 24 Heroes Fundraiser
When: Sunday May 30th-Monday May 31st
9 AM Opening Ceremonies, 10 AM First WOD Begins
Where: CrossFit TILT V – 12 Southville Road – Southborough, MA
AND via Zoom!
CrossFit TILT is thrilled to announce that the 6th Annual "24 Heroes" fundraiser is scheduled for THIS Memorial Day weekend! From the morning of Sunday May 30th through the morning of Monday May 31st, we will be throwing down in-person AND also LIVE via Zoom. Workouts will take place on the hour, EVERY hour, for 24 HOURS, with a workout to honor one of our nation's fallen heroes. We are joining forces with Rob Seymour – an incredible member of our TILT community who is dedicated to supporting and honoring our nation's heroes.
Our fundraising efforts will be donated to Veterans Inc., a veteran support organization based in Worcester, MA. A portion of the proceeds will also be donated to The Glen Doherty Memorial Foundation, and the Marine Corps Scholarship Foundation. We hope that you will join us for this memorial event and make it as great of a success as it has been in years past! Tune in this year to hear from some amazing guest speakers with personal connections to some of the heroes we are honoring.
Suggested Donation:
There is a suggested donation of $25 per participant, but anything you are able and willing to contribute is greatly appreciated. ALL funds raised go directly to charities supporting veterans and their families.
How To Sponsor a WOD:
Looking for a creative way to donate? We are accepting sponsorships for every workout for $250 per workout. You will have an opportunity to read the Hero Bio before the workout kicks off. You can also pledge a donation based on attendance, specific contests, etc.
For example: you can donate $X Amount of money for every participant that attends a specific workout. Another option would be to propose a contest for all to participate in: 1 Minute Max Burpees! You can donate $X Amount of money for the most burpees performed in one minute.
Get creative! Email brian@crossfittilt.com to sponsor a WOD or pledge a donation.
How To Attend:
**In-Person and Virtual Options**
In light of COVID-19, we will be providing both an in-person and virtual option to attend the event.
In-Person Option: Our in-person option will take place at CrossFit TILT V in Southborough, MA. There will be an indoor option and outdoor option. Since we are limited with the number of participants that can be on site, you must sign-up for the in-person workouts in advance. Here is the link: https://docs.google.com/spreadsheets/d/1us4UeMWDThHVWFdCbyC0xcgKlvmtOOZos4LUOQHt-d4/edit?usp=sharing. There will be 18 spots inside and 18 spots outside. Due to the limited capacity, we ask that participants only sign-up for a maximum of 3 workouts in a row. If you are spectating, no need to sign-up. Show up to cheer the athletes on!
Virtual Option: To attend the event virtually, click our event Zoom link at any time during the 24 hours the event will be taking place. No need to sign-up in advance!
Zoom Link for Event: https://us02web.zoom.us/j/2740893085pwd=bnlnZmVtYjN5UzdvbGpueXFJUi9vUT09
Workout Schedule:
The hourly schedule of Hero Workouts, as well as all of the modified versions of each workout, will be released closer to the date of the event!
For reference, last year's schedule can be found here: https://crossfittiltii.com/wp-content/uploads/2020/05/24-Heroes-Workout-Schedule.pdf This year's schedule will be similar, but different!
Each Hero Workout will be presented as prescribed, as well as with a "Limited Equipment" and "Bodyweight" version, allowing for maximum participation no matter your location or circumstance! Athletes are free to pick and choose which Hero Workouts they would like to participate in. A coach will be on staff each hour to further assist you with any questions about modifications. Workout briefs, hero bios and any speakers will begin at the top of the hour, every hour, and the workout will follow shortly after. There will be no group warm-up. Come ready to workout, have fun, and support a great cause!
Supporting a Great Cause!
We encourage you to watch the following video: https://vimeo.com/282120673. If you are unfamiliar with this incredible event, this highlight reel from the 2018 fundraiser will give you an idea of the camaraderie and teamwork this event inspires. People from all walks of life coming together to pay their respects and work hard in the name of honor and remembrance. As CrossFitters, we adapt and overcome. There is absolutely no way we are going to let the pandemic prevent us from supporting and raising money for veterans and their families. We may not be able to gather in person, but we can still find a powerful way to come together.
If you find yourself unable to donate, please don't let that keep you from tuning in and participating in this event! The true intention of this event is to come together to honor those who made the ultimate sacrifice. In the words of Veterans Inc., "they were there when we needed them. We must be there now that they need us." Whether your support is through monetary donations, giving a little piece of yourself during a workout, or just tuning in to show your support, we're all in this together.
If you have any questions regarding the 24 Heroes, please feel free to contact Brian Sieber at brian@crossfittilt.com. After taking a look at the workout schedule, if you find that you have a personal connection, or know someone with a personal connection, to one of the heroes we are honoring this year, please reach out to Brian at the previously mentioned email address. We would love to give those of you with personal connections an opportunity to speak in honor of those you hold dear to your hearts.
We truly hope that you will find some time to join us for this event. Mark your calendars, spread the word, and let's make this a truly unforgettable experience!
FAQs
Q. Do athletes need to do all 24 WODs to participate?
A. No.  Athletes can do one or as many as they want.  In the past, many athletes have chosen to drop in multiple times, during the 24 hour period.  There are also those proud, select few who have participated in all 24 WODs.  
Q. Is there a required cost to participate?  
A.  No. The suggested donation is $25 but you do not have to pay to participate. 
Q. Are participants required to buy tickets prior to the event?
A.  No, but it is strongly encouraged. 
Q. Is there a schedule of events?
A.  The full event schedule will be posted in advance of the event.  Be sure to follow the event on CrossFit Tilt's FB Event page. There will be lots of great information shared about 24 Heroes leading up to May 30th.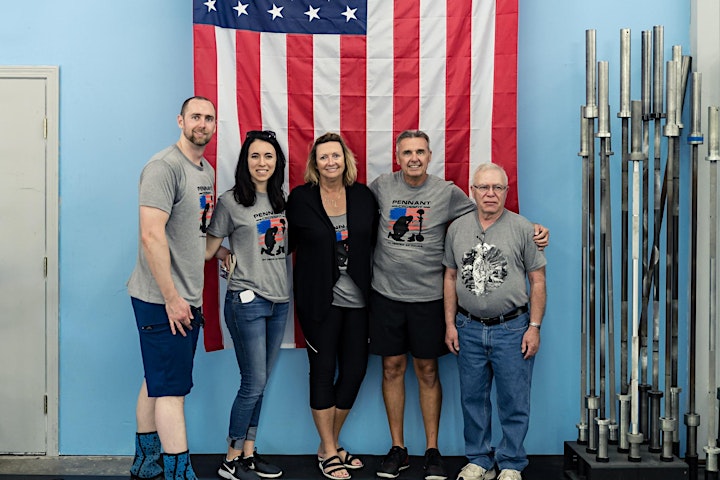 Families of Spc. Blake Whipple ("Whip") and SFC Jared Monti ("Jared").