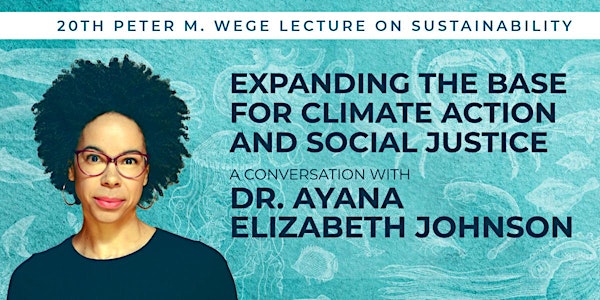 20th Peter M. Wege Lecture Featuring: Dr. Ayana Elizabeth Johnson
Join us for a virtual conversation about climate action and social justice with Dr. Ayana Elizabeth Johnson
About this event
Join us for an engaging conversation about climate action and social justice with Dr. Ayana Elizabeth Johnson. A marine biologist, policy expert, writer, and Brooklyn native, Johnson is the co-founder of Urban Ocean Lab, a think tank for costal cities, as well as co-creator of the Spotify/Gimlet podcast, 'How to Save a Planet,' which focuses on climate solutions. The event will be moderated by SEAS assistant professor Sara Hughes and will include a live Q&A with students.
Sponsors: The Wege Foundation; Center for Sustainable Systems; U-M Democracy and Debate; The Gerald R. Ford School of Public Policy, Janice Charach Gallery: Environmentally Speaking
**A link will be emailed to you prior to the event.