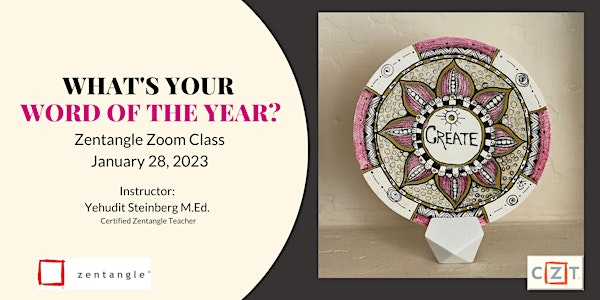 2023 Word of the Year Zentangle Zoom Class
Join us for a fun way to make positive changes in 2023 by making mandala-like art using your power word of the year. Beginners welcome!
About this event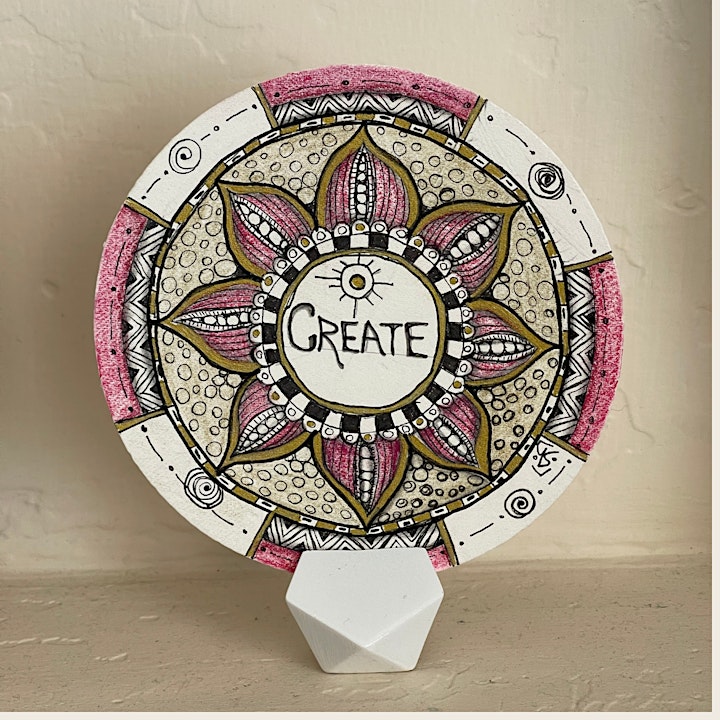 Be Creative in 2023!
Draw Your Word of the Year Art Class...
A new year with a fresh start.
We all have new things we want to do and become.
A great way to start a new beginning, is to chose a focus word for the coming year.
Create momentum, focus and creativity in 2023 by intentionally naming and drawing your guiding word to support your vision and goals for the new year ahead.
On January 28, 2023, Yehudit Steinberg, a certified Zentangle teacher, is hosting a Word of the Year workshop, where we'll create our word of the year art piece.
Choose an inspiring word from a list of 100 word prompts or another source, to give you inspiration for the new year.
Come prepared with your word and create a beautiful art piece giving you a gentle reminder throughout the year.
Beginner and Intermediate students welcome.
Class Details
For this 2hr. live recorded Zoom class, I'll be using a mix of guided instruction and live demonstration with draw along with me time. The class is recorded and available to you through a private link on Youtube.
Can't attend but want to do this project. We've got you covered with the replay video available.
Supply List: (links)
4.5" Zendala tile or a 4.5" circle in. sketchbook, art paper.
1.0 Sakura Micron black
Micron PN black for thicker lines
2B graphite pencil
Tortillion or Blending Stump
Colored Pencils ( optional)
Don't have these supplies yet? Once registered you'll receive a Supply list with links to supplies. Or use what you have at home. Feel free to join the class with whatever materials you have handy and you can still create your 'Word of the Year' art to remind you where you're headed this year.
Who is the class for:
Beginning and intermediate students ready to explore your creativity, choose your word of the year and learn the step by step Freeform Mandala process. Easy, relaxing, and a lot of fun.
What happens once you register:
You receive a confirmation email from Eventbrite.
Eventbrite will send you reminders starting 2 days before class with the Zoom link.
Instructor Yehudit Steinberg will send you links to:
PDF 100 Words of Year Prompt Sheet
Class Supply list with links to where to get supplies
Link to Yehudit's Zen & Creativity Youtube channel video with 5 tips for choosing your word of the year.
Template for Workshop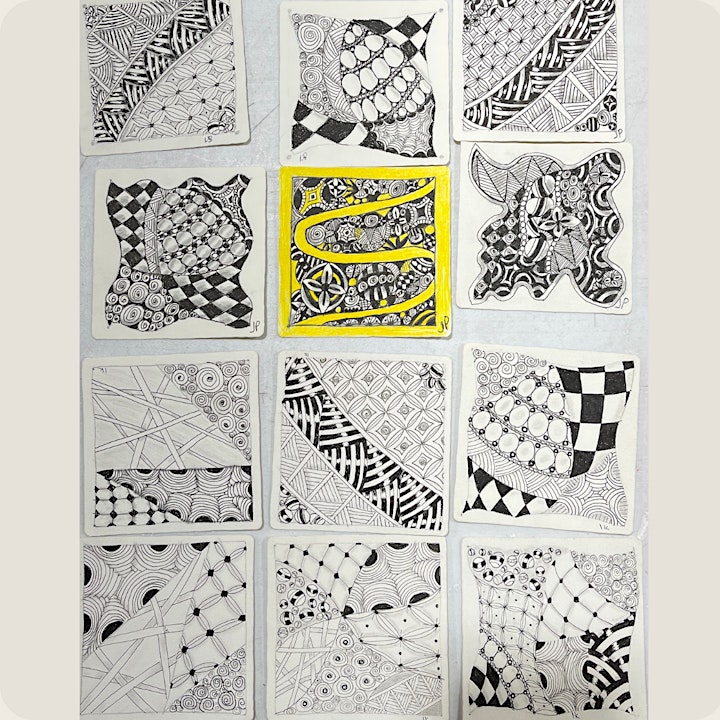 Student Art from my Beginner Zentangle 101 class
What students are saying about Yehudit's Zentangle® classes
"Yehudit's beginning Zentangle 101 class series was just what I needed to establish a true Zentangle Practice. I'd been tangling for about 6 months but Yehudit helped me to see the importance of following the 8 steps each time I sat down to tangle. She was genuinely interested in meeting me where I was creatively and understanding what I wanted from her classes. She was generous with her time and providing extra help when I was struggling with a tangle. I am looking forward to her Zen and Creativity series! " Mary Canaban 2022
"Yehudit's Zentangle ®class was top-notch. She is both an artist and an educator with the ability to break down complex concepts into simple, easy-to-follow steps. She encouraged us, gave us realistic expectations, and even provided extra guidance for us to grow into. I walked away with tangible skills that I can replicate, as well as some beautiful pieces. She fielded questions like a champ. Plus, her class was a lot of fun." Wendy Stein 2022 Regional Manager WESST Santa Fe, New Mexico
"Congratulations on the wonderful class, Yehudit! Your opening remarks are very welcoming! I'm enjoying this time with you. Your artwork looks beautiful on the computer screen. Keep up the lovely work you're doing! I would like to congratulate you on your fine work to produce this Youtube Inktober video series. The colors you've chosen are perfect--so light and refreshing. Your visuals are wonderful, too. Your choice of font style and size works well on my screen. Overall, the videos are very professional and nicely paced.I like the fact that you use a voice-led approach, taking your time as you demonstrate each line.Thank you for the many examples of what other artists are coming up with. That is inspiring!" Nancy Hastings 2022 retired English Professor NMSU Las Cruces, NM