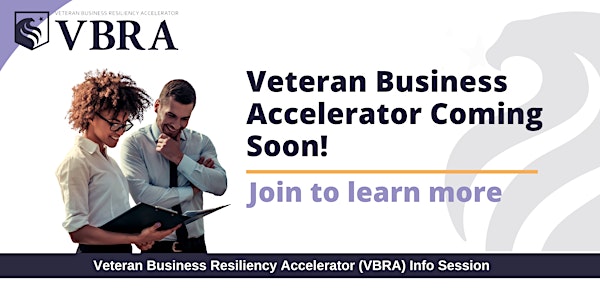 2023 Veteran Business Resiliency Accelerator Program Info Session
Learn about the VBRA program and the benefits for Veteran Entrepreneurs
About this event
We invite you to join LiftFund, the Women Veteran Entrepreneur Training Program (WVETP) for an Info Session introducing the 2023 Veterans Business Resiliency Accelerator (VBRA) Program.
On December 7th, at 11:00 AM CST, this webinar will provide you with an overview of the 5-module business incubator and the outcomes of the program which include serving 75 Veterans in the State of Texas helping them acquire the Historically Underutilized Business or "HUB" certification through the Texas Comptroller's office before submitting a loan or grant application to retain or create jobs.
ABOUT THE VBRA PROGRAM
The VBRA Program kicks off in 2023 for the second year. Participants will receive wraparound support from lending advisors, individual business coaches, and a collaborative local peer network to accelerate profitability.
With generous funding from United Way of Tarrant County Mission United and the WVETP we are able to offer the VBRA Program to veterans at no cost for participation! Another benefit of the program is the evidence-based curriculum designed entirely for veterans, which is a unique concept in the world of entrepreneurship. Additionally, we connect veteran entrepreneurs with a community of peer business veterans.
We hope you will consider attending this VBRA Program Info Session and find out more about our track record of success helping veterans with launching, protecting, measuring, growing, and funding their businesses.