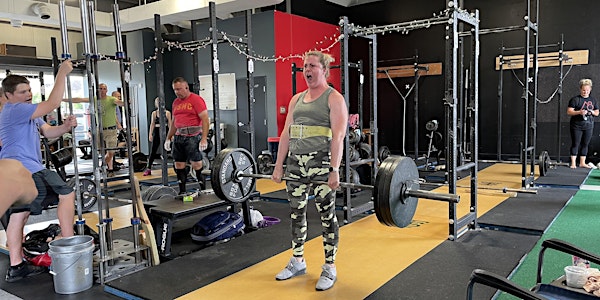 2023 Testify IronFest V
IronFest is back again! Join us on Saturday, July 8th, for this team display of strength, might, and sheer awesomeness!
By Testify Strength & Conditioning
Location
Testify Strength & Conditioning 14505 Grover Street #117 Omaha, NE 68144
About this event
IronFest is a strength meet wherein the contested lifts will be the squat, press, bench press, and deadlift. Competitors will form teams of 2 lifters/team and perform all 4 lifts; each lifter will perform one upper body lift and one lower body lift, and each lifter will receive 3 attempts for each lift. A team's score is comprised of each teammate's Wilks score (which is based on the heaviest successful attempt for each lift). There are no weight classes for this meet, but there is a weigh-in for each lifter, and the weigh-in period runs from 7:00 a.m. - 8:00 a.m.
You may consult the rules found here for the squat, press, and deadlift movement standards, and a more complete treatment of the movement standards for all the lifts (including the bench press) can be found in the book Starting Strength: Basic Barbell Training, 3rd edition.
The six divisions are as follows:
Male/Male (Open)
Male/Male (Masters)
Male/Female (Open)
Male/Female (Masters)
Female/Female (Open)
Female/Female (Masters)
The open category is for teams with one or both teammates under 40 years of age on the day of competition, and the masters category is for teams with both lifters 40 years of age and older. In the masters category, the team score will be age-adjusted (using both Wilks and McCulloch coefficients).
Your meet entry fee includes an exquisitely designed and crafted shirt for each teammate, and you - as the stylish wearer of said shirt - will undoubtedly be the envy of all your friends. Don't miss out (shirt guaranteed only if lifters register by June 3rd). In addition, there will be prizes for the overall winners in each division.
Registration runs until 07/01/23, and there are regular and late registration rates, so register soon!
Testify members: Please talk to Phil Meggers BEFORE registering.
FAQs
Are singlets required?
Nope. We'd recommend something singlet-like for the squat (e.g., leggings, spandex shorts, etc.) as this makes judging more accurate - your squat will look higher than it is if you have a bunch of loose fabric bunching up at the crease of your hips - but there is no singlet requirement.
Is this event run like a typical strengthlifting or powerlifting meet?
Absolutely not. We want people to have a lot of fun, and we also do not want the meet to take as long as a typical strength or power meet. With that in mind, we'll be using quite a few power racks throughout the meet. If you're looking for a rigid and formal meet structure, this ain't it, folks. Music will be playing, costumes are encouraged, and the judges may be eating and drinking while performing their duties.
What's the refund policy?
All sales are final; refunds will not be provided.
Is it OK if the names on my ticket or registration doesn't match the people who attend and compete?
Registration should match the name of the participant. Please contact phil.meggers@testifysc.com if there are extenuating circumstances that make this impossible.