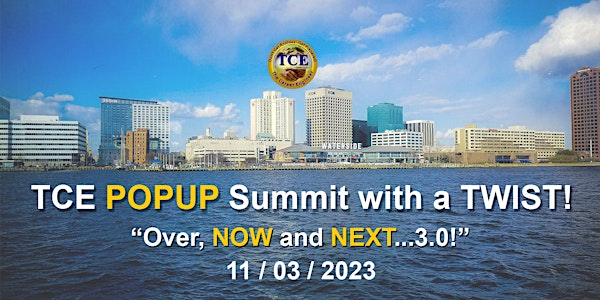 2023 TCE "POPUP" Summit with ...a TWIST 3.0 !
TCE POPUP Summit is back...3.0 Style! It is recommended to secure a seat as soon as possible to avoid missing out on the opportunity
Date and time
Friday, November 3 · 6 - 10pm EDT
Location
Delta Hotels by Marriott Virginia Beach Bayfront Suites 2800 Shore Drive Virginia Beach, VA 23451
About this event
📣 Act Fast - $59 - Early Savings ($99 Value):
The 2023 TCE POPUP Career & Business Summit with a TWIST 3.0 is a one-day event (with some additional Saturday fun) that will bring together talent, recruiters, entrepreneurs, CEOs, decision-makers, and real people to discuss the latest trends in business, life, and career development.
The summit is limited to 100 seats, so don't miss out on this chance to connect with the people who can help you take your career to the next level.
TCE Network Members, use your exclusive TCE promo code to save big and secure your seat today!
🥁 OVER, NOW & NEXT!
Here are just a few of the benefits of attending the 2023 TCE POPUP Career & Business Summit with a TWIST 3.0:
📌 Connect with business owners, recruiters and hiring managers from top companies
📌 Learn about the latest trends in business
📌 Network with potential employers
📌 Why "Over, Now & Next"...Matters
📌 Find your purpose in life
This is a once-in-a-lifetime opportunity to take your career to the next level. Don't miss out on your chance to make a real impact. Use your exclusive TCE promo code to save big and secure your seat today!
The event will feature "POPUP keynote speakers, organic discussions, REALationship networking opportunities, Saturday "Connect-2-N.E.X.T.," and more.
TESTIMONIALS!
"...The TCE Pop-Up Summit...with a TWIST...! was a STELLAR weekend event! Clear your calendar for future TCE Summits to nurture REALationships, BREATHE (incl fresh air on the Bay), and be inspired by passionate presenters who are stepping up into space for growth! There was a sense of beautiful synergy and many wonderful surprises ! ..."(Ann W., Virginia)
"...t was a marvelous evening with a lot of wonderful changes on the way networking should be. A very inspirational event that highlighted movers and shakers in and out of the community. TCE rocks in all aspects! Indeed, programming has changed and evolved , but it still showcases how building relationship impacts one's career. Thank you to all that have been instrumental to make it happen. The next is something to look forward to!..." (Leah, S. Virginia).
🏖️ MAKE IT A TCE GETAWAY
You will be enchanted with our venue and TCE Summit "ALL SUITES ROOM" rate of $179 per night (Plus Taxes and Fees). Our standard TCE room has 2 queen beds and a pull-out sofa. This premier property with a private beach and exclusive amenities. Attendees have a special Valet parking rate of $10 ($20 value.) Get your TCE Summit tickets & TCE Getaway on The Bay! Hurry room rate expires Oct 4th, 2023!
TCE SUMMIT REGISTRATION INCLUDES!
🔥$59 NOW (Early Bird) | $99 LATER
FRIDAY "GET YOUR SHIVOT ON" @ TCE SUMMIT
✅ ALL-ACCESS "TCE POPUP SUMMIT ...WITH A TWIST...2.0!"
✅ Impressive Venue, Incredible ambiance, and Food
✅ TCE Career, Life & Business Summit POPUP Presenters
✅ TCE's "OVER, NOW & NEXT" Key Note" (Mic Drop & Boom)
✅ TCE "Shivot" Knowledge Cafe /Reception
✅ Exclusive savings on Valet Parking (it's a classy space)
✅ TCE's famous Game Nite & Next & Connect
✅ TCE "After-After" QA, Connections & Networking
✅ TCE "Official" Unofficial Saturday "Connect 2 Next" gatherings
SATURDAY "CONNECT - 2 -N.E.X.T."
✅ Get Fit With Fran (Body By Randy) Beach or fitness room
✅ "NEXT Ideas" Mixer TCE Tips, Boosters Pitfalls & Wows!
✅ Schedule a "Next & Connect on the Bay" 1:1 with TCE, presenters or sponsor
✅ "TCE & Friends Breakfast & Dinner "On Your Own" on the Bay!
👀 ACCEPTING 2023 SUMMIT PARTNERS NOW!
EmaIl info@TCEnow.com or call/text 757-745-4823
👀 THANK YOU 2022 SUMMIT PARTNERS:
About the organizer
 Don't Get Anxious - Get Prepared!
The Career Engineer, (TCE) delivers career & business connections and REALationshi building that build confidence, courage, increasing your value and visibility which increases your income potential and your chances to get hired! RSVP now for all of our events if you are SERIOUS about making your NEXT Monday Morning....BETTER!
Questions or Comments? info@TCEnow.com or call or text us 757-745-4823