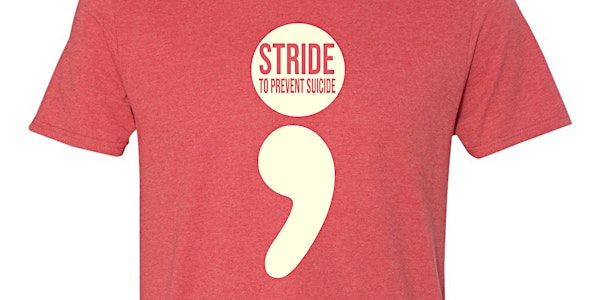 2023 Stride to Prevent Suicide 5K and 1 Mile Fun Run
Join us Saturday, April 1, at Spring Park in Searcy, AR.
By Dr. Robert E. Elliott Foundation
Date and time
Saturday, April 1 · 9am - 12pm CDT
Location
Spring Park 113 E. Pleasure Pleasure and Main Searcy, AR 72143
About this event
Join us for the 2023 Stride to Prevent Suicide on Saturday, April 1, at 9:00 a.m. in Spring Park, Searcy. The day's events will include a 5K,1 Mile Fun Run/Walk, and a Memorial Butterfly Release Ceremony. THIS IS NOT AN OFFICIALLY TIMED RACE.
All money raised from this event will be used to fund programs and services to raise awareness of depression and suicide prevention. The Dr. Robert E. Elliott Foundation is committed to shining a light on the disease of depression, saving lives and restoring hope. We provide monthly support groups, educational programs for the community and health professionals, and scholarships to those in a mental health field. This is our main fundraiser for the year, and we appreciate your support!
Individual registration online is $30 for adults. Early bird registration through 3/1 is $25 and registration on the day of race will be $35. There is special pricing for children through age 11. Consider recruiting a team of 10 or more for a discounted rate of $20 (details below).
Individuals may register online, at the race beginning at 8 a.m.(higher entry fee race day), or by coming to Fellowship Bible Church 1009 East Beebe- Capps (old Kohler building) on the Thursday or Friday before the race from noon until 4 p.m. Pre-registered individuals may also come by during those hours to pick up their race shirt.
Online Registration: Note that you do not have to use Paypal to register. There is an option to register by debit or credit card.
Teams of 10 or more can register for $20 each! Team members may register online at their convenience or register with their team organizer. No password is needed to register under the team pricing, but you must indicate what team you are with. If a team forms that does not have 10 members by race date you will be asked to pay the individual rate. A team may also register by mail by sending all registration forms for your team to P.O. Box 485, Searcy, AR 72145. Those should be received by Thursday before the race. A team leader may also just deliver the team forms and fees on Thursday-Friday before the race to Fellowship Bible Church, 1009 East- Beebe Capps from noon until 4 p.m. and collect all team t-shirts.  Team leaders may call us at 501.278.4357 with help for handling registration for their team if needed or obtaining registration forms. The registration form will be posted on our Facebook page and you are welcome to make copies from it. Yes, it is ok for a team to partially register online and partially manually register. However, please make sure you will have a minimum of 10 team members total. We will present an award to the largest team as well as the most spirited team on race day!
In the past, you have been able to purchase a butterfly for the Memorial Butterfly Release in memory of someone lost to suicide. There will be no charge for that this year. On race morning, just turn in the name you want read at the ceremony. Please understand that we will have a limited number of butterflies.
FOLLOWING IS THE RACE WAIVER YOU MUST AGREE TO WITH OUR REGISTRATION ORDER.
2023 Stride to Prevent Suicide 5K/1Mile Fun Run/Walk – Waiver & Information
Online registrants will select to agree with this waiver.
RACE WAIVER & RELEASE – Every participant must sign a waiver. Children under 18 must have parent/guardian signature. NOTE: This is a recreational race; there will be no official time keeping. I agree that any and all representations made and releases, waivers, covenants, consents and permission given by me hereunder are given on behalf of me and any and all minor children or person over whom I have guardianship participating in or attending the event I give my consent and permission to the Elliott Foundation, its affiliates and races, their sponsors and corporate sponsors, their successors, licensees, and assigns the irrevocable right to use, for any purpose whatsoever and without compensation, (i) any photographs, videotapes, audiotapes, or other recordings of me that are made during the course of this event. I understand that (i) my consent to these provisions is given in consideration for being permitted to participate in this event; (ii)I may be removed from this competition if I do not follow the rules of this event; (iii) I am a voluntary participant in this event. I am in good physical condition and am solely responsible for my personal health, safety and personal property. I know that this event is a potentially hazardous activity and I hereby voluntarily assume full and complete responsibility for, and the risk of, any injury or accident which may occur during my participation in this event or while on the event premises (COLLECTIVELY, "MY PARTICIPATION," TO THE FULLEST EXTENT OF THE LAW, I, for myself, my next of kin, my heirs, administrators and executors, (COLLECTIVELY, "RELEASORS"), hereby release and hold harmless and covenant not to file suit against the Dr. Robert E. Elliott Foundation Affiliates and THEIR RESPECTIVE DIRECTORS, OFFICERS, VOLUNTEERS, AGENTS AND EMPLOYEES; (ii) and event sponsors; and (iii) all other persons or injury or damages I might suffer in connection with my participation. This release applies to any and all loss, liability, or claims I OR MY RELEASORS may have arising out of my participation, including, but not limited to, personal injury or damage suffered by me or others, whether such losses, liabilities, or claims be caused by falls, contact with and/or the actions of other participants, contact with fixed or non-fixed objects, contact with animals, conditions of the event premises negligence of the releasees, risks not known to me or not reasonably foreseeable at this time, or otherwise.
About the organizer
The Dr. Robert E. Elliott Foundation is a non-profit organization committed to educating the public about the disease of depression and other mental illness. Our mission is to provide a lifeline of education, save lives and restore hope.
We strive to shine a light on the disease of depression through our programs and resources we provide including monthly S.O.S.(Survivors of Suicide) Meetings,  "Understanding Depression" seminars, free depression screenings, free literature and publications, mental health provider resource list, foundation resource phone line, scholarships, and many other services.