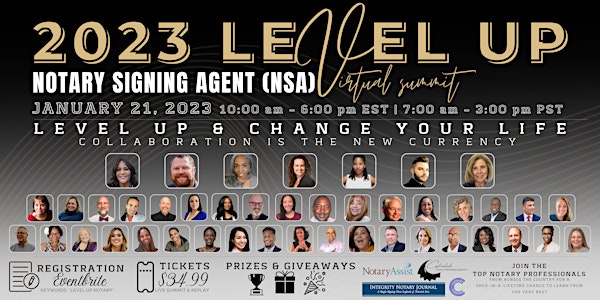 2023 Level Up Notary Signing Agent (NSA) Virtual Summit
Attend the 2023 Level Up Notary Signing Agent (NSA) Virtual Summit Saturday, January 21, 2023 10:00 AM - 6:00 PM EST
About this event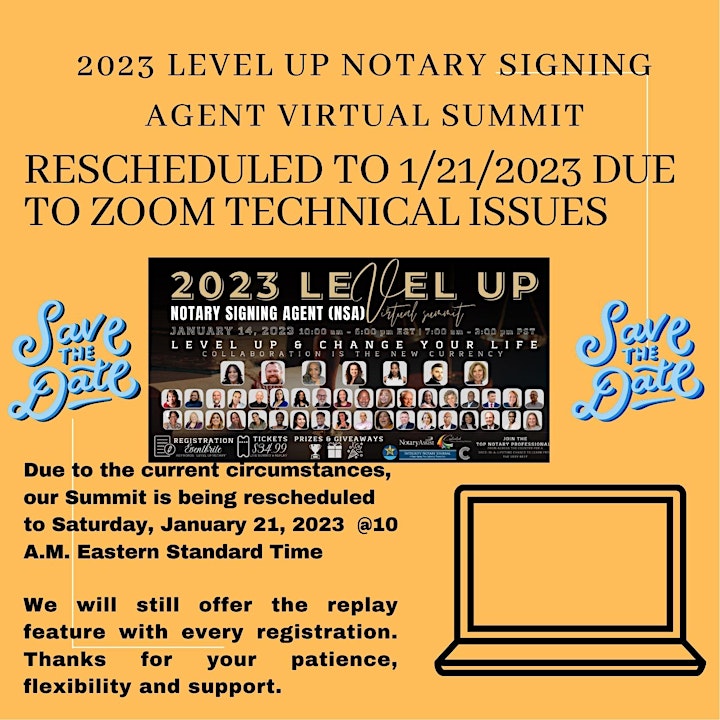 *RESCHEDULED to Saturday, Jan 21, 2023 due to Zoom technical difficulties*
Don't miss the premier Notary event to kick off the start of the 2023 year!
Are you a Notary Signing Agent or entrepreneurship or thinking about becoming one? If yes, we have just the event for you!
Join our one-day-only, Virtual Notary Summit with the top Notary Signing Agents and Trainers from around the country! Learn about Apostille, Building a 7-Figure Signing Service, Building a 6-Figure Notary Public Business, How Collaboration Is Good for Your Business, Field Inspections, Marriage Officiating, Notary Loan Signing Agent Best Practices and Remote Online Notarization (RON). We'll also hear about How to Market Direct to Title / Lender and What it Takes for Entrepreneurs to be Approved for a Mortgage and Much More ...
This year's theme is COLLABORATION IS THE NEW CURRENCY!
Hear from the Top National Notary Training Experts:
Laura Biewer – Coach Me Laura
Kendra Lewis – Signing Agent Basics
Ronnie Mickle – Notary Stars
Bill Soroka – NotaryCoach.com
Vanessa Terry - Notary2Notary
With Special Guest Appearance by:
Rebecca Richardson, the Mortgage Mentor
Also featuring other top Notary Experts from across the country! A complete list of Notary Publics listed below in alphabetical order* :
Jeron Akeem
Nikia Alexander
Jim Allen
Laura Biewer
Janae Blatch
Daniel Brewer
Norma Lizbeth Brooks
Jeff Clark
Jen Cooper
Calvin Darville
Daniel Franklin
Melina Fuenmayor
Seben Griffin
Clyde Heppner
John Holder
Sue Hope
Sanford Jones
Michele Klempner
Judi Lawrence
Kendra Lewis
Ebony Locke
Griselle Marte
Star McQueen
Ronnie Mickle
Matt Miller
Jennifer Neitzel
Angel Nguyen
Kimberly Nunnally
Jacqueline Phillips
Rebecca Richardson
Nicole Roberts
Brian Schooley
Amy Seitz
Karynn Snow
Bill Soroka
Tiffany Stevens
Vanessa Terry
David Vidal
Cathy Vidal
Kristen Weiss
Selecia Young-Jones
Abraham Zamora
*The line-up subject to change.
ALL SALES ARE FINAL, NO REFUNDS OR EXCHANGES