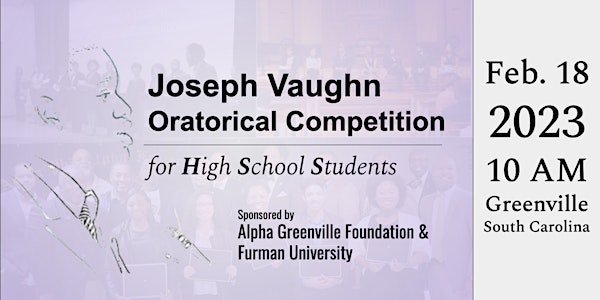 2023 Joseph Vaugh Oratorical Final Competition
This Oratorical competition for Local High School Students is co-sponsored by Furman University & Alpha Phi Alpha Greenville Foundation.
By Alpha Phi Alpha Greenville Foundation
When and where
Date and time
Saturday, February 18 · 10am - 1pm EST
Location
Wade Hampton High School 100 Pine Knoll Drive Greenville, SC 29609
About this event
The purpose of the competition is to encourage oratorical skills among students in the spirit of Dr. Martin Luther King and Mr. Joseph Vaughn, who was the first African-American student at Furman University.
The Competition is split into preliminary judging and a final competition in which the student will ask to deliver their speech. Contestants are judged on Speech Development, Effectiveness, Correctness, and Speech Value. The Final elements will add physical appearance, voice, mannerisms, and appropriateness to the judging criteria.
The contest was first held in 2008 at the Chapel on Furman University's campus. A theme is selected by MLK Planning Committee each year and several prizes are given to participants based on they are judged in the Contest.
Deadlines for Entry: January 13, 2023
Deadlines for Speeches: January 27, 2023
speeches are due on that date.
Additional dates:
February 11, 2023 Preliminary Competition (If more than 15 contestants)
February 15, 2023- Feedback Session
The Competition is limited to 35 Participants
The Final Competition is on February 18, 2022, at 10 AM .
Doors will open at 9:40 AM. This is an in-person event. Please comply with all safety protocols as required by the facilities.
Zoom Stream: We will stream the event to our registered users. We will send out a Zoom link for the stream to registered users on the morning of the event.
The theme for 2023 is
"In unprecedented times like these, where many societal gains seem to be disappearing, what is the role of the high school student, as America and the world face uncertainty?"
Event Chairs:
Mike Chatman
Alpha Phi Alpha Foundation (864) 735-0880
contact@alphagreenville.org
Chandra Dillard
Furman University (864) 294-2503
chandra.dillard@furman.edu
About the organizer
www.alphagreenville.org

Established in 2012 as a public 501c3 non-profit, tax-exempted organization, our mission is to aid the poor and disadvantage and help them toward a life of self-sufficiency. Our programs address teenage pregnancy prevention, college preparation & awareness, educational scholarships, youth leadership development and other similar programs.  We serve the Upstate area of South Carolina, and are affiliated with the Gamma Gamma Lambda Chapter of ΑΦΑ in Greenville, South Carolina.