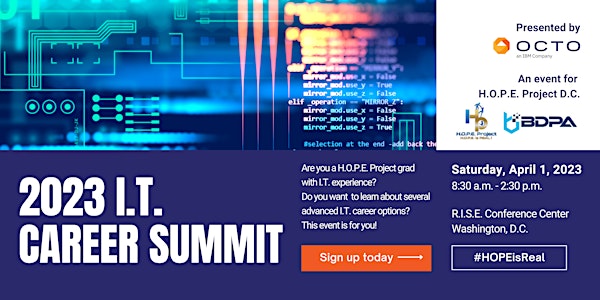 2023 I.T. Career Summit for H.O.P.E. Project DC / BDPA-DC
Technologists from Northern Virginia govcon firm Octo are presenting the next in-person I.T. Career Summit for H.O.P.E. Project DC. Join us!
Date and time
Saturday, April 1 · 8:30am - 2:30pm EDT
Location
R.I.S.E. Demonstration Center 2730 Martin Luther King Junior Avenue Southeast Washington, DC 20032
About this event
So, you got your start in the I.T. industry and now have some experience under your belt. High five! Now, what's next?!
If you're ready to pin point the next move on your I.T. career road map, then this event is for you! In fact, it was created especially for H.O.P.E. Project grads looking to level-up their IT career. #HOPEisReal #NoPlaceLikeHOPE #GentrificationKilla #WeGonnaPutEverybodyOn
Join us in the morning for light breakfast refreshments, inspiring welcome remarks from H.O.P.E. Project's Raymond Bell, a keynote from Octo leadership, followed by sessions featuring "Day in the Life" style panel discussions with leaders and technologists from Octo. In these 'Day in the Life' sessions, panelists will offer insights into their own career paths and tips to land and excel in an I.T. job in that area. Featuring both technical and non-technical job functions within the I.T. workplace serving the federal government.
The event will also feature opportunities to network with Octo employees and recruiters.
Light breakfast refreshments and lunch will be served.
See you at the R.I.S.E. Center!
About the organizer
About Octo, an IBM Company
Octo is a technology firm dedicated to solving the Federal Government's most complex challenges, enabling agencies to jump the technology curve. With a mission and service first mentality, we modernize and innovate by providing at-scale Agile, DevSecOps, Artificial Intelligence, Cybersecurity, Blockchain, Cloud, Open Source, and Data Science solutions. Visit www.octoconsulting.com.