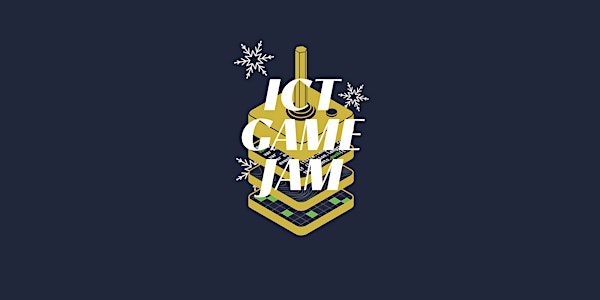 2023 ICT Game Jam - Feb 3-5 at WSU Shocker Studios
Wichita's biggest game dev event is on again IN THE WINTER for 2023!
When and where
Location
WSU Shocker Studios 3805 East Harry Street Wichita, KS 67218
Refund Policy
Refunds up to 1 day before event
Eventbrite's fee is nonrefundable.
About this event
2 days 4 hours

Mobile eTicket
In association with Global Game Jam the Winter 2023 Winter Game Jam will be hosted Friday, February 3rd to Sunday February 5th.
This Winter's Jam will be a little different than usual:
There will be no voting or cash prizes. Instead we are doing it "for the love of the game."
You can actually start as early as Monday, January 30th at noon.
The in-person event will run a full 48 hours, so the doors will open at noon on Friday, February 3rd, even though our "kick-off" will still be at 6pm.
Wichita's biggest game dev event is back.  Artists, developers, and creators of all kinds are invited!  Bring a team, join a team, or fly solo!
For more details, visit ictgamejam.com and follow ICT Game Jam on Twitter.
But here's the gist:
Participants hang out Friday afternoon/evening through lunchtime Sunday, make games.  Hone your skills or learn some new ones!  Hint: everyone is learning!
Work stops at Noon on Sunday.
Have friends and family come play on Sunday afternoon from 2pm to 4pm.
If you have questions, send us a message at ictgamejam@devict.org
FAQs
Do I need to know how to make games to sign up?
No!  We've had plenty of people sign up and spend the weekend making their first game at previous events.
Is this a class?  Will you teach me to make games?
This is not a class, or an instructor-led workshop. 
We will, however have many knowledgeable people in our community willing to answer questions.  They won't be able to help you step-by-step, but they can help you find resources, and set some good goals to aim for given your level of experience. 
If you're willing to learn as much as you can on your own, and are willing to ask questions, you'll do just fine!
Are there minimum age requirements to enter the event?
Minors can attend.  Participants under 15 must be accompanied by an attending adult.  Attendees between 15 and 17 must abide by regional curfew laws.  We will have a waiver for guardians to sign for each minor participant.
What are my parking options for the event?
There will be ample parking at the event venue.
What should I bring into the event?
You must bring your own computer. There will be desk space and power for Desktops and Monitors, so feel free to haul in your fancy gaming rig if you want to.
Your computer must be able to use Wi-Fi, there is no wired Ethernet connectivity. If you are using a desktop we suggest grabbing a USB Wi-Fi dongle and testing it before you arrive.
We will provide drinks and snacks throughout the weekend, but you're welcome to bring your own too.
What meals are provided?
We provide three (3) meals:
Lunch on Saturday
Dinner on Saturday
Lunch on Sunday
We also provide snacks and soft drinks all weekend.
Note that we typically do not have coffee on site, so bring your own java.
There is NO breakfast provided, and NO meal is provided on Friday evening. You are welcome to bring in your own food as well if you need to grab a meal on the way in.
Alcohol?
No alcohol is permitted.
What is the maximum team size? 
While we recommend teams of 4 or smaller, we have had teams as large as 6.  More people than that gets really tough to manage for 3 days.  You don't need to have a team formed before the event.
We also don't recommend flying solo, but it is 100% fine to do so if you want to.
Is there a curfew?
TL;DR: Plan to leave by midnight on Friday and Saturday evenings.
The venue requires us to have a volunteer on site as long as we have participants in the building. This means that you can stay as late as you can convince one of us to stay.
Typically there is no problem staying as late as midnight. After that, please speak to us and we'll pin down a time. Remember, if we don't get to bed, nobody will be up in the morning to let you in!
What time do the doors open on Saturday and Sunday morning?
TL;DR: 7am
One of our volunteers must open the doors in the morning. We strive to be there by 7am. Again, please check with the staff as you leave to get a firm time that someone plans to arrive, sometimes they may even plan to be earlier.
We will also add updates to Slack if we are late and when the facility is open, so you can keep track in real time before you head over.
Can I work on the game ALL NIGHT LONG at home?
Yes, there is no rule against taking your work home with you during the jam duration.
Can I leave my equipment at the facility overnight on Friday and Saturday nights?
Yes, obviously the other attendees are there, but for the most part the facility is empty, and your equipment is as secure as the rest of the equipment there. The doors are locked at night.
Will there be judging and prizes?
No!
Unlike our Summer jam, the Winter jam will be affiliated with the Global Game Jam and we will not be doing voting or prizes.
This jam will be "for the love of the game!"
Will there be community play?
Yes! If the local Covid Level stays Low, then YES, we will have Community Play on Sunday afternoon form 2pm to 4pm.
Again, there will be no voting, just play!
How can I contact the organizer with any questions?
ictgamejam@devict.org