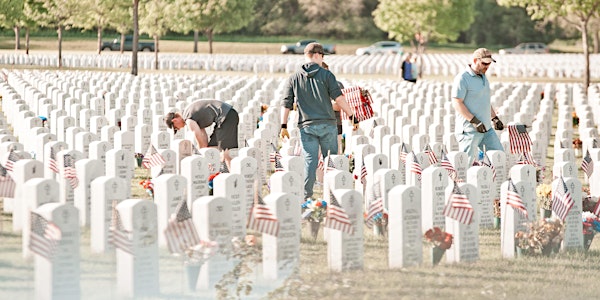 2023 Flag Collection
2023 Flag Collection will take place on Saturday, June 3rd and Sunday June 4th.
By Flags for Fort Snelling
Date and time
June 3 · 8am - June 4 · 8pm CDT
Location
Fort Snelling National Cemetery 7601 34th Avenue South Minneapolis, MN 55450
About this event
Saturday, June 3rd & Sunday, June 4th
We invite you to join us for the pick-up of the American flags that we placed this past Sunday. As long as they're in good condition, we'll continue to use the flags for future Memorial Days to come.
A Few Reminders
You will be outside and walking for the entirety of your shift, please wear the appropriate footwear
Collection will happen rain or shine, please dress for the weather!
According to past volunteers, gloves will help avoid hand blisters.
Cemetery Rules
No running in the cemetery.
No leaning on, sitting on, or resting body or limbs on headstones or monuments.
Do not pick up any flowers or flags (unless the flag has fallen to the ground).
Do not touch any of the coins that were placed on top of the headstones or around the headstone.
No advertising of any kind while on the cemetery grounds.
Do not disrupt visitors at graves. You may ask to place the flag for them. However, if they deny the request, kindly give them a flag so that they can place it themselves.
No littering, please ensure that you are picking up after yourselves.
*Disclaimer - This event is subject to change or cancellation due to the Department of Veterans Affairs' guidelines.
Frequently asked questions