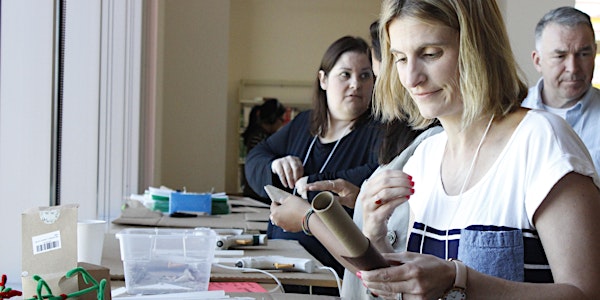 2023 Design Thinking Institute
This institute will enable you to create projects that foster your students' design thinking skills, preparing them for the future.
Location
The Nueva School (San Mateo campus) 6565 Skyline Blvd Hillsborough, CA 94010
About this event
3 days 8 hours

Mobile eTicket
DTI 2023 will run from Tuesday, June 20​ to Friday, June 23. ​Each ​day ​will ​begin ​at 8:30 ​a.m. ​and ​end ​around ​4:30 ​p.m (PDT). On Friday, we end a little earlier (3:30 p.m.) to allow for travel plans.
Institute Overview
The Nueva Design Thinking Institute (DTI) is our annual summer institute dedicated to sharing design thinking practices and processes with other educators.
We welcome all educators interested in incorporating design thinking, or aspects of design thinking, into their teaching practice as well as those who are already using design thinking and want to further deepen their practice. Participants will gain and deepen their understanding of how to create design thinking curricula that foster creative and innovative problem solving skills.
Space ​is ​limited ​so ​please ​register ​all ​group ​members ​at ​the ​same ​time. ​If purchasing tickets for multiple ​participants, kindly note that you are able to add/edit their names once your purchase is complete. We ask that each attendee ​complete ​the ​registration form as it inquires about food allergies and accommodations, emergency contact, etc.
For ​further ​details ​about DTI, ​the ​Innovation ​Lab, ​the ​Nueva ​School, ​and/or ​our ​team, ​please ​visit ​our ​website or email ​us ​at ​designthinking@nuevaschool.org.
Group Discount
We offer a group discount of 5 registrations for the price of 4. For more information, please email designthinking@nuevaschool.org.   
Financial Assistance
Financial assistance is available. Please complete this form to apply.
Cancellation Policy
All program participation fees are due in advance to confirm your registration and participation. Any cancellation and refund requests must be submitted in writing via email to designthinking@nuevaschool.org. Refund requests will be considered at the Institute's sole discretion and generally follow the following guidelines:
Received by April 20, 2023 – eligible for a full refund, less a $100 per participant administrative fee
Received by May 20, 2023 – eligible for a 50% refund, less a $100 per person administrative fee
Received thereafter – non refundable
PLEASE NOTE:
By registering for this event, activity, class, or program ("Event"), the Registrant indicates their understanding of and agreement to the following:
All amounts paid at the time of registration, excluding service fees, will be refunded if an Event is canceled or admission is denied for any reason. No other remedy shall be offered.
Participation in this Event is voluntary and Registrant expressly waives any and all claims against The Nueva School that may arise from such participation and agrees to hold The Nueva School harmless should injury of any sort or severity occur during or in connection with my attendance. This waiver of liability and agreement to hold harmless extends to loss or damage to any personal property Registrant brings with them to the Event.
All event participants shall adhere to the policy of The Nueva School that prohibits publishing in any format or on any platform any photographic image or video image of a minor child without the express permission of the child's parent or legal guardian.
Registrant is expected to show respect to co-participants and to Event sponsors & hosts. Registrant accepts responsibility for the cost of repairing or remedying any damage caused by them and/or those included in this registration.
About the organizer
The Nueva School is a PreK-12 school for gifted learners located in Hillsborough and San Mateo, California. 
For over fifty years, Nueva has pursued its mission in two ways — Nueva provides students with an outstanding, tailored education (Mission I); and Nueva works to reach teachers, students, and administrators everywhere by engaging the education community actively within the Bay Area, across the nation, and around the world (Mission II).