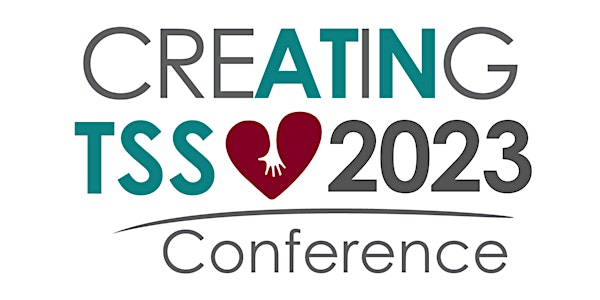 2023 Creating Trauma-Sensitive Schools Conference
Join ATN for the Largest Gathering of Trauma-Informed Educators as we continue BUILDING RESILIENCE & IMPROVING CHILDREN'S OUTCOMES
When and where
Location
Hilton Americas-Houston 1600 Lamar Street Houston, TX 77010
About this event
5 days 5 hours

Mobile eTicket
Welcome to ATN's
2023 Creating Trauma-Sensitive Schools Conference!
PLEASE READ ALL INFORMATION PRIOR TO PURCHASE
SCHEDULE
Following our successful In-Person/Virtual Conference this past February, we will continue a similar schedule this year.
Final AGENDA has not been set yet.
Our February 2023 schedule:
Sunday, February 19, 2023 Academy Day- A robust Pre-Con event with 3-hour deep dives available both in the morning and afternoon. Opportunity to participate in a Poverty Simulation is also available. Tickets are not yet available for Academy Day but will be limited once open.
Monday and Tuesday, February 20-21, 2023 CTSS In-Person Conference.
Wednesday, February 22, 2023, Travel/Transition Day
Thursday and Friday, February 23-24, 2023 CTSS Virtual Conference
In-Person and Academy Day events will be held at the Hilton-Americas Houston in downtown Houston, TX. Beat the rising hotel rates by using our hotel block at the Hilton-Americas. Book Now
What's new this year?
A full day of Acedemy Day events pre-conference...providing more opportunites and CEUs.
Pricing has changed this year. The Virtual Conference is INCLUDED in the price of an In-Person ticket, a $295 value! Virtual tickets can be purchased separately for those not attending in Houston.
AGENDA
https://www.attachmenttraumanetwork.org/conferenceschedule/
All In-Person presenters in Houston will be live, with only the Main Stage speakers/keynotes being recorded to air during the Virtual Conference. The Virtual agenda has different keynotes and workshops from the In-Person (with only 9 session recorded in Houston that will be re-aired.) Virtual sessions will be held live on the days they're scheduled during Virtual Conference, with recordings available for the next 90 days.
An In-Person Conference ticket to join us in Houston INCLUDES the Virtual Conference this year!
PURCHASE ORDERS
ATN invites schools and other institutions to reach out to us regarding purchase orders (POs). You cannot use a PO to pay for Eventbrite tickets. You will need to work with ATN. After payment of the PO, codes will be issued that allow attendees to register.
We strongly prefer prepayment of purchase orders. POs are not cash, nor are they considered payment.
If your institution cannot prepay on a purchase order (have full payment made, with cash/check/card) prior to the Conference, please contact us and let us know that. We can then determine whether we can accept your purchase order.
If any portion of the Conference fills to capacity, preference will be given to fully paid Purchase Orders over post-event payments.
UPDATE YOUR VENDOR RECORDS- ATN has a new address for remittances. School systems that have been involved with us since the beginning might still have our old information in their records. We cannot be responsible for payments sent to any address other than the one below. We will only receive payments sent to this address.
Payment address:
Attachment & Trauma Network, Inc., ATTN: S. Garde, PO Box 220, Westminster, MA 01473
Contact conference@attachtrauma.org with the following information:
Name of Person attending
Email of Person attending
Name and billing address of institution issuing the PO
Contact person name and email address
Communicable/Community Disease response
The ATN Board of Directors looks for guidance from local, state, and federal authorities on all pandemic or other community health related protocols. If needed, ATN will issue/update a policy. At this time, there are no specific vaccination or masking requirements for TSS2023. 2022's In-Person conference showed how cooperation, flexibility, and respect can lead to a safe atmosphere. ATN cannot guarantee any set policy at this time so please plan accordingly and be prepared for possible procedure announcements.
We encourage all attendees to practice social distancing and good health hygiene during the event, as well as to not attend if they are feeling ill or have tested positive.
We also encourage all registered attendees to watch for additional information about the event and community health protocols as the conference gets closer.
Hotel Block
ATN has negotiated a block with the Hilton Americas to offer discounted rates. Hotel prices in downtown Houston are rising. Book with this link to get a lower price and stay at the Conference location.
CEUs and Certificates of Attendance (Both Conferences)
Our CEU Information and a link to sign up will be provided as soon as finalized.
Please note that Continuing Ed credits are for attendees in the following mental health disciplines: psychology, counseling, social work and marriage/family therapy. CEs can only be issued for sessions you attend live (either in-person or online). Workshops viewed as recordings after the conference will NOT be eligible for CEs.
Certificates of Attendance will be available for educators or others who need proof of attendance to give to their schools or other employers. Certificates will be available in PDF form on the Conference Platform. Educators should download them shortly after you complete them, as ATN will not be printing or providing them beyond 90-day window that our conference platform is open.
Recordings
The In-Person Conference in Houston will not be recorded, (except for the Main Stage workshops that will be aired on the Virtual Conference platform).
The Virtual Conference Recordings will be available for 90 days. The platform will not be available after May 26, 2023.
Only available workshops/keynote addresses will be recorded, as we are sometimes limited by the agreements we have with our presenters.
Any recordings that have less than 90 days will be clearly noted.
Content of workshops and keynotes belong to the presenters, and downloading or copying of these recordings will not be permitted without written permission directly from the presenter.
Technology/Access (Virtual)
Virtual CTSS2023 will be on the Pathable platform, using Zoom.
Most sessions will be LIVE Feb 23-24. Presenterswill present live and then be available to answer Q&A.
If you use a SCHOOL EMAIL address, make sure to check with your IT department about their SPAM filters. Many virtual attendees do not get the invitation emails because they are filtered by your institution. If they filter Gmail or Google, you will also have trouble receiving our emails. Most emails will come from: "Creating Trauma-Sensitive Schools Conference via pathable.com" Ask your IT department how to make sure emails get to you!
See Zoom's guidelines for specific internet speed and system requirements.
Generally, all attendees will need access to the internet, a device that is connected to the Conference Platform, and working speakers for audio.
Working microphone and camera are needed to participate in interactive sessions.
Phones can be used to access the platform, although that is not recommended unless needed for sound/microphone. Tablet/desktop/laptop recommended.
Refunds
January 15, 2023 is the last day for refunds.
Refunds of registration fees, minus a $50 processing fee, will be given if requested prior to January 15. All refunds will be issued at ATN's discretion either by check or ticketing refund.
Registration credit can be moved to the next TSS Conference in 2024. Contact us prior to the Conference.
A ticket can be transferred to another. Contact us prior to the Conference.
After January 15, 2023, if you are diagnosed with Covid and cannot attend the In-Person Conference, we can refund the amount you paid, minus the $295 Virtual with no additional fees. This allows you access to the Virtual Platform for the live days and the 90 days to watch the recordings.
Requests for refunds must be emailed to ATN prior to January 15, 2023. Email only, no phone calls.
conference@attachtrauma.org
Cancellation policy
Our Conferences will occur from February 19 to February 24, 2023. ATN is not responsible for weather, travel issues, interruptions to internet service, illness, or equipment failure.