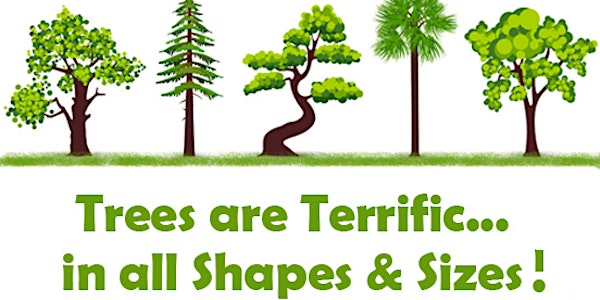 2023 Arbor Day Poster Contest and Annual Free Seedling Program
The Delaware Forest Service invites all public and private schools and youth groups, grades K-5 to participate in the 2023 Arbor Day Poster
About this event
115 days 22 hours

Mobile eTicket
2023 Arbor Day Poster Contest Theme: Trees are Terrific...in all Shapes and Sizes!
 The Delaware Forest Service invites all public and private schools and youth groups, grades K-5 to participate in the 2023 Arbor Day Poster Contest and Annual Free Seedling Giveaway. 
The annual Arbor Day Poster Contest is designed to increase knowledge about trees and forest resources. The poster contest is annual way for students to learn more about the role of trees in our communities and their direct impact on Delawareans' health and well-being.
 This year's theme, Trees are Terrific…in all Shapes and Sizes! is designed to increase knowledge about the importance of tree diversity in our community forests. Trees come in all shapes and sizes, producing a vast array of fruits, flowers, leaves, and seeds. A diverse community forest is a healthier forest that attracts a variety of wildlife and is more visually stimulating. Awareness of the difference between tree species helps in selecting the proper tree to plant in a given location based on site conditions, temperature and soil. Increasing student awareness is the first step towards appreciation of a healthy, diverse community forest. 
This year, the teacher of each of the 12 poster winners will receive a "tree-related trunk of goodies" for your classroom.
SEEDLING ANNOUNCEMENT: We have been notified by the tree nurseries in the tri-state area of a projected shortage of tree seedlings this year. Some species have already sold out due to the increase of reforestation projects happening in our area. We will do our best to fill the orders until we run out of seedlings. If you do no think the majority of your students will be able to plant their seedling, consider declining the offer to receive them.
Please register by classroom and only select ONE ticket to do so. Later in the registration process you will be asked for your student count for seedlings.
 Posters are due by April 1st : https://drive.google.com/drive/folders/1_K4X6PoyYBOyFmIVOJqghsTPhFlM2mjd?usp=sharing
 Seedlings will be delivered the third week in April.
Access the shared google folder for the 2023 Poster Guidelines and Rules and a Curriculum Guide: https://drive.google.com/drive/folders/1_K4X6PoyYBOyFmIVOJqghsTPhFlM2mjd?usp=sharing