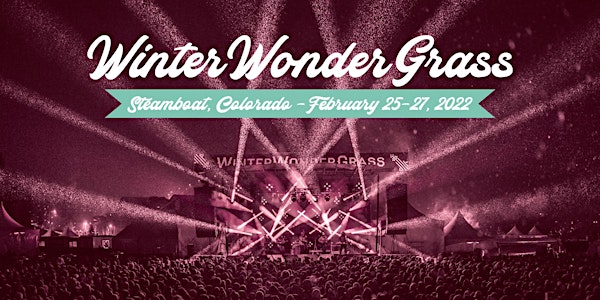 2022 WinterWonderGrass Steamboat
3 days of MUSIC BREWS & MOUNTAINS
Event Information
Performers
Trampled By Turtles, Lukas Nelson and Promise of the Real, The Wood Brothers, Yonder Mountain String Band
Kitchen Dwellers, The Travelin' McCourys, Sierra Hull, The Dustbowl Revival, Lindsay Lou, Tejon Street Corner Thieves, Andy Thorn, Molly Tuttle, The Ghost of Paul Revere, Cris Jacobs, The Sweet Lillies, The Drunken Hearts, Morsel
Location
Upper Knoll Lot
2160 Mt Werner Cir
Steamboat Springs, CO
Since 2013, a grassroots mountainside gathering celebrating all things natural: bluegrass, roots & craft brew!
About this event
WinterWonderGrass Colorado 2022 will feature: Trampled by Turtles, Lukas Nelson & Promise of the Real, The Wood Brothers, Yonder Mountain String Band, Kitchen Dwellers, The Travelin' McCourys, The War and Treaty, Molly Tuttle, Sierra Hull, Lindsay Lou, Ghost of Paul Revere, Dustbowl Revival, Cris Jacobs Band, Pickin' on the Dead, Buffalo Commons, Sticks and Thorn, The Sweet Lillies, Drunken Hearts, Tejon Street Corner Thieves, Morsel and Joy Roemer Band plus WinterWonderWomen and the debut of the RiverWonderGrass All-Stars. 
VIP is SOLD OUT! Get on the waitlist with Lyte.
GRASS AFTER DARK: The magic pours into the community following the festival each night! Ride the gondola to Thunderhead Lodge, walk over to the Grand Ballroom or feel the local vibes downtown at Schmiggity's. Join us for shows featuring Yonder Mountain String Band, Pickin on the Dead, WinterWonderWomen, Cris Jacobs, Andy Thorn & Jon Stickley and so many more. Tickets on sale now!
Thursday night Mountaintop Dinner will feature The Travelin' McCourys. Tickets are sold out.
Friday: Lukas Nelson and Promise of the Reel, Travelin McCourys, Sierra Hull, Cris Jacobs, Drunken Hearts, Sticks and Thorns, Jay Roemer Band, The Sweet Lillies, Buffalo Commons, WinterWonderWomen and WWG All-stars
Saturday: Trampled by Turtles, The War & Treaty, Molly Tuttle, Dustbowl Revival, Kitchen Dwellers, Buffalo Commons, Tejon Street Corner Thieves, Morsel, WinterWonderWomen, RiverWonderGrass Allstars
Sunday: The Wood Bros, Yonder Mountain String Band, Kitchen Dwellers, Lindsay Lou, Pickin on the Dead, Ghost of Paul Revere, Morsel, Dustbowl Revival, Big Richard
Please note the Festival is February 25-27, 2022 - Friday through Sunday, but we throw a free show and paid gondola to table ranch dinner to kick things off on Thursday, February 24. NO REFUNDS AFTER DEC 15, 202`1.
-----------------------------------
LIFT TICKETS & LODGING may be purchased HERE.
-----------------------------------
True connection is a spark of art and a catalyst for inspiration. WinterWonderGrass creates a platform for authentic communication and connection to happen.
DATES / TIMES
Thursday, Feb 24 | 5-9 pm Mountaintop Dinner
Friday, Feb 25 | 1:30-10 pm
Saturday, Feb 26 | 1:30-10 pm
Sunday, Feb 27 | 1:30-9:30 pm
WinterWonderGrass is an all-ages family event, must be 21+ to purchase alcohol. The event is outdoors and takes place in rain, snow, or shine!
Ticket fees include a $15 Steamboat Resort fee ($5 per day), all management, taxes, and credit card fees. More info at www.winterwondergrass.com/steamboat
WINTERWONDERGRASS | MUSIC. BREWS. MOUNTAINS.
Music Brews Mountains is the foundation for the 9th annual WinterWonderGrass Festival featuring more than 20 bands and local breweries over three days. WinterWonderGrass Festival is the perfect storm of world-class bluegrass, roots and acoustic artists, craft beer, and libations under star-filled Steamboat nights encapsulating all things Colorado.
Each year WinterWonderGrass supports local non-profits - with a focus on environmental protection, musical education, community initiatives, and disaster relief. We donate $1 for every ticket sold to our partner NPO's. The festival boasts a strong sustainability program diverting over 85% of festival waste from landfills. A commemorative festival mug included with each three-day festival ticket - zero single-use plastics are on site. WinterWonderGrass is a community and family-friendly event with a colorful kid's zone including face painting, hula hooping, and crafts.
Kids 12 and under and seniors 75 and older are free.
Performers
Trampled By Turtles, Lukas Nelson and Promise of the Real, The Wood Brothers, Yonder Mountain String Band
Kitchen Dwellers, The Travelin' McCourys, Sierra Hull, The Dustbowl Revival, Lindsay Lou, Tejon Street Corner Thieves, Andy Thorn, Molly Tuttle, The Ghost of Paul Revere, Cris Jacobs, The Sweet Lillies, The Drunken Hearts, Morsel
Location
Upper Knoll Lot
2160 Mt Werner Cir
Steamboat Springs, CO