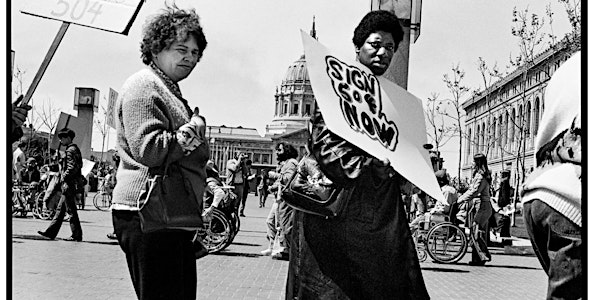 2022 Symposium on Disability and Accessibility: Reimagining Space and Place
2022 Symposium on Disability and Accessibility
About this event
April 5-28 marks the 45th anniversary of the San Francisco 1977 Disability Rights Protest, a sit-in that demanded the enactment of Section 504 of the Rehabilitation Act of 1973. This was a landmark piece of legislation for people with disabilities in the United States and set the groundwork for the Americans with Disabilities Act of 1990. As we reflect on this incredible historical action, we look to our present Yale environment to ask important questions about how the campus supports and falls short for the disability community.
[Image Description: ​​Black and white photograph of protesters with signs marching in a circle in front of federal buildings in San Francisco, CA, 1977.]
Photo Credit: Anthony Tusler: http://dculture.org/anthony-tusler/
Program:
9:00-9:30am: Welcome and Keynote Speaker
9:30-10:15am: Navigating Academia with Disabilities Panel
This panel discussion will feature student voices from Yale's disability advocacy and activist communities. Students will share how they've navigated their academic lives as people with disabilities on campus.
Martine Cruz, YC'23, Communications & Events Director, DEFY; Global Affairs
Emily Gerdin, PhD Candidate, Psychology
Holly Basille, YC '23, Geophysics and Seismology
Joaquín Lara Midkiff, YC '23; Advisor, DEFY and founding editor of the Yale Review of Disability Experience
Ben Bond, MDiv '22; Co-Founder DivineAbilities
Edward Friedman, Yale Law '24; Former Policy and Intergovernmental Affairs Coordinator at the New York City Mayor's Office for People with Disabilities
10:15-10:30am: Break
10:30-11:15 am: Disability Theory in Practice
Scott Herring, Professor of American Studies and Women's, Gender, and Sexuality Studies, Yale University
"What Critical Age Studies Brings to Disability Studies"
Katie Wang, Assistant Professor, Department of Social and Behavioral Sciences at the Yale School of Public Health
Mental Health Impact of the COVID-19 Pandemic on People with Disabilities
Angelica Clayton, PhD Candidate, History of Science/History of Medicine, Yale University
Where is trauma-informed pedagogy?
11:15am-12:15pm: Lunch and Breakout Rooms
12:15-12:30pm: Break
12:30-1:15pm: Alumni Panel
A panel discussion featuring Yale alumni, discussing their experiences on campus as students with disabilities and the work they've done since leaving the university.
Ben Nadolsky, YC '18, JD/MBA Penn; Co-founder of DEFY and Principal of Nadolsky Consulting Group LLC, a firm specialized in education, accessibility, and disability rights
Janice Ta '10 JD, Intellectual property lawyer, Perkins Coie LLP; Former President of the National Assoc. of Students with Disabilities
Andrea Parente '19 JD, Disability Benefits Attorney, federal court system; Former attorney fellow with Disability Rights New Jersey.
Dr. Karin Muraszko, YC '77, Chair, Dept of Neurosurgery, University of Michigan
1:15-1:30pm: Break
1:30-2:15pm: Interdisciplinary Research at the Intersection of Disability
Rebecca Boorstein, PhD Candidate, History, Yale University
"Taking a Jab: Learning from Anti-Vaccination Lawsuits in the Progressive Era United States"
Christy Charnel, MDiv '22, Yale University
"the phobo-photogenic black fat flesh"
Kenya Loudd, PhD Candidate, History of Science/History of Medicine, Yale University
"100 Years of SJS: A Survivors Perspective"
2:15-2:30pm: Break
2:30-3:15pm: Accessibility at Yale
This panel discussion will feature accessibility specialists across campus discussing the work being done in the digital/web, academic, procurement, and social media realms. Participants should leave with a better understanding of how accessibility is integrated into the work the university does, and where to turn for future assistance.
Daniel Cress, Director of Marketing, David Geffen School of Drama at Yale/Yale Repertory Theatre and Chair, DAY Staff Affinity Group
Julie Linden, Director of Collection Development, Sterling Memorial Library
Melissa Scheve, Associate Director, Faculty Teaching Initiatives, EEICTL Learning to Teach [Poorvu]
Jordan Colbert, Associate Director, Student Accessibility Services
Shami Tartolov, Associate Director, Student Accessibility Services
Michael Vaughn, Associate Director of Digital Accessibility, ITS Information Technology Services
Diane Cornelius Charles, Director for the Office of Institutional Equity and Accessibility
Robyn Acampora, Director of Strategic Initiatives and Public Service Careers, Office of Career Strategy
3:15-3:30pm: Acknowledgements and Closing Remarks
**Note: All panels will be hosted on Zoom Webinar except for the lunchtime breakout rooms.
Zoom links for the lunchtime breakout rooms will be shared via email to all registrants the morning of the event and via chat during the panel immediately preceding the lunch hour.
Participants can choose a breakout room from the options below; facilitators will be present to prompt discussion, but these are intended to be more informal discussions and opportunities for networking.
Student life & accessibility
How to be a good ally
Beyond accommodations at Yale
Open Topic
Community Partners:
Belonging at Yale
Diversability at Yale (DAY)
History, Health, and Humanities (HHH) Working Group
Information Technology Services- Web Accessibility
Office of Diversity and Inclusion
Program for Biomedical Ethics
Program for Humanities in Medicine
The Interdisciplinary Center for Bioethics
Yale Alumni Association
Yale History Department
Yale History Diversity Committee
Yale History of Science and Medicine Program
Yale Public Safety
Yale Repertory Theatre
Yale Schwarzman Center
Yale University Library
Disability-Related Accommodations:
Live auto captions, CART services, and ASL services will be provided for this event. If you need additional disability-related accommodations, please contact Michelle Morgan at michelle.morgan@yale.edu. If possible, requests for sign language interpreters should be made by Monday, March 21st, 2022 to provide sufficient time for the organizers to book services.