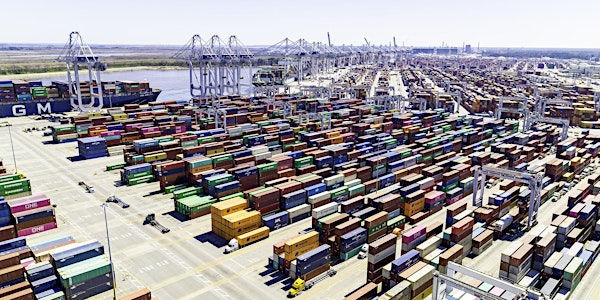 2022 State of the Port - Savannah
2022 State of the Port Address, hosted by the Georgia Ports Authority and the Propeller Club of the United States - Port of Savannah
By Georgia Ports and Savannah Propeller Club
When and where
Date and time
Thursday, February 24, 2022 · 10am - 1:30pm EST
Location
Savannah Convention Center 1 International Drive Savannah, GA 31402
Refund Policy
Refunds up to 7 days before event
About this event
The 2022 State of the Port Address, hosted by the Georgia Ports and the Propeller Club of the United States - Port of Savannah, will be held at the Savannah Convention Center. GPA Executive Director Griff Lynch will present the latest developments at the GPA during a networking-lunch program.
State of the Port tickets includes a coffee/networking reception. Tickets are required for entrance.
PRELIMINARY AGENDA
10:00 a.m. | Networking Reception
10:30 a.m. | Ballroom Doors Open
11:30 a.m. | Jason Ball, Propeller Club President | Welcome | Pledge of Allegiance | Invocation
11:35 a.m. | Pastor Jeff Webb | Invocation/Blessing of the meal
11:40 a.m. | LUNCH
12:00 p.m. | Joel Wooten, GPA Chairman
12:05 p.m. | TBD | Remarks
12:15 p.m. | Joel Wooten, GPA Chairman | Introduction of video | Introduction of GPA Executive Director
12:20 p.m. | Griff Lynch, Executive Director, Georgia Ports Authority | State of the Port Address
SPEAKERS
JOEL WOOTEN: Chairman | Georgia Ports
Joel O. Wooten is a founding member of the law firm of Butler Wooten & Peak, LLP. He earned a bachelor's degree in business administration from the University of Georgia in 1972, and earned a law degree from the University of Georgia in 1975. Wooten served as chair of the University System of Georgia Board of Regents from 2004-2005 and was a USG board member from 1999-2006. He has been recognized as one of Georgia Trend's 100 Most Influential Georgians, and has been repeatedly selected as a Georgia Super Lawyer. He received the State Bar of Georgia's Tradition of Excellence Award in 2000, the UGA Law School's Distinguished Service Scroll in 2012, and the Amicus Curiae Award from the Supreme Court of Georgia in 2018. He and his wife, Sybrina, have five children and five grandchildren. They reside in Columbus.
GRIFF LYNCH: Executive Director | Georgia Ports
Griff Lynch is the executive director of the Georgia Ports Authority, a 1,500-person strong state authority that owns and operates strategic port terminals serving American commerce.
As executive director, Lynch oversees the nation's third-busiest gateway for containerized trade and second-busiest auto port complex in Savannah and Brunswick, respectively. In addition, Griff oversees GPA's inland terminal in Northwest Georgia. Together, these facilities form one of the largest economic engines in the U.S. Southeast.
As a proven leader in the maritime industry, Lynch brings more than 30 years of operational and commercial experience to his role. He currently resides with his family in Savannah, Ga.
JASON P. BALL, PE: President of the Service-Connected Disabled Veteran Owned Small Business| President, Propeller Club of Savannah
Jason Ball is a professional engineer with specialty disciplines in port and navigation engineering with over 23 years of experience. At Ball Maritime Group, he currently serves as president of the Service-Connected Disabled Veteran Owned Small Business located in Savannah. Ball previously served 10 years as an Army Combat Engineer Officer with multiple combat deployments and numerous decorations. Ball was born in Savannah, raised on Tybee Island, and currently lives in Savannah with his wife, Jennifer, and daughter, Julia. He graduated from the United States Merchant Marine Academy in Kings Point, N.Y. with a Bachelor of Science Degree in Marine Engineering and subsequently earned a Master of Business Administration from Mercer University in Macon, Ga.
IMPORTANT INFORMATION
As we open registration, it is difficult to predict what the health climate will be like on Feb. 24. Please know that we are doing everything possible to ensure a safe and pleasant experience for all participants.
COVID-19 Precautions:
We ask that you not attend the event if you are sick or experience any COVID or flu-like symptoms.
Seating has been limited to allow for more opportunities to social distance.
Masking is welcome.
Masks and hand sanitizer will be available at the entrance to the event.
Social distancing is strongly encouraged in common areas.
As we get closer to the event, these COVID precautions may be updated.
Parking:
The Trade Center is currently undergoing construction which has significantly impacted parking and visitor access.
The facility's front parking area is limited to 380 spaces (MAIN PARKING LOT). However, there are overflow parking options that include trolley transportation to and from the building.
Please allow EXTRA TIME for parking and trolley transportation to the event, and when possible, please carpool.
Need assistance?
For ticket information, contact Patricia Richardson at prichardson@gaports.com or 912.964.3996.
For event questions, contact Emily Goldman at egoldman@gaports.com or 912.964.3885
About the organizer
About the Georgia Ports 
Georgia's deepwater ports and inland barge terminals support more than 496,700 jobs throughout the state annually and contribute $29 billion in income, $122 billion in revenue and $3.4 billion in state and local taxes to Georgia's economy. The Port of Savannah handled 9.3 percent of total U.S. containerized cargo volume and 10.5 percent of all U.S. containerized exports in FY2020.

About the Savannah Propeller Club
The Propeller Club United States - Port of Savannah includes more than 300 people from more than 120 organizations in the Savannah maritime community.  The membership represents a cross-section of the marine, maritime, and associated industries throughout the United States and in many cities overseas. "Propeller" in the name refers to the propulsion of ships, and is symbolic of the driving force of the nation's heavily-maritime-reliant economy.