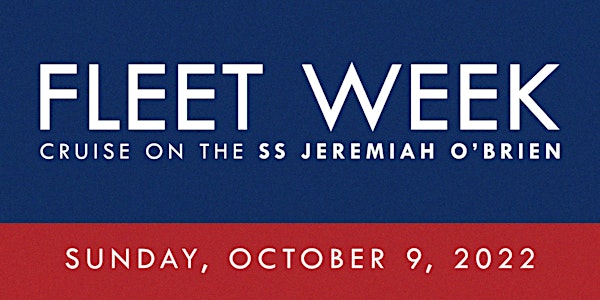 2022 San Francisco Fleet Week Cruise on the SS Jeremiah O'Brien SUNDAY
Fleet Week Cruise aboard the Liberty ship SS JEREMIAH O'BRIEN for SUNDAY, October 9, 2022.
When and where
Location
SS Jeremiah O'Brien Pier 45, Fisherman's Wharf San Francisco, CA 94133
About this event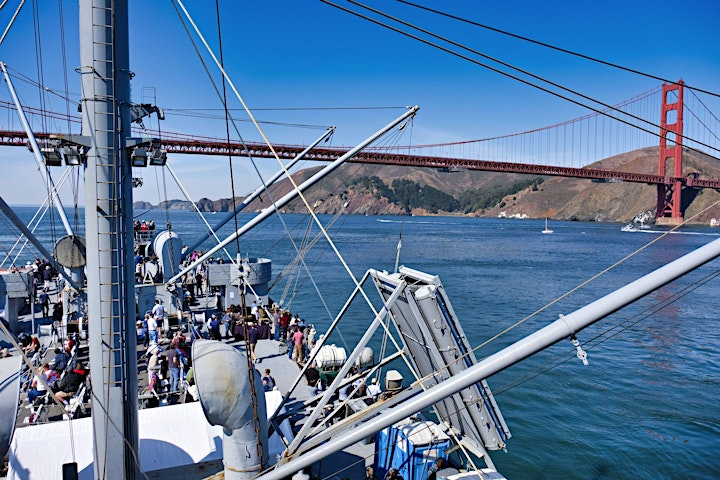 THIS PAGE IS FOR SUNDAY TICKETS ONLY
Sunday, October 9, 2022
Boarding 9:00 am, Cruising 10:00 am to 5:00 pm
Departs from Pier 45, Fisherman's Wharf, San Francisco
San Francisco Fleet Week is an annual public event that honors the contributions of the men and women of the United States Armed Forces while advancing cooperation and knowledge among civilian- and military-based Humanitarian Assistance and Disaster Response personnel.
The O'Brien participates with a cruise around San Francisco Bay, including the Golden Gate Bridge, Alcatraz, the Bay Bridge for amazing views of the San Francisco waterfront, the visiting Navy ships, and the air show featuring the US Navy Blue Angels.
Food and drink is complimentary. Coffee and donuts are available upon boarding. Hot dog lunch, water, soft drinks, beer and wine are also provided.
Hotdogs by Annie's: https://www.annieshotdogs.com/
Taco's by Vatos Tacos: https://www.vatostacosforever.com/
Live music by The E-Ticket Band:
The E-Ticket Band is San Francisco Peninsula's leading Classic Rock & Roll Horn Band, featuring The Matterhorns. Since the mid-1980s, E-Ticket has provided a dynamic groove for listening and dancing at many nightclubs, festivals and concert series. The band's website is www.ETicketBand.com.
3/31/2022 COVID 19 Update- Due to changes to federal and local regulations we are no longer requiring proof of vaccination for passengers. We will be requiring masks for inside areas of the vessel in accordance with USCG directives. This is subject to change.
Directions
The ship is berthed on the Eastern side of Pier 45, Fisherman's Wharf along the Embarcadero. CLICK HERE FOR DIRECTIONS
Parking
City of San Francisco parking lots are available throughout the Fisherman's Wharf area. Recommended locations are the Anchorage Square Parking Garage at Beach St and Jones St, or the Pier 39 Parking Garage. Special event rates may apply, especially during Fleet Week Cruises.
Boarding and Departure
Boarding begins at 9:00am from Pier 45 in Fisherman's Wharf. The ship is scheduled to depart at 10:00am. We make every effort to keep on schedule; however, we cannot guarantee returning to the dock as planned, due to weather changes or unforeseen events.
Accessibility
This ship is not wheelchair accessible. Walkers and canes are permitted, but passengers must be physically capable of traversing the 44-step gangway onto and off the ship without assistance from crew or other passengers. If you feel you will need assistance getting on board you should not attempt to make the cruise alone.
Seating
There is no assigned seating for this event. Available seating is limited to ~200 folding chairs, benches lining the deck, and natural structures of the ship. Passengers are permitted to bring their own folding/camping chairs.
Food and Drink
Food and beverage for this event is provided complimentary for all passengers. We cannot accommodate special dietary needs; feel free to bring your own food, but keep in mind that you will not have access to any refrigerators or microwaves. We do not allow any personal stashes of alcohol or anything in glass bottles/containers. Ice chests are also prohibited.
Restricted Items
Restricted items include, but are not limited to: firearms, knives and other potential weapons, personal inventory of adult beverages, ice coolers, glass bottles and illegal substances. Bags are subject to search before boarding.
Other Questions?
Email us at liberty@ssjeremiahobrien.org or give us a call Mon-Fri, 9am-4pm and we will be happy to help – (415) 544-0100.