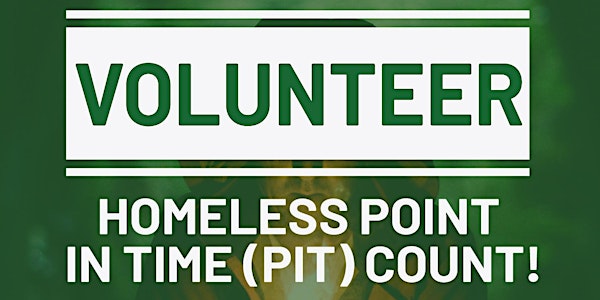 2022 Point in Time (PIT) Count
Register for any of the PIT Count volunteer locations.
When and where
Location
Lee County Homeless Coalition 1500 Colonial Boulevard Fort Myers, FL 33907
About this event
Point In Time Count Volunteer Registration
If you are looking to volunteer for any of the the Point In Time (PIT) Count opportunities leading up to and immediately preceding the day of the Stand Down on January 29, you have made it to the right place! Register here today!
The PIT count will be conducted in the days leading up to 2022 Homeless Service Day & Veteran Stand Down on January 29, 2022.
Homeless Service Day & Veteran Stand Down January 29, 2022
Join the Lee County Homeless Coalition as we hold the 21st annual Homeless Service Day and Veteran Stand Down on Saturday, January 29, 2022 at CityGate Ministries, 1735 Jackson St, Fort Myers, FL. The opening ceremony will begin at 8:45 AM. You can register for the Homeless Service Day & Veteran Stand Down here: standdown2022.eventbrite.com.
A variety of services will be offered to individuals and families experiencing homelessness, including traffic court, food, hygiene kits, hair cuts, medical care, VA benefits, and referrals for substance abuse addictions and mental health counseling. During this event the Coalition will conduct an annual census to determine the number of people facing homeless in our community.
NEW! Traffic Court will be available for veterans and people facing homelessness.
Traffic Court will be held as a part of the 2022 Homeless Service Day & Veteran Stand Down this year. Please note, you MUST register in advance at trafficcourt.eventbrite.com to have your traffic case placed on the docket and be heard at the Stand Down. Veterans and homeless individuals are encouraged to attend to receive help with:
Unpaid court fees and fines (on closed cases)
Unpaid traffic fees
Fines or Driver's License assistance
Please bring a valid form of identification, such as DD214, VA Card, or driver license. This event is produced in partnership with Lee County Clerk of Court, 20th Judicial Circuit Administrative Office of the Courts, JFCS of the Suncoast, and Lee County Homeless Coalition.
For more information contact Therese Everly at (239) 322-6600 or email therese@leehomeless.org.