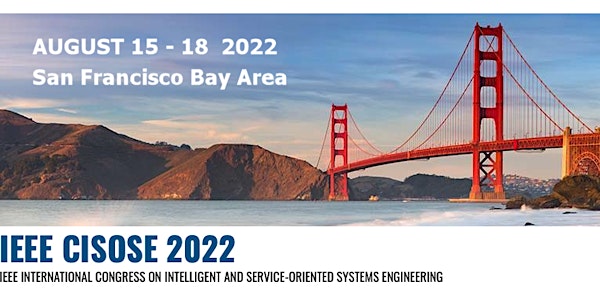 2022 IEEE CISOSE
Registering page for IEEE conferences
When and where
Location
39900 Balentine Dr 39900 Balentine Drive Newark, CA 94560
About this event
Technology has the power to do many things, and changing the world is one of them. Innovations and new technologies are changing the daily lives of each and every one of us. Many things that were mere visions of the future yesterday are now reality. Meanwhile, we are surrounded by technology at every moment of our lives.
The IEEE International Congress On Intelligent And Service-Oriented Systems Engineering features excellent keynote speakers and panelists in several parallel program tracks. Smart Cities and Big Data, as well as a showcase of real-world solutions in academia and industry. Chain technologies of the future. The future of AI and machine learning. In addition, there will be an exhibition of solutions for solution providers and university researchers.
Registering for the IEEE International Congress On Intelligent And Service-Oriented Systems Engineering gives you access to six jointly held IEEE conferences (plus associated workshops) that focus on engineering and testing services, cloud-edge systems, and AI. In addition, you are eligible to attend the IEEE Future Technology Summit, featuring many industry talks. During each day of the congress, keynote speakers and panellists will present state-of-the-art research. We look forward to seeing you in Silicon Valley, California in August 2022!
If you need to visit the individual conference website, please find the link below:
Important notice
We encourage people to attend the ON-SITE event. The ZOOM/ONLINE event is ONLY for people who have a dispensation from a PC Chair.
(For author who will present paper): Each paper presented should have a UNIQUE registration( i.e If you want to present 3 papers, you need 3 UNIQUE registration)
The registration fees varies depending on your IEEE membership status, the method that you attend event(ONLINE or INPERSON), and if you are going to present a paper(i.e attending conference as a author). All the registartion fees are final and nonrefundable. Fail to make the correct registration(i.e getting audience registration to present paper) may result rejection of attending conference.
(For author who will present paper) There is page's limitation for how many page you can present for your paper. Please note that difference type of paper may have various page's limitation. If you are not sure about what is the page's limitation for your paper, please check with the PC chair. You have to pay additional fee for EACH extra page you want to present(up to 2 extra page). You may find the add-ons option at button of page where you can select different type of registrations. Failed to pay addition fee for every extra page that you are going to present may result your paper not being allow to present.