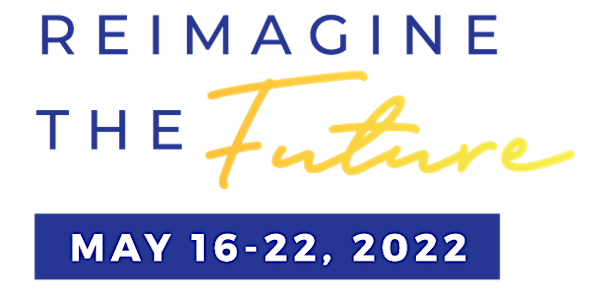 2022 ICW: Reimagine the Future - from Survive to Thrive
As part of the 2022 International Coaching Week, ICF Oregon is hosting a free event to learn about resiliency, burnout and thriving.
Date and time
Thursday, May 19, 2022 · 5:30 - 7:30pm PDT
About this event
International Coaching Week (2022 ICW) is an annual world-wide celebration of professional coaches and the growth and impact of our industry. This year's theme is "Reimagine the Future". It's appropriate because coaching can help us deal with challenging times in our personal and professional lives!
As part of 2022 ICW, ICF Oregon is hosting a "Reimagine the Future - from Survive to Thrive" event. This free event will provide members and guest coaches with the opportunity to learn from expert panelists on resiliency, burnout and thriving, to share in a peer coaching opportunity, and to network.
We recognize that members of our community have been challenged to the limit during the pandemic. Our goal is to support you in improving your resilience, offering new ways of thriving instead of surviving, and creating a positive ripple effect in our community.
Details about the Event:
Introduction
Panel - coaches with expertise around burnout/resilience/thriving share tools and tips around burnout, thriving and creating resilience
Peer coaching - focused around our theme
Debrief and Q&A with panelists
Networking
Closing comments
Maria Connolly, MS, LPC, FP, PCC: Maria is a somatic coach, a body-oriented psychotherapist, a Feldenkrais practitioner, and a Master NLP trainer, and she's also ICF Oregon's VP of Education.
Having lived on three continents and studied five languages, Maria's diverse background has made her open, insightful, and fearless especially during challenging times. As a Professional Certified Coach (PCC) she helps her clients take an embodied approach to self-leadership.
Teresa Q. Bitner, PMP & M.Ed., ACC: Teresa partners with those who've been knocked down by life and want to bounce back to live a bold life. She's a Resiliency, Change and Loss Coach, speaker, and author specializing in resiliency, change, and loss. Change happens in life and work.
Building resiliency and learning steps for surviving and thriving amidst constant change sets apart those who live boldly. Her life's passion is helping others build resiliency into their lives so that when life gets hard they can bounce back.
Adam Marx, ADD: He is a long-time coach who specializes in helping grieving clients deal with their intense feelings of loss and moving them towards post-traumatic growth. He became an ICF-certified coach through the Academy of Leadership Coaching and NLP in 2014.
A lifelong learner, Adam has just finished his second master's degree, this one in counseling psychology. His thesis is entitled "The Story That Changed My Brother's Death: Archetype, Metaphor, Meaning, and the Transformation of Loss". Adam has lived in Oregon since 2010, and in Portland since 2017.
Cost: Free for ICF Oregon Members, Gold, Student, and Associate Members, and guests
ICF CCE Units: 2.0 RD
If you are not able to attend the live webinar, a recording will be available for registered participants after the session.
Want to know more, or to help with the event? Contact Shauna Prince at president-elect@icforegon.org
To learn more about ICF Oregon, visit our website.
To learn more about all the ICW events taking place around the world, visit ICF Events.
About the organizer
We are a collaborative, caring, and inclusive community of professional ICF coaches in Oregon.
We empower our members to learn, build connections, and develop themselves to have a positive impact on their communities.
We are guided by the following values:
INTEGRITY. We uphold the highest standards for our profession and follow the International Coaching Federation's ethical guidelines to best serve our clients.
BELONGING AND INTENTIONALITY. We strive to be intentional and value the diversity and richness of all members. Everyone is welcome and belongs here.
COLLABORATION. We value the social connection and community-building that occurs through collaborative partnership and co-created achievement. No one knows it all, but together we know a lot.