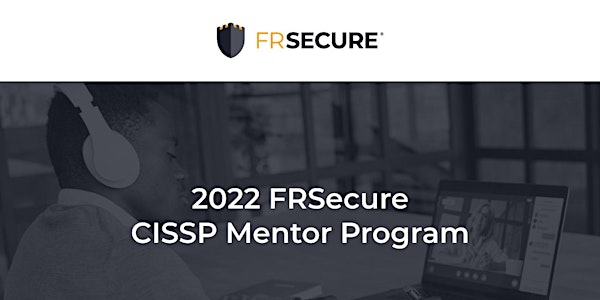 2022 FRSecure CISSP Mentor Program
A free 13-session course to help infosec professionals pass the CISSP certification exam and help those outside infosec to get a foot in.
About this event
FRSecure has a goal of changing a broken industry. There are many ways to accomplish this objective, such as setting high assessment standards, using proprietary reporting methods that are easy to understand, and hiring expert talent, just to name a few.
One unique approach we use at FRSecure to bring about change is our Certified Information Systems Security (CISSP) Mentor Program. The global dilemma around cybersecurity talent has been a feature of the security and risk management landscape for many years, and research forecasts prior to the Coronavirus pandemic showed that there would be 3.5 million open cybersecurity positions by 2022.
By design, this program is provided at no cost to any participants as a way to help fill those open positions with good, qualified people. It is meant to help those with an interest in the information security industry, to prepare for the CISSP certification exam.
There is no cost for the classes within the mentor program; however, students will need to purchase the textbook and pay to take the CISSP exam.
Current Textbooks:
Main*: Title: The Official (ISC)2 CISSP CBK Reference, Sixth Edition (Paperback) by Arthur J. Deane, & Aaron Kraus. Language: English ISBN-10: 111978990, ISBN-13: 978-1119789994
Not covered, but helpful: CISSP: 2 Books in 1: The Complete Beginner's Guide to Learn the Fundamentals of Information System Security + Tips and Strategies to Pass the CISSP Exam on Your First Attempt (Paperback) by Robert Preston. ISBN-13 : 979-8639674624
2022 Class Schedule
Each class will be 6pm - 8pm CST if you follow along live. All sessions will be recorded and sent to registrants.
April 11: Introduction
April 13: Domain 1: Security & Risk Management
April 18: BREAK EASTER MONDAY
April 20: Domains 2 & 3: Asset Security & Security Architecture
April 25: Domain 3: Security Architecture & Engineering
April 27: Domain 3: Security Architecture & Engineering
May 2: Domain 4: Communication & Network Security
May 4: Domain 4: Communication & Network Security
May 9: BREAK
May 11: Domain 5: Identity & Access Management
May 16: Domain 6: Security Assessment & Testing
May 18: Domain 7: Security Operations
May 23: Domain 7 & 8: Security Operations & Software Development Security
May 25: Review & Exam Prep
May 30: BREAK MEMORIAL DAY
June 1: Final Exam Prep
Help Us Promote the Event!
With the ultimate goal of this event being to get more good, qualified security professionals in our industry, getting as many eyeballs on it as possible is critical. Because of this, we're running a giveaway for free airfare to our Hacks and Hops event in Nashville in October to one person who helps us promote the course. For more information and to participate in this contest, check out our contest page: