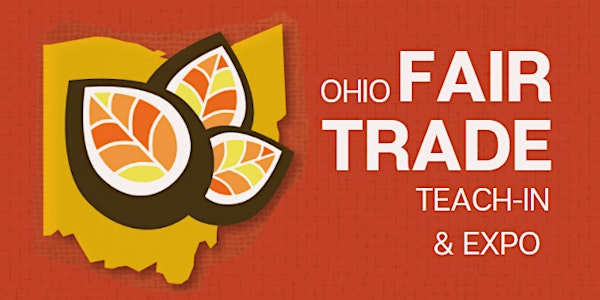 2022 Fair Trade Teach-In & Expo
Join us for a day of learning about and supporting ethically made fair trade products!
When and where
Location
John Carroll University Dolan Center 1 John Carroll Blvd University Heights, OH 44118
About this event
Initiated in 2009, the Ohio Fair Trade Teach-In & Expo brings people together from across the region to learn about and become more involved in supporting FAIR TRADE – a model for socially and environmentally conscious consumerism.
Education & Fair Trade Marketplace
Guest speakers will highlight the principles of fair trade.
Multiple vendors will generate vital income for artisan families by selling clothing, handcrafts, home décor items and jewelry, as well as fairly traded chocolate, tea, coffee and more!
Our Vendors and Community Partners for 2022
Artesanías Santo Domingo
Amani Beads
Canaan Palestine
Catholic Relief Services - Diocese of Cleveland
Collaborative to End Human Trafficking
Esperanza Threads
Friends of the Third World
GlobalTiesAkron
INTO
IRTF
Joyce's Boutique and Hair Salon
Market Path
NoonDay Collection
One World Shop
Revy Fair Trade
Shema Global
Silk Road Market
Storehouse Tea
Women of the Cloud Forest
Co-Sponsors
Beaumont School
Church of the Resurrection
Church of St Dominic - Faithful Citizenship
Community of St Peter
Church of the Gesu
Community Shares of Greater Cleveland
Ignatian Solidarity Network
INTO
One World Shop
St Noel Church
Storehouse Tea
The Market Path
In-Kind Donors
Equal Exchange
Esperanza Threads
Fair Trade Federation
Kahiniwalla
IRTF
JCU Campus Ministry
Revy Fair Trade
Storehouse Tea
Teach-In & Expo Schedule
9 AM - 2 PM Fair Trade Market
Teach-In (in the auditorium):
10 AM Interconnected: Fair Trade, Sustainability, and Care for Our Earth (Brenna Davis, Director of Environmental Initiatives at the Ignatian Solidarity Network)
11AM Fair Trade 101 (fair trade interns from JCU Campus Ministry)
12PM Students and Sustainability: Envisioning and Enacting a Fair and Sustainable Future (panel of high school students)
Session Details:
10 AM Brenna Davis - Interconnected: Fair Trade, Sustainability, and Care for Our Earth
In this session, learn about the interconnections between fair wages, environmental sustainability, and the call to care for creation. When we support one of these issues, because they are intertwined, we support them all. We will talk about how these issues are a part of Pope Francis' Laudato Si' Action Plan and will engage in dialogue and action planning on how to show the interconnection between justice issues in our own communities.
Brenna Davis is the Director of Environmental Initiatives at the Ignatian Solidarity Network. She is a certified spiritual director, Cuyahoga County Master Recycler, and is a member of National Catholic Reporter's EarthBeat Advisory Panel. In her spare time, Brenna enjoys reading, running, bullet journaling, speaking Spanish, writing letters, and digging through trash cans to properly sort recycling.
The Ignatian Solidarity Network is a lay-led non-profit based in Cleveland, OH. Our mission is to Network, educate, and form advocates for social justice animated by the spirituality of St. Ignatius of Loyola and the witness of the Jesuit martyrs of El Salvador and their companions.
11AM Fair Trade 101, by JCU fair trade interns
We hear so much about ethically sourced, fairly sourced, organic, direct trade, earth-friendly. What does all this mean? Learn what is and isn't fair trade. Fair trade is a specific set of principles to which fair trade producers and distributors commit. These principles build the health of local communities beyond better wages and working conditions. Fair trade empowers artisans and farmers to have ownership of their businesses and use the proceeds to improve their housing, schools, health clinics, gender equity, and more. Learn about the fair trade certification process and Alternative Trade Organizations (ATOs) that practice fair trade.
12PM Students and Sustainability: Envisioning and Enacting a Fair and Sustainable Future, by high school student panel
This year's expo will involve a special emphasis on opportunities for area youth to promote and support fair trade and sustainability. Some area students will be invited to address those gathered about their own communities' efforts in these areas – sharing the achievements and challenges they have experienced while trying to work for economic and environmental justice. We will also provide a time and space for students to network, dialogue, share best practices, and set goals with other students and the Ohio Fair Trade Network.
There's no need to pre-register for any of these sessions, just come by on October 8 at the given time and join us for these wonderful presentations!
Join us for one of the largest regional fair trade events in the country!
Free admission and fair trade goodie bags.