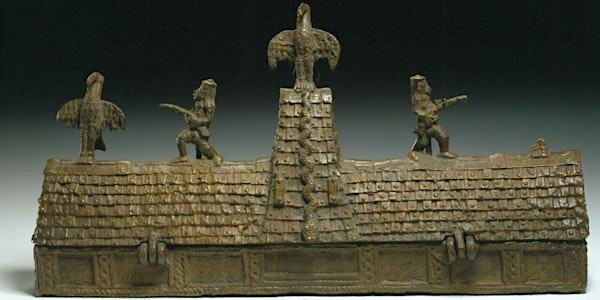 2022 Eduard F. Sekler Talk
On Architecture and the Restitution of Cultural Heritage
When and where
Location
Pittsburgh Playhouse 350 Forbes Avenue Pittsburgh, PA 15222
About this event
Adjaye Associates' recently announced design for the Edo Museum of West African Art (EMOWAA) proposes to reconstitute the visual landscape of the ancient Edo-Benin Kingdom. An architecture that borrows from the striated red laterite walls, courtyards, and steeply-roofed pavilions of the historic royal palace will welcome back brass, ivory, ceramic, and wood heads, plaques, masks, vessels, and other objects looted by British colonial forces in 1897, as Western nations, organizations, and individuals reach an ethical impasse and are forced to restitute this cultural heritage. EMOWAA suggests, though, that the intersection between architecture and cultural heritage in the movement for restitution is manyfold. Attention has long been focused on ethnographic and/or art objects like the "Benin bronzes." Among these artifacts are, however, a good number of architectural works—from entire buildings to structural members like verandah columns and ridge beams, the more familiar symbolic and decorative elements that now exist as decontextualized ethnographica or art, as well as models of buildings, and other historical records of their form and construction. Deploying an "exquisite corpse" strategy to reunite some of the dismembered remains of African architecture, this lecture explores the workings of race in architectural history, the age-old question of the definition of architecture, and ongoing discussions about the role of historical scholarship and of design itself in restitution and repair.
Itohan Osayimwese is Director of Graduate Studies and Associate Professor of the History of Art and Architecture and Urban Studies at Brown University. Her research engages with theories of modernity, postcolonialism, and globalization to analyze built environments in nineteenth- and twentieth-century West Africa, the Anglo-Caribbean, and Germany. She is author of Colonialism and Modern Architecture in Germany (Pittsburgh, 2017), and editor of German Colonialism in Africa and its Legacies: Architecture, Art, Urbanism, and Visual Culture (Bloomsbury, 2023). Osayimwese's work has also been published in the Journal of Architecture, Journal of Architectural Education, Architectural Theory Review, Traditional Dwelling and Settlements Review, Perspecta, Thresholds, African Art, and ABE Journal. Her research has been funded by The Andrew W. Mellon Foundation, the Canadian Centre for Architecture, Gerda Henkel Foundation, German Academic Exchange Service, Graham Foundation for Advanced Studies in the Fine Arts, Social Sciences Research Council, and the National Endowment for the Humanities. Most recently, Osayimwese was awarded the 2020 Schelling Foundation Prize for Architectural Theory. She has served on the Board of Directors of the Society of Architectural Historians, is currently a board member of the European Architectural History Network and Thresholds, and is co-chair of the Minority Scholars Affiliate Group of the Society of Architectural Historians. Her current research explores migration, property, and emancipation in the Anglo-Caribbean, and the problem of translation in the historiography of African architecture.
Society of Architectural Historians will require all attendees, exhibitors, volunteers, and staff to provide proof of vaccination to participate in the SAH 2022 Annual International Conference. This includes all events/programming that take place at the Westin Pittsburgh, all off-site venues and all tours. See COVID-19 Health & Safety for more information.