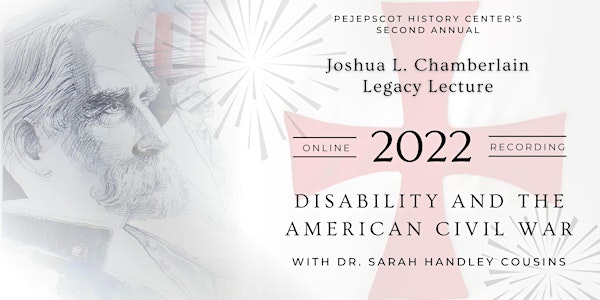 2022 Chamberlain Legacy Lecture Online (recording)
Chamberlain Legacy Lecture Online (recording)--"Disability and the American Civil War" with Sarah Handley Cousins
About this event
We are thrilled to announce that we are now able to offer a recorded online version of Pejepscot History Center's second annual Chamberlain Legacy to our patrons and supporters! Upon sign-up, you will be sent a link to to a professionally-filmed version of the event, which you can watch at your leisure - just choose today's date at the right, and fill in your registration information to receive your link. It includes the full event, with introductions by PHC Executive Director, Larissa Vigue Picard and PHC Board Member (and last year's speaker) Dr. Kanisorn Wongsrichanalai.
This year's talk addresses how society's ideas about disability were affected by the Civil War, and how that impacts how the modern world thinks about disability. Our speaker, Dr. Handley-Cousins shows the inextricable link between changing notions of masculinity in the 19th century and war wounds. Her book, Bodies in Blue includes a chapter on Chamberlain's wounds and the effect they had on him (and his family) throughout his post-war life.
Sarah Handley-Cousins, Ph.D., is a Clinical Assistant Professor of History at the University of Buffalo and the author of Bodies in Blue: Disability in the Civil War North, published in 2019. She is also Executive Editor of the history blog "Nursing Clio" and producer of "Dig: A History Podcast".
The lecture took place in the stunning Lemont Hall, which was originally the Knights of Pythias Hall. The newly restored space highlights many original features. This historic room hosted many compelling 19th and 20th century speakers, including Frederick Douglass and our own Joshua L. Chamberlain.