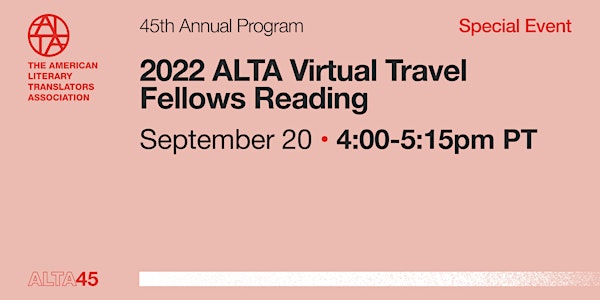 2022 ALTA Virtual Travel Fellows Reading (free and open to the public)
Use this page to register for the ALTA45 Virtual Travel Fellows Reading on September 20 from 4:00-5:15pm Pacific Time!
About this event
Please join ALTA's 2022 Virtual Travel Fellows for a live virtual reading! In an event hosted by ALTA Board Member Nancy Naomi Carlson, the ten 2022 Fellows will read from their translations.
This event is free and open to the public; please register in order to receive the Zoom webinar link by email from Eventbrite.
This event will be CART-captioned.
All participants in ALTA's 2022 programming agree to abide by and uphold ALTA's Terms and Conditions and Code of Conduct. Email info@literarytranslators.org with questions.
2022 Travel Fellows
Jasmine Alexander-Greene, 2022 Peter K. Jansen Memorial Virtual Travel Fellow (Russian)
Jasmine Alexander-Greene's path to literary translation, much like her path to things Russian-related, was a matter of happy coincidence. A language instructor at Duke University introduced her to fellow translator Dr. Carol Apollonio, who later became Jasmine's mentor. Dr. Apollonio's course on theory and practice served as a gateway to the translating life. Years later, with hard work and the generous assistance of colleagues including Anne O. Fisher and Nora Favorov, she is proud to call herself part of the literary translation community. Learn more about Jasmine here.
Soleil Davíd, 2022 Peter K. Jansen Memorial Virtual Travel Fellow (Filipino/Tagalog)
Soleil Davíd is a poet, writer, and translator from the Philippines. Her translations have appeared or are forthcoming in Two Lines and Ulirát: The Best Contemporary Stories in Translation from the Philippines. She has received support from PEN America, VONA, and Bread Loaf Translators' Conference. She is a senior editor at The Margins. Learn more about Soleil here.
Michele Bantz, 2022 Virtual Travel Fellow (Spanish, Portuguese)
Michele Bantz is an ATA-certified translator of Spanish and Portuguese. She was awarded the 2021 Granum Foundation Translation Prize for her work-in-progress translation of O Fogo Será a Tua Casa by contemporary Portuguese novelist Nuno Camarneiro. She holds an MA in Translation (Spanish-English) from the Middlebury Institute of International Studies (MIIS) at Monterey and attended the Middlebury Portuguese Language School. Learn more about Michele here.
Yana Ellis, 2022 Virtual Travel Fellow (German, Bulgarian)
Yana Ellis is a Bulgarian-born freelance translator and Modern foreign languages teacher based in the UK. She holds an MA in Translation from the University of Bristol. She translates from German and Bulgarian into English and is drawn to narratives that explore issues of identity, immigration, and the representation of the 'other'. Learn more about Yana here. Note: Rights to the text Yana will be reading in her translation are held by Suhrkamp.
Salma Harland, 2022 Virtual Travel Fellow (Arabic, English)
Salma Harland is an Egyptian translator based in England. She is passionate about translating key texts from pre-Nahda and (post)modern Arabic poetry that have been forgotten or understated in English. Her translations have appeared in the British National Centre for Writing's Emerging Translators Anthology (2022) and in literary journals/magazines. Learn more about Salma here.
Michelle Mirabella, 2022 Virtual Travel Fellow (Spanish)
Michelle Mirabella is a Spanish to English translator whose work appears in The Arkansas International, World Literature Today, Latin American Literature Today, Firmament, and elsewhere. A finalist in Columbia Journal's 2022 Spring Contest, she is an alumna of the Middlebury Institute and the Banff International Literary Translation Centre. Learn more about Michelle here.
Nidhi Singh, 2022 Virtual Travel Fellow (Hindi)
Nidhi Singh is a translator of Hindi poetry. She holds an MA in English from Delhi University and is currently a PhD student in Comparative Literature at Indiana University, Bloomington. She is the recipient of a Fulbright fellowship and her translation has appeared in World Literature Today. Learn more about Nidhi here.
Suzana Vuljevic, 2022 Virtual Travel Fellow (Albanian and Bosnian, Croatian, Montenegrin, Serbian)
Suzana Vuljevic is a historian, writer, and translator who works from Albanian and Bosnian, Croatian, Montenegrin, and Serbian. Suzana holds a Ph.D. in History and Comparative Literature from Columbia University. Her writing and translations have appeared in AGNI, Asymptote, Eurozine, Exchanges, and elsewhere. Learn more about Suzana here.
Rebecca Weingart, 2022 Virtual Travel Fellow (Yiddish)
Rebecca Weingart is a PhD student in comparative literature at Washington University in St. Louis. Her translation of poems by Roshelle Weprinsky was supported by the Yiddish Book Center. She holds an MFA in Creative Writing and has work published in NonBinary Review, So It Goes, and Pakn Treger. Learn more about Rebecca here.
Hongyu Jasmine Zhu (朱弘昱), 2022 Virtual Travel Fellow (Chinese, English, Latin)
Hongyu Jasmine Zhu (朱弘昱) hails from Chengdu, China, and is a high school student at Mercersburg Academy in Pennsylvania. She grows up surrounded by the beautiful, messy sounds of her mother tongue. In 2022 spring, she adapted her English translation of Sanmao(三毛)'s short story "吹兵" into an 8-minute monologue, and performed it at her high school's annual Declamation. Learn more about Hongyu Jasmine here.