Join StartOut entrepreneurs as they present their solutions at StartOut Demo Day
About this event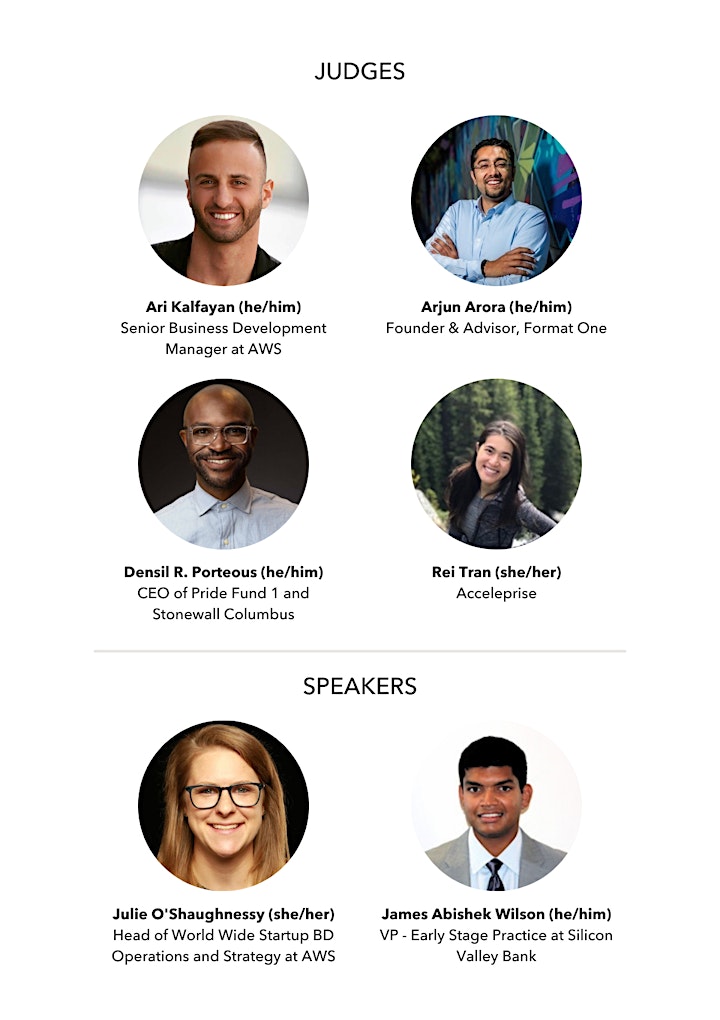 About this Event
Join StartOut entrepreneurs as they present their solutions at StartOut Demo Day, generously sponsored by AWS and SVB, in partnership with Comcast LIFT Labs and Twilio. This year's virtual Demo Day will highlight LGBTQ-led, scalable tech startups to investors. A judging panel panel will be made up of angels, VCs, entrepreneurs and corporate partners, with a public audience to cheer you on and network with after. Top prizes include $5k for first place, $3k for second place, and $2k for third place winner. Join us for an evening of discussion among some of the brightest entrepreneurs and investors in our community.
Schedule
4:00 PT: Welcome and Judge Introductions
4:15: Pitches Begin
5:30: Winners Announced
JUDGES:
Densil R. Porteous (he / him / his) is CEO of Pride Fund 1 and Stonewall Columbus. With a keen interest in the tech and startup, Porteous has advised and worked with partners like VarsityBooks.com/The Varsity Group, Zinch acquired by Chegg, Vireo Labs, Ulyngo (acquired by Modo Labs), Acceptd, RaiseMe, Rev1 Ventures, Juggle, TicketFire, GetAccepted (acquired by The Princeton Review), and LEAP. Densil has served in executive leadership roles on several local, regional, and national boards while having had a notable career in nonprofit administration.
Arjun Arora (he / him / his) advises funds, startups, and Fortune 100 companies. He enjoys assisting startup companies in Silicon Valley with strategic planning, monetization, and funding. Arjun was a Partner at 500 Startups, Founder & CEO of ReTargeter (acquired by Sellpoints in 2015), and head of business development @ Yahoo! Real Estate. Arjun has spoken about entrepreneurship internationally (Europe, Asia, and the Middle East), and was recognized at the: White House, United Nations (UN), and the Global Summit for Entrepreneurship, for his success and commitment to a values-centered organization. He also holds a BSc, Electrical Engineering and Computer Science / Entrepreneurship & Technology from UC Berkeley.
Rei Tran (she / her / hers) was a strategy and management consultant at Accenture then a forward deployed engineer at Palantir before joining Acceleprise as an investor. She's worked for clients across a multitude of verticals including tech, healthcare, utilities, retail, nonprofit, and government. She enjoys working on pro bono civic tech projects in her free time.
Ari Kalfayan (he / him / his) is a Senior Business Development Manager at AWS in charge of AI/ML startups. Ari began his career in the AI/ML space in 2009, where he led sales at Figure Eight (sold for $300M to Appen) which pioneered data labeling technology. Ari then joined the founding team of Weights & Biases (W&B) in 2018 which is pioneering machine learning tools for deep learning. Ari's focus at AWS is on helping early-stage co-founders, who are building machine learning startups, accelerate growth, technical development and achieve product market fit. Ari is also an early stage startup investor through his new syndication, Next Wave AI.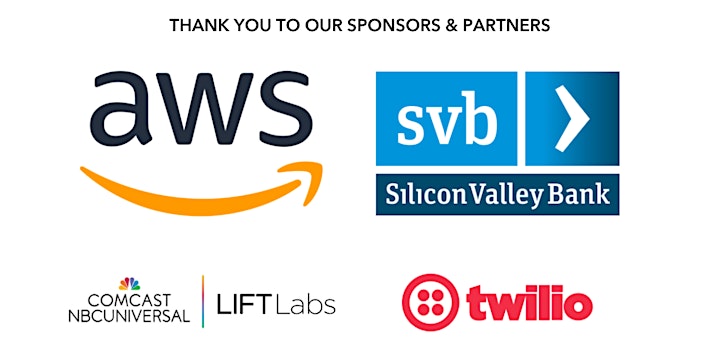 About AWS
For almost 13 years, Amazon Web Services has been the world's most comprehensive and broadly adopted cloud platform. AWS offers over 200 fully featured services for compute, storage, databases, networking, analytics, robotics, machine learning and artificial intelligence (AI), Internet of Things (IoT), mobile, security, hybrid, virtual and augmented reality (VR and AR), media, and application development, deployment, and management from 60 Availability Zones (AZs) within 20 geographic regions, spanning the U.S., Australia, Brazil, Canada, China, France, Germany, India, Ireland, Japan, Korea, Singapore, Sweden, and the UK. Millions of customers including the fastest-growing startups, largest enterprises, and leading government agencies—trust AWS to power their infrastructure, become more agile, and lower costs. To learn more about AWS, visit aws.amazon.com.
About SVB Financial Group
For 35 years, SVB Financial Goup (NASDAQ: SIVB) and its subsidiaries have helped innovative companies and their investors move bold ideas forward, fast. SVB Financial Group's businesses, including Silicon Valley Bank, offer commercial, investment and private banking, asset management, private wealth management, brokerage and investment services and funds management services to companies in the technology, life science and healthcare, private equity and venture capital, and premium wine industries. Headquartered in Santa Clara, California, SVB Financial Group operates in centers of innovation around the world. Learn more at www.svb.com.
About Twilio Startups
Millions of developers around the world have used Twilio to unlock the magic of communications to improve any human experience. Twilio has democratized communications channels like voice, text, chat, video, and email by virtualizing the world's communications infrastructure through APIs that are simple enough for any developer to use, yet robust enough to power the world's most demanding applications. By making communications a part of every software developer's toolkit, Twilio is enabling innovators across every industry — from emerging leaders to the world's largest organizations — to reinvent how companies engage with their customers. Twilio Startups is designed for pre-Series A startups looking to launch and scale their customer engagement strategy with Twilio and/or Twilio SendGrid. For eligible founders, Twilio Startups provides product credits, invites to events, and access to resources and the Twilio Startups team. Learn more at www.twiliostartups.com.
About StartOut
StartOut is a national 501(c)(3) nonprofit organization dedicated to fostering and developing entrepreneurship in the LGBT community. With over 60 annual events and a network of 15,000 strong nationwide, StartOut connects the entrepreneurial ecosystem, educates entrepreneurs on issues surrounding the business lifecycle and inspires the LGBT community by profiling out and successful founders. StartOut currently has chapters in San Francisco, New York, Austin, Boston, Chicago, Los Angeles, with Denver, Seattle, and many more on in development. Join today to grow your network – accelerate your business – empower yourself and the LGBTQ Community. Visit www.startout.org and learn more.
By taking part in this event you agree to StartOut's Privacy Policy.