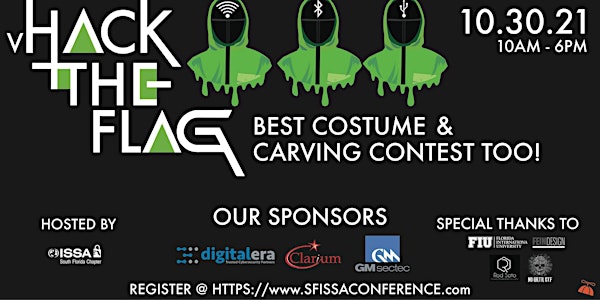 2021 SFISSA Hack the Flag Conference and NO QRTR C
2021 SFISSA Hack the Flag and NO QRTR CTF
About this event
Zoom Starts at 11 am for opening remarks:
https://us06web.zoom.us/j/81473287495?pwd=akRCNDFTdHVROWdUaytObEVxdGVBZz09
Discord is open now. Team registration starts at 10 am
https://discord.gg/v5qraCDb
Join us TODAY Saturday October 30th for the South Florida ISSA is holding our annual "Hack the Flag" event this year virtually. We expect that next year we will be back at FIU's Graham Center Ballroom and will be able to have our signature event including the Chili Cookoff and Beer Garden. This event will be attended by a range of Information Security managers, professionals, and students.
Beginner TropiCon CTF - Never played a CTF before? Our beginner game will be perfect for you. There will be people to help out, and get you in the right direction. You won't have that stuck feeling! It's also a great way to learn how to start doing CTF's.
Advanced CTF - Are you a CTF pro? The advanced CTF game is here with all new challenges! Join NO QRTR CTF hosted by %27 of Hackmiami. Learn more about NO QRTR CTF at noqrtrctf.com
Conference Talks -
Andrew Carl-Richards – Protecting your Infrastructure & Assets in Today's World
Vincent Cosomano – Assumed Breach: The mindset, Procedural Memory, and Threat Hunting
Samuel Greenfeld – Revisiting the Analog Hole: The Use of OCR to Exfiltrate Data
Robert Rounsavall – Offense is irrelevant if you can't respond. Lessons learned from a large incident response.
Richie Zxy – Online Hygiene; is that like a VR soap box?
Event Sponsors:
DigitalEra
Clarium Managed Services
GM SecTec
Schedule
https://www.sfissaconference.com/information/event-schedule/