Benefitting children in need across the United States.
About this event
SCHEDULE
9:00 AM - FDNY Burn Camp (Opening Game)
11:45 AM - Home Run Derby
12:30 PM - Security Softball Game
REGISTRATION
Friends and family of the industry are welcome to join us free of charge and do not need to register. We ask that all sponsored players pre-register by clicking "Register" on the right hand side of the page. At this time, only players selected by a sponsoring company are able to register.
DONATIONS
Every $25 donated provides a backpack to a student in need of a little extra support this year. Please select "REGISTER" to donate.
HOME RUN DERBY
All ages are welcome to participate in the home run derby. We are asking all home run derby participants for a $25 donation. Please select "REGISTER" to sign up.
SPONSORSHIP OPPOURTUNITIES
You may register for your sponsorship on this page or send us a check in the mail to avoid Event Brite's processing fee. Please confirm your sponsorship with Kat at kat@mission500.org.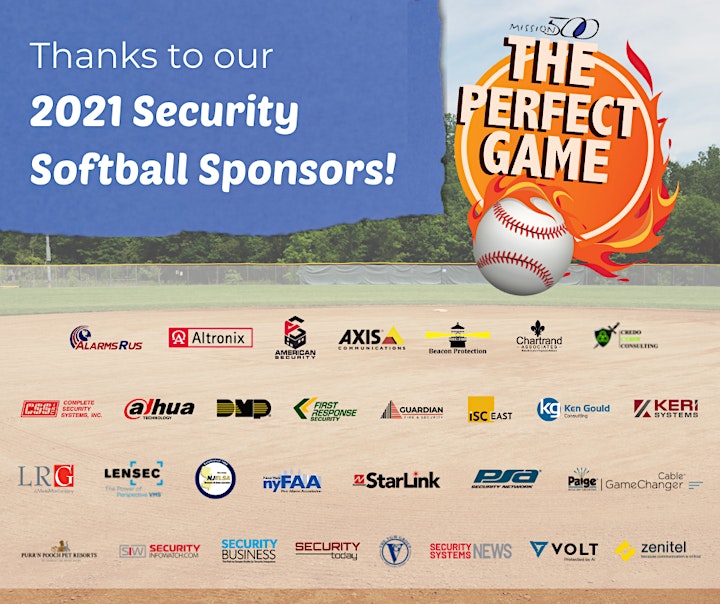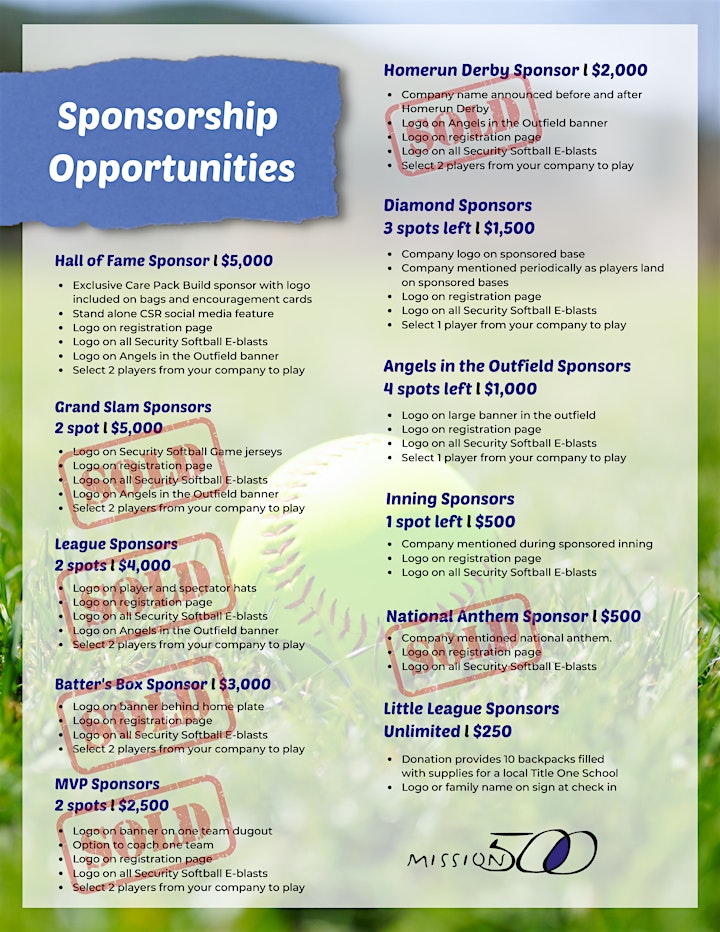 Organizer of 2021 Security Softball Game
Mission 500 is a nonprofit organization that works closely with the security industry to serve the needs of children and communities in crisis here in the U.S. Mission 500 exists to advocate for children living in severe poverty, inspire and act as a catalyst in the security industry for excellence in corporate social responsibility, and mobilize volunteers and resource to make a tangible difference for children and families living in poverty in the U.S. Since inception of their 501c3 status in 2016, the industry has helped produce 340,000+ meals, assemble care packs filled with essential hygiene items for 3,700 families, and distribute more than 11,500 book bags filled with school supplies to students attending Title One schools.