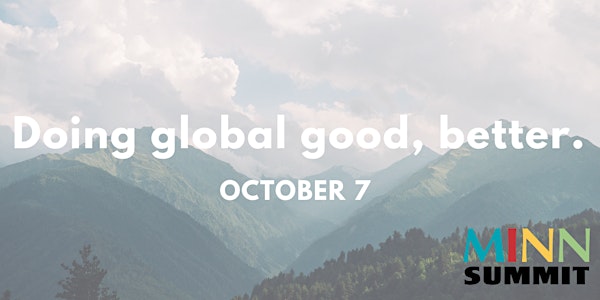 2021 MINN Summit: Connect, Share, Learn
The MINN Summit is a full-day conference offering globally-minded individuals and local organizations a chance to collaborate and learn.
When and where
Location
Humphrey School of Public Affairs 301 19th Avenue S Minneapolis, MN 55455
Refund Policy
Contact the organizer to request a refund.
Eventbrite's fee is nonrefundable.
About this event
The MINN Summit is a full-day conference offering globally-minded individuals and local organizations a forum to connect, share, and learn. Since 2013, the Summit has brought together more than 1,250 participants, 100+ speakers, and nearly 400 unique organizations. The Summit provides exciting professional development opportunities, offers insight, and sparks conversations that will propel international development success in a changing world.
The keynote addresses, panel, breakout sessions, and activities throughout the day are designed to connect international development professionals and supporters as they share best practices and learn about local, national, and cross-national trends in the field.
For questions regarding this event or to request accommodations, please contact the Summit Team at summit@minnesotangos.org.

In an effort to keep our MINN Summit as safe as possible, we will be requiring all in-person attendees, speakers, and volunteers of the Summit to provide proof of COVID-19 vaccinations
Upon arrival, all attendees will be required to provide proof of their COVID-19 vaccination, with the original record card or a viable copy of the card (including photos). If you do not have proof of vaccination, please provide proof of a negative test within 48 hours prior to the Summit.
Please see additional details about the plan below.
Consider using the Docket mobile app, a free and secure digital option for Minnesotans to view and track their immunization records.
Remember that the mask mandate continues in all University of Minnesota buildings, including the Humphrey School of Public Affairs. This mandate is strictly implemented.
Masks will be required for all attendees.
Additionally, we have virtual ticket options for those that prefer to enjoy the summit remotely.
Thank you for your commitment to the safety and health of our community, and for adjusting with us as needed. We will continue to follow all state and local guidance, public health data, and local transmission rates. We encourage you to reach out with any questions or concerns.
Keynote Speaker:
Engagement in a Global World: How Minnesota NGOs Can Contribute to Enhancing US-African Strategic Partnership?
We're thrilled to announce our 2021 MINN Summit keynote speaker, Hilda Suka-Mafudze, Ambassador of the African Union to the United States of America. Born in Zimbabwe, Ambassador Suka-Mafudze is a seasoned diplomat with over two decades of professional experience in leading humanitarian activities, mediation, and human rights.
Presented by Books For Africa
Founders Panel:
We're are excited to welcome a group of highly talented panelists. They will discuss their experience starting and growing an INGO. The challenges, work life balance, expectations and learned lessons being a leader, especially within a small nonprofit.
Elaine Tymchak, Founder & Executive Director | Cultivate
Jill LaLond, Executive Director | OneVillage Partners
Sem Lafleur, Co-Founder & President | Technology Empowerment Research Center
Tony Sanneh, Founder & CEO | The Sanneh Foundation
Vijendra Agarwal, Co-founder & President |Vidya Gyan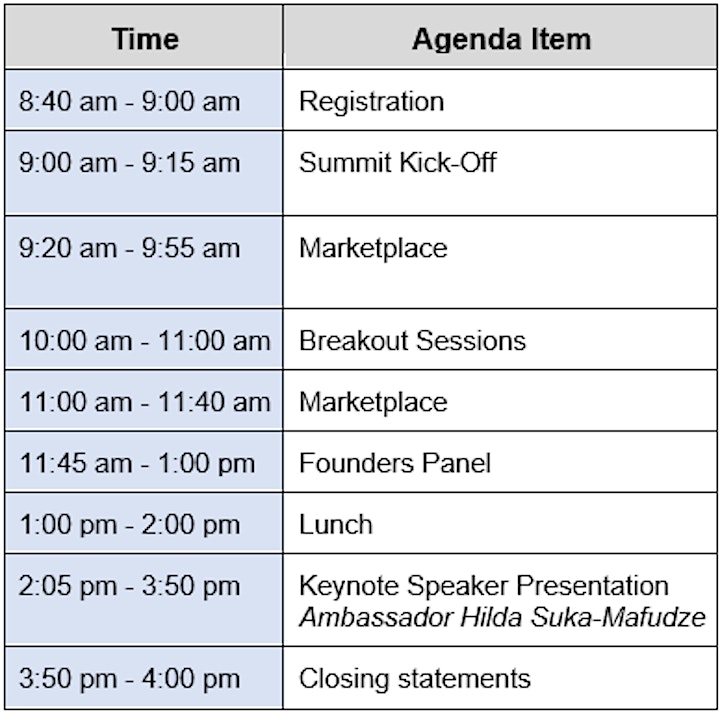 Breakout Session Descriptions:
Session Title: Circular Flow | What is it, and why should charities care?
Presenter: Sasha Nicolle
Two primary models that nonprofits and NGOs use in developing countries are: are known as "Relief or humanitarian Aid" and "Development."
What is the differences are between the two, and why does defining that matter?
Many people working (or volunteering for) humanitarian organizations have good intentions. However, the repercussions of applying a "relief" model for the long-term can be more harmful than helpful.
In this interactive presentation Sasha Nicolle will discuss why using relief aid for a prolonged duration is detrimental to local economies. She will share a case study to demonstrate the impacts and will also offer ideas for nonprofits and NGOs to help people flourish sustainably.
Session Title: USAID Funding Seminar | How to enter and grow in the USAID market
Presenter: Mike Shanley, CEO, AidKonekt Data
USAID distributed more than $21 billion last fiscal year. Attend this seminar to learn best practices for starting and growing your work with USAID. We will share USAID partnering best practices our firm has learned through supporting our client's work with USAID and USAID prime implementers. Come learn how to start building your organization's USAID market strategy, and ways to get started as a subcontractor by connecting with established USAID primes. The seminar will cover how to learn about USAID funding opportunities, the USAID procurement process, and will give you tools you can take back to your organization to build and grow your USAID work. This will be targeted to international development and aid organizations based outside of Washington, D.C. that are interested in USAID funding. We will discuss changes under the Biden Administration, the New Partnerships Initiative, and USAID's direction under Administrator Samantha Power. Please bring your questions about working with USAID!
Session Title & Presenter: Sustainability is About Caring for People: Approaching Sustainable Development as a Strategy to Create Impactful Businesses Run by Women
Presenter: Karla Godoy Da Costa Lima | EcoCiclo
Karla will discuss her experience as the CFO of EcoCiclo, a StartUp that manufactures the first 100% biodegradable sanitary pad produced in Brazil and through the manufacturing process empowers women in situations of social and economic vulnerability by employing and giving them chances for personal development.
Session Title: Putting Old Wine in New Wineskins- A New Paradigm to Solving World Problems
Presenter: Rosemond Sarpong Owens, Author & DEI Practitioner
The Sustainable Development Goals are deemed as the blueprint for achieving a better and sustainable future for all. Would you believe it if I told you that there is one goal that can accelerate the majority of the other SDG goals? Which goal is this? Look no further than Goal 4 which focuses on "Quality Education" which if put into practice will accelerate the other goals.
Join Rosemond Sarpong Owens to learn more about this solution and your role in making it a reality.
Thank you so much to our sponsors, exhibitors, & community partners:
Conference Sponsor:
Humphrey School of Public Affairs
Keynote Sponsor:
Books for Africa
Gold Sponsors:
Land O'Lakes
Program Sponsors:
GHR Foundation - Registration Sponsor
MINNCircle Sponsors:
Center for Victims of Torture
Children's Heartlink
Karen Baumgaertner Consulting
Global Minnesota
Mary's Pence
Bronze Sponsors:
Alight
EOS International
Face to Face Health & Counseling Inc.
One Heart Health
United Language Group
Fellows Sponsor:
McKnight Foundation
Marketplace:
AidKonekt
American Relief Agency for the Horn of Africa (ARAHA)
Backpack EMR
Books for Africa
Face to Face Health & Counseling Inc.
Fair AnitaX
Global MN
Impact Hub
Lion's Historian
Land O'Lakes
Mary's Pence
St. Catherine University