The Local Working Group brings together agricultural and natural resources interests existing in Duval County.
About this event
This event is hosted by NRCS, AFCD and Duval Soil and Water Conservation District. It is aimed to encourage participation from local producers, representatives of agricultural and environmental organizations, and representatives of governmental agencies carrying out agricultural and natural resource conservation programs and activities. The meeting is open to the public.
Learn more at http://www.duvalsoilandwater.com/local-working-group.html.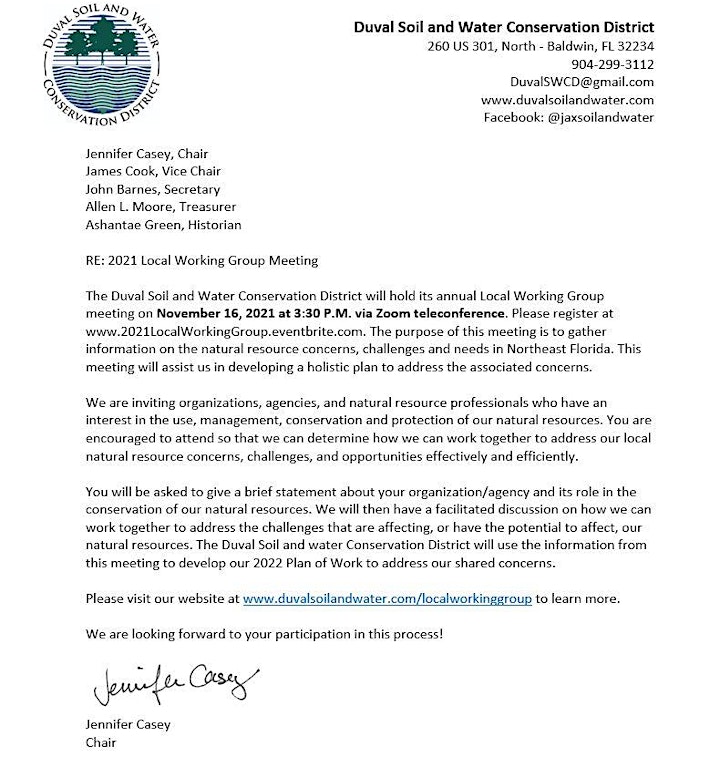 Organizer of 2021 Local Working Group
The Duval Soil and Water Conservation District was created in July of 1953 under the authority created by the Soil Conservation Act, passed by Florida Legislature in 1937. The Duval SWCD was organized by concerned citizens of Duval County to help landowners and users to conserve land, water, forests, wildlife and related natural resources.
Our mission is to deliver natural resources conservation technology and education to local landowners and users and to promote the wise use of land and best management practices that will conserve, improve and sustain the natural resources of Duval County.