Multiple Dates
2021 Intro to Genealogy - 1st Saturday Free! Overview and Focused Topics
Our four-part series is ideal for getting started with genealogy or for advanced researchers who want to revisit principles of good research
About this Event
Introduction to Genealogy for 2021
ONLINE starting January 2
Monthly on First Saturdays, 10:15 am - 12:15 pm PST or PDT
The event is presented online via Zoom
Not sure how to get started with your family research? Interested in refreshing your skills? Join us for a FREE Introduction to Genealogy class the FIRST SATURDAY of every month from 10:15 a.m. - 12:15 p.m.
This is a four-session "Intro to Genealogy" class series. The first class offers an overview of genealogy research. Each of the next three sessions offers a more in-depth focus on the following topics: Census, Vital Records, and Organization. The classes may be taken in any order, and participation in one class is not required to attend others in the series. See below for dates and topics:
Jan 2 Genealogy Basics Overview
Feb 6 Using the Census
Mar 6 Vital Records (Birth, Marriage, and Death)
Apr 3 Organizing Your Family History Work
Note: Separate registration required for each session.
The event will take place via Zoom. If you join, please sign in early to make sure you are able to see the program.  We will send you instructions the night before, and a reminder shortly before the event, which will give you access. Please note all times are Pacific Time. 
You do not have to have a Zoom account to attend a Zoom meeting. You will be prompted to download the software, once you have clicked on the link that you have been provided. You may also wish to create an account, but that is not required to participate in a Zoom meeting.
These events are presented live, and will not be recorded.
See you online!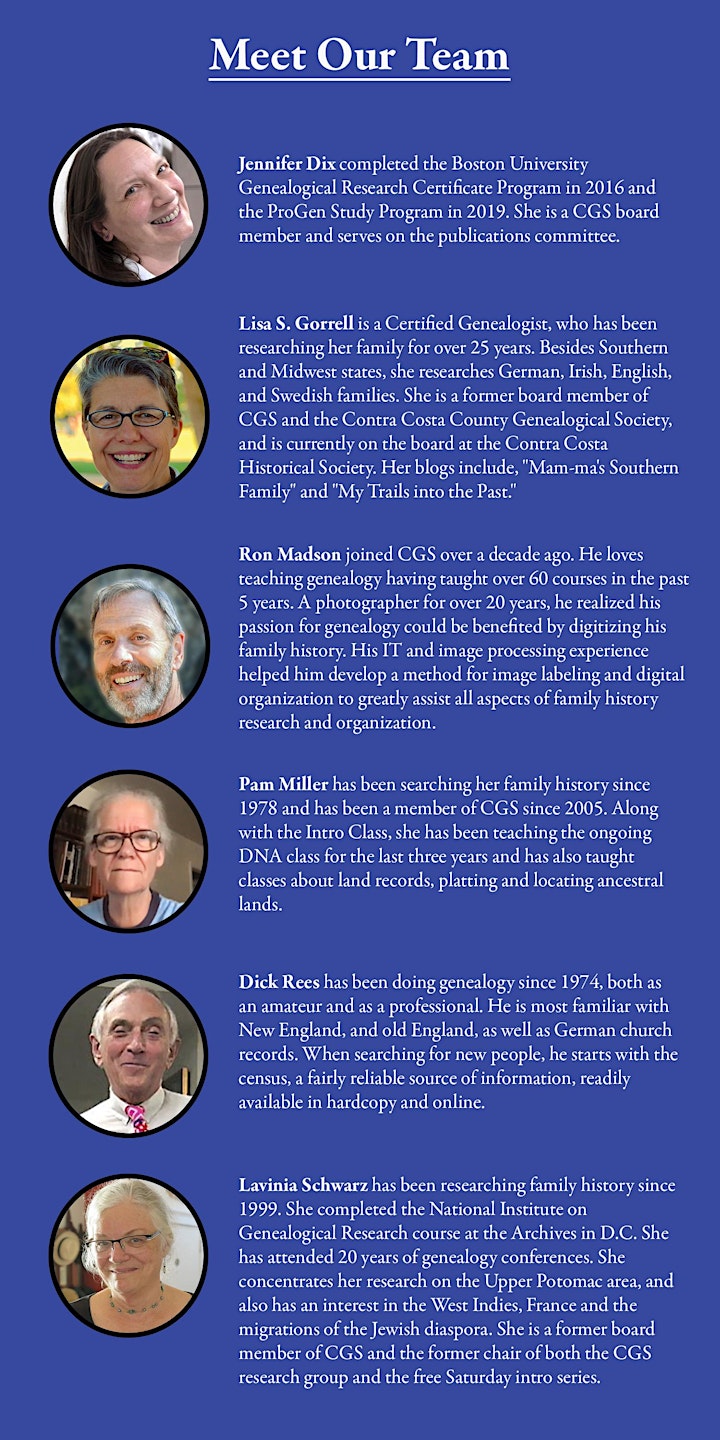 REGISTRATION INFORMATION:
CGS Members and Non-Members enjoy free access.
Register for each session separately.
You can purchase a $45 one-year CGS Basic membership when you check out. To sign up for other membership options go to our web page: CGS Membership application