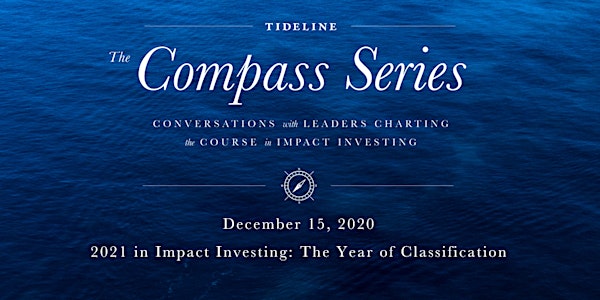 2021 in Impact Investing: The Year of Classification
Join Tideline on December 15th for a dynamic conversation on impact classification with Ben Thornley and other impact investing leaders!
Date and time
Tuesday, December 15, 2020 · 8 - 9am PST
About this event
We are thrilled to announce the inaugural event from the Tideline Compass Series - a series of conversations with leaders and experts charting the course in impact investing.
On December 15th at 11am ET / 4pm GMT, Tideline's Ben Thornley and Duke University's Cathy Clark will co-moderate a panel that reflects on five years of progress since introducing the concept of 'impact classes', and the increasingly essential role of impact classification as more impact funds are created and more asset owners become active in impact.
Cathy and Ben will be joined by two leading allocators, Anna Snider from Bank of America and Bhavika Vyas from StepStone Group, to share their new impact classification and assessment frameworks. They will also be joined by Claudia Coppenolle from the Impact Classification System, a freely-available diagnostic tool laying the groundwork for a new era of formalization in impact investing.
For impact asset allocators and managers alike, this is a discussion not to be missed as impact classification takes center stage in 2021.
Register here to hold your spot. Zoom details will be sent upon registration.
December's Compass Series speakers: