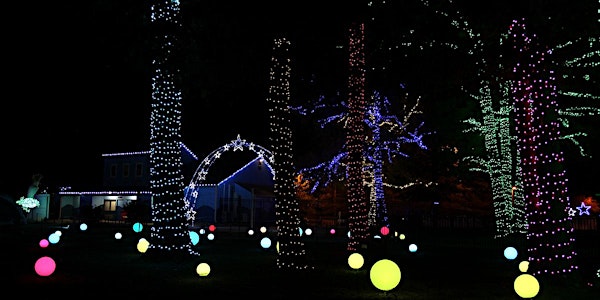 2021 Ice & Lights: The Winter Village at Cameron Run
Ice & Lights- The Winter Village at Cameron Run is back for the 2021-22 Season!
When and where
Location
Cameron Run Regional Park 4001 Eisenhower Avenue Alexandria, VA 22304
About this event
We are so glad you chose to enjoy Ice & Lights- the Winter Village at Cameron Run! Please read the following for tips, tricks, and useful information for your visit.
The Winter Village is open nightly November 19-January 2nd from 5-10pm.
Ice Skating is open nightly November 19-January 2nd from 5-10pm **Ice Skating (includes Village admission) tickets must be purchased online due to capacity limits.
Village entry is ANY TIME BETWEEN 5PM-10PM Nightly. 6:30-8 PM is typically the busiest time of the village. Weekends and holidays are the most popular times. Avoid the crowds and plan your visit early in the season!
Ice Skating times reflect your ON THE ICE TIME. Please arrive prior to skate time to enter Village and get your skates to be ready to enter ice at ticket time. Ice skating tickets include Village admission. You may enter the Village any time between 5-10 PM.
All ice skating tickets must be purchased online.
TICKET TRANSFERS- While tickets are non-refundable, you have the ability to transfer your ticket date and time prior to your ticket time if tickets are available. Watch the video below for detailed instructions. This does NOT work from a phone and must be completed on a desktop computer prior to 3pm on the day of your tickets.
QUESTIONS? - Email us at iceandlights@nvrpa.org at least 24 hours prior to your ticket time with questions. Need help with a transfer or purchased the wrong tickets? Use the communication tool through Eventbrite to contact the organizer.
PROMO CODES- Be sure to enter your promo code when selecting your ticket date. Promo codes cannot be applied after your tickets have been purchased. Also, promo codes are only valid on certain dates. If there are no promo codes available for the date of your purchase, there will not be a promo code link. Watch the video below for a step by step guide.
WEATHER-Be advised, this is a rain or shine event. Tickets are non-refundable. Tickets are transferrable to another date prior to the event ticket time only. The ice rink may close due to unsafe weather conditions. If this occurs, you may receive a rain check for another day.
Skate sessions are limited to one hour starting with your ticket time. All skaters will receive a colored sticker that signifies their skate time. At the end of the hour, the ice will be cleared, rental skates must be returned, and resurfacing procedures will begin for the ice rink.
In order to speed entry, please have your tickets pulled up on your device with your brightness maximized. If you have paper tickets, please have all scannable areas available for the ticket attendant.
TICKETS- For a touch free admission experience, please purchase your tickets online. Skating tickets are ONLY available online.
PARKING-Parking is free! Please look for guests, especially small children, walking through the parking lots. Please do not wait in line into the drive aisle. If lines are long, please wait in your vehicle until it is safe to wait in line on the sidewalks.
WINTER VILLAGE-The Winter Village admission includes admission to Ice & Lights but does NOT include ice skating or skate rentals. Visitors are encouraged to wear comfortable shoes and to dress for the weather. The Village remains open during rain and snow, and is only closed during severe weather. Strollers and wheelchairs are welcome.
SAFETY-Please stay on the pathways at all times. Many light displays have electrical cords and support wires so please do not walk near or around displays. Please feel free to take pictures with the displays, but refrain from touching, climbing, or hanging on any displays or cords. If you see something unsafe, please let staff know immediately.
GREAT PHOTOS-Ice & Lights offers several great photo ops- the walk thru tree, giant wreath, and beautiful design stars are great photos, along with our "skating" photo op and many new displays! Bring your camera and capture memories! Be sure to tag us and post on social media! Use @IceAndLights and iceandlightscameron to tag your pics!
PETS-Only Service animals are permitted at Ice & Lights and must follow leash laws.
FOOD & BEVERAGES-Visit Slice n' Ice for hot chocolate, coffee and cold beverages, pizza, hot dogs, and more! Outside food and beverages are prohibited.
HOLIDAYS-Ice & Lights is open on all holidays---that's Thanksgiving, Christmas Eve & Day, and News Eve & Day! After your big holiday meal, why not take a walk among the beautiful lights?
STAY INFORMED-Learn about special events, discounts, and severe weather closings—LIKE Ice & Lights- The Winter Village at Cameron Run on Facebook and follow us on Instagram.
BUNDLE UP!-Be sure to dress for the weather for your Ice & Lights experience.
ALWAYS SPARKLE!-Ice & Lights offers some fun retail items- light up wands and swords, flashy blinky jewelry and headbands, cuddly stuffed animals, hand warmers and gloves, and a beautiful commemorative ornament! Be sure to check out all of the great bling available for purchase at admissions, concessions, and the retail kiosk.
ICE SKATING RINK RULES
• Timed skating tickets are available in limited quantities.
• Skate session includes a one hour skate block and skate rentals.
• There are no discounts for bringing your own skates.
• Please do not take the skates off of the padded floor or ice. This is a recreational skate rink, not intended for serious skaters.
• Skating in a manner that endangers or interferes with other skater's safety or enjoyment is strictly prohibited.
• Children under the age of seven must be accompanied by a guardian with a paid skate ticket at all times on the ice. A guardian is considered a responsible party 16 years or older with a paid skating ticket.
• The rink is subject to capacity limits. NOVA Parks reserves the right to delay entrance to the rink at anytime.
• NOVA Parks reserves the right to interrupt skating for resurfacing, cleaning, special events, or any purposes deemed necessary by Event Management.
• No guests are admitted on the ice without skates. Socks must be worn at all times while using rental skates.
• While wearing skates off the ice please stay on the rubber matting area only.
• All guests must exit the rink while resurfacing is in progress. Guests may re-enter at the direction of the Skate Rink Supervisor.
• Pass or overtake carefully. Horseplay, excessive speeding, skating against the crowd, or weaving through other skaters is prohibited.
• Skaters are not allowed to carry children or secondary items such as cameras, handbags, or strollers while on the ice.
• Please do not sit, climb, or jump on the rink boards.
• Kicking, digging holes, scraping, or stomping the ice with your blades and kicking the railings are prohibited. Any skater engaging in this behavior will be asked to leave the rink immediately.
• Food is not permitted near the rail. No food or beverages allowed on the ice.• All skaters must listen to the instruction of the skate guards and rink staff.
• Exit must be kept clear at all times. Please use caution when entering and exiting the rink.• Please return skates to the rental shed after use.
• NOVA Parks is not responsible for any stolen or lost items. Please lock your items up!
NOVA Parks has a trio of winter special events: Meadowlark's Winter Walk of Lights is a beautiful walk through winter light show, Bull Run Festival of Lights is a fantastic drive through light show, and we are so proud to add Ice & Lights to our portfolio! Be sure to visit all 3! Learn more at www.novaparks.com