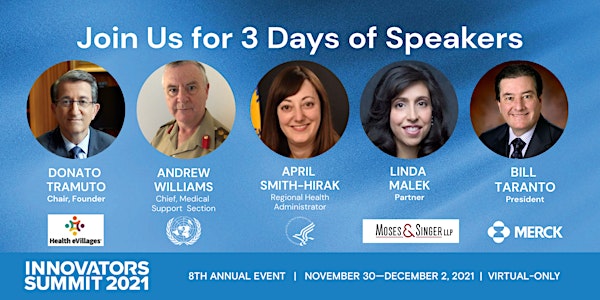 2021 HITLAB Innovators Summit
2021 HITLAB Innovators Summit
About this event
HITLAB Presents the 8th Annual Innovators Summit
Digital Health Economics in the New Normal
HITLAB's 2021 innovators Summit includes three full days of virtual networking sessions, panel interviews, keynote addresses from industry leaders such as Merck, Johnson & Johnson, Pfizer, Novartis, Livongo, and many more. The interactive summit will also feature focused breakout workshops, a digital cocktail hour, daily Innovators Showcase, and the virtual return of Innovator Alley.
Reflecting the on-going pandemic, this unique international, three-day digital health summit is coming to your personal virtual office from November 30th through December 2nd.
Hundreds of life science and pharmaceutical executives, providers, payers, and investors will be joining this first ever fully virtual annual summit.
RSVP Today!
Join the only conference in the world that focuses on the diffusion of digital technologies in the healthcare system. Learn from the world's preeminent technologists, entrepreneurs, designers, data scientists, bioinformaticists, biomedical engineers, professors, venture capitalists, and public health professionals who are on the front lines of identifying, validating, integrating, and scaling emerging technologies that are improving patient outcomes.
Click here to see past speakers and the 2020 agenda.
Questions: Email summit@hitlab.org
Agenda Day 1 (All times shown in EST)
10am to 10:45am - Opening address & Tribute to Glen de Vries led by Stan Kachnowski, Chair, HITLAB
11am to 11:45am - Decentralized Trials - Accelerators & Decelerators; the role of innovative technologies with:
Rama Rao, Founder/CEO of Bloqcube
Kevin Coker, CEO of Proxima
Brigid Siegel, VP R&D Procurement, Takeda
Dr. PK Narang, Regulatory & Clinical Trials Advisor
Dr. Alex Cahana
12pm to 12:30pm - Herding Cats 101: How An On-Call Management System Brought Structure to Chaos During Covid with:
Dr. Stan Kachnowski, Chair, HITLAB
Sheri, Providence
12:30pm to 1pm- Oncology Diagnostics
Ganesh Mugundu, Takeda
Erik Mudovu, Generable
1pm to 1:30pm-
1:30pm to2pm- NYC EDC: LifeSci Builder
Dr. Stan Kachnowski, Chair, HITLAB interviews Monica Malowney
2pm to 2:30pm- From Algorithms to Diagnosis: Breakthroughs in Women's Reproductive Health
Rachel Scherl
Somer Baburek
3pm to 4pm- INNOVATORS SHOWCASE
4pm to 4:30pm- Post natal/post partum care
Simal Ozen Irmak, Tibi Health
Shailja, Curio
4:30pm to 5:30pm- Agetech, Social Connections
Victor Wang, CEO of Care.coach
Robin Albin Michael Quallet, Managing Director of VSC
Everett Crosland, CCO of Cognito
5:30pm to 6pm-RWE & Data Analytics in local, government, global health systems
Nassar Nizami, EVP, CDO of Jefferson Health
Fran Ayalasomayajula, President at Reach(HP)
April Smith-Hirak, Regional Health Administrator US DHHS
6pm to 6:30pm- Blockchain in data sharing for more efficient healthcare systems
Marc Haddle,Risk and Compliance Officer at Ohio North East Health Systems
6:30pm to 7pm- Innovation and technology enable access and health equity in Uganda
Julia Masellos (Moderator)
Andrew Ddembe
Paul Crook
Sumeya Ali
7pm to 8pm- LATE NETWORKING
Agenda Day 2
DAY 2- 1st December
IST Sessions
2 pm to 2:30 pm- KEYNOTE SESSION
Prof. M.P. Gupta, Director of Management Studies, IIT Delhi
3 pm to 3:30 pm- Reimagining healthcare ecosystem post-COVID - lessons learnt by the industry and the road ahead
Dr. Uma Nambiar, Executive Director at Gimcare Hospitals and Chairperson at DHIA
3:30 pm to 4 pm- Hospital-at-home and remote patient monitoring: The Next Big Wave in Digital!
Dr. Hari Thalapalli, CEO at Call Health
4 pm to 4:30 pm- The Need for Innovative approaches to enhance Health Data Literacy
Prof. Supten Sarbadhikari, Fellow, International Academy of Health Sciences Informatics
4:30 pm to 5 pm- Telehealth in 2021 and beyond: An Indian Perspective
Prof. K. Ganapathy, Director, Apollo Telemedicine Networking Foundation & Apollo Tele Health Services
5 pm to 6 pm- Panel Discussion: Using digital innovations to transform care outcomes, promote health equity and save costs.
Dr. Saurabh Lall, General Manager at a leading hospital chain in India
Cdr. Navneet Bali, Director Northern Region at Narayana Health
Sylvana Q. Sinha, Founder, Chair & CEO at Prava Health
6 pm to 6:30 pm- Artificial Intelligence in Health Policy – A Global Perspective
Dr. Ruchi Dass, Managing Director at Healthcare Consulting Group
EST Sessions
8 am to 8:15 am- Bridging the Gap Between Government and Digital HealthTech Innovations: Stories from Israel & India
Rawit Varsha
Shruti Nivalkar
8:15am to 8:30am- Live-interactive, in vivo (noninvasive) reflectance confocal microscopy for diagnosis of skin cancer
Manu Jain, Assistant Professor at Memorial Sloan Kettering Cancer Center
8:30am to 8:45am- Digitization of Big Pharma: The Transformation Within, The Impact Without
Jim McGough, Co-Founder and Director at EdgeOne Medical
8:45am to 9:30am- Discussion with Professors from Columbia Business School
9:30am to 10am- Keynote Session- The future of digital health in 2022
William Taranto, President, Merck Global Health Innovation Fund, LLC and VP, Merck Global Health Innovation Group
10am to 11am- Panel Discussion: The Benefit of Moving to the Cloud in Healthcare
Meg Columbia-Walsh
Dan Sheeran, Director, Life Sciences, Amazon
Kim Forte, AWS Healthcare & Life Sciences Director
11:30am- 12noon- Women Health Tech Wednesday
Nina Joshi
Sara Vaezy, Providence
12pm to 1pm- Innovator Showcase
1pm to 1:30pm- The Role of Patient-Generated Data in Population Health Management
Nathan Sundheimer
Howard Rosen
John Doyle
2pm to 2:30pm- The Power of Information-Sharing to Enable Doctors and Empower Patients
David Hall, CEO and Co-founder atTAMP
James Hamrick, Flatiron
Jason Lazar, Vice Dean of Education at SUNY
3pm to 3:30pm- Innovations in Pre-Natal Care: From AI for Fertility to Promoting Fetal Health Pillows
Karli Buchling
Ashleigh M. Brown, Founder and CEO at CLAIRE Fertility
3:30pm to 4pm- Conversations are Key: Using AI to Empower Patients and Close the Information Gap
4pm to 4:30pm- How women's health innovations are changing lives for patients and practicioners
Mitzi Krockover, Partner at SSB Solutions
Kaitlin Christine, Founder at Gabbi
Heidi Edelstein , Co-founder at Verbenna
Karen Patrusky, Co-founder at Verbenna
4:30pm to 5:30pm- Translating Medical Device and Digital Health Data into Business Value
Zina Manji
Sahab Aslam
Robert Garber
Glen Tulman
5:30pm to 6pm- Building a Library for Dr. Google: Answering Questions Patients REALLY Want To Ask
Julia Walsh, Brand Medicine
6pm-6:15pm- Managing and Preventing HCP Burn Out
Prem Sreenivasan, Senior Fellow, HITLAB
Akhila Satish, CEO at Meseekna
6:15pm-6:45pm- HIT Like a Girl Live Podcast Episode
Joy Rios, Founder at HIT Like A Girl Podcast
April Smith-Hirak
6:45pm-7pm- High Tech Accelerated Tissue Repair for Optimal Wellbeing
Grace Hameister, Founder at Food FixR
DAY 3 Agenda
IST Sessions
2pm to 2:30pm- Emerging Digital Health Technologies for Prevention & Management of Diabetic Foot Disease
Vandana Yadav, Senior Consultant- Research & Strategy, HITLAB
2:30pm to 3pm- Health Informatics: Knowledge Discovery in Clinical Documentation
Dr. S.B. Bhattacharyya, Founder & CEO, Bhattacharyyas Clinical Records Research & Informatics LLP
4:30pm to 5pm- Digital Therapeutics - Potential, Impact & Challenges
Dr. Pandula Siribaddana, Honorary Fellow, Commonwealth Centre for Digital Health Sri Lanka
5pm to 6pm- Panel Discussion- Implementing digital-first policies at every stage of healthcare ecosystem & promoting industry-wide collaborations for open innovation.
Vibhav Garg, Director-Govt Affairs Strategy, India HUB & ASEAN
Mohammed Ameel, HEAD- Primary Healthcare, Technology & Innovations, PATH
6pm to 6:15pm- Evolution of Digital Health in India and NDHM
Prof. Rajendra Pratap Gupta, Founder of Health Parliament & Former Advisor to Health Minister, GOI
EST Sessions
7:45am to 8am- AI-based dental exams at home
Anderson, Dentiscope
8am to 8:15am- Critical care resources, antimicrobial stewardship and sepsis epidemiology in southeast Asia.
Ashwani Kumar
8:15am to 8:30am- Motivational AI and VR
Aaron
Staunton
9am to 9:15am- Remote Surgery in Crisis and Beyond
Andrew Williams, Chief-Medical Support Section, United Nations
9:30am to 10am- Compassionate Leadership in Health Care and that effect on the Social Determinants of Health
Donato Trumato, Executive in Residence at Sharecare, Promerica Health, and Gento Health
*Please keep checking this space for latest agenda
*Media Disclosure
HITLAB reserves the right to use any photograph/video taken at any event sponsored by HITLAB, without the expressed written permission of those included within the photograph/video. HITLAB may use the photograph/video in publications or other media material produced, used or contracted by HITLAB including but not limited to: brochures, invitations, books, newspapers, magazines, television, websites, etc. You are agreeing the media policy upon entering the event; further details are available at the event or at hitlab.org/media-disclosure.