Location
Capital Sports Center
5209 Luce Ave
McClellan Park, CA 95652
Sales Have Ended
Registrations are closed
Walk Up Registration WILL BE allowed - Please arrive no later than 1:45 p. and the fee is $100.00 cash.
2021 College Eval Combine - July 24th Sacramento, CA - Get Trained, Evaluated and Recruited by College Coaches!
About this event
Championship Combines, in partnership with the Northern California Volleyball Association (NCVA), is proud to present the 2021 College Eval Combine - Sacramento!
The College Eval Combine - Sacramento will be held on July 24th from 9 a.m. to 4 p.m. at the Capital Sports Center (5209 Luce Ave, McClellan Park, CA 95652) and is open to any female athlete who is entering or in high school.
The College Eval Combine is a unique opportunity where players will be trained, evaluated and recruited by regional college volleyball coaches!
In addition, the players will have height, reach, block jump and approach jump measurements taken, and the scrimmages will be video recorded for use by the players for recruiting!
11 College Coaches, from a variety of schools and categories, training and evaluating the players has secured !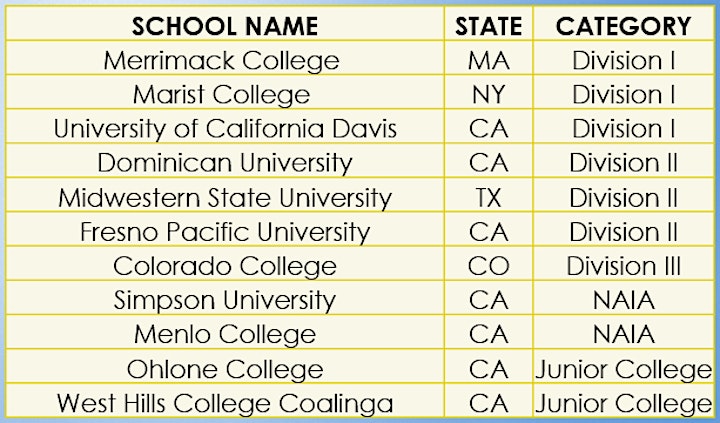 Open to any Female Athletes, entering or in High School.
Each Player will receive multiple written skill and recruiting evaluations.
Height, Reach, Block Jump and Approach Jump measurements will be taken and provided to the player/family.
Drills and Scrimmages will be video recorded and players will have access to the recording for their recruiting efforts.
Recruiting Education talks for parents and players provided by a former 15 year NCAA Division I Head Volleyball coach!
Regional college coaches invited to recruit at the combine.
College coaches will be divided into two groups; in each session, 1 group will train and 1 group will evaluate players.
Morning Session:
- Physical Testing, positional training with each college coach, group scrimmages - Parent Recruiting Education talk.
Lunch Break:
- Athletes need to bring their own lunch but fruit and snacks will be provided - College Coach panel for players and parents.
Afternoon Session:
- Positional training with each college coach, group scrimmages - Athletes provided Physical Testing results and Written Evaluations at conclusion of combine.
Post Combine:
- The Video Recording link, for use in player recruiting efforts will be emailed to the players/families - Please note, this recording will not be edited per player.
In addition to the college coaches providing training and evaluations at the College Eval Combine - Sacramento, regional college coaches will be invited come recruit. Player Contact Information provided to each attending college coach.
Additional information will be emailed to players/families after they register!
**Please note, no refunds within 48 hours of the event or post event - Any refunds will not include the eventbrite.com fees per eventbrite.com policy***