Description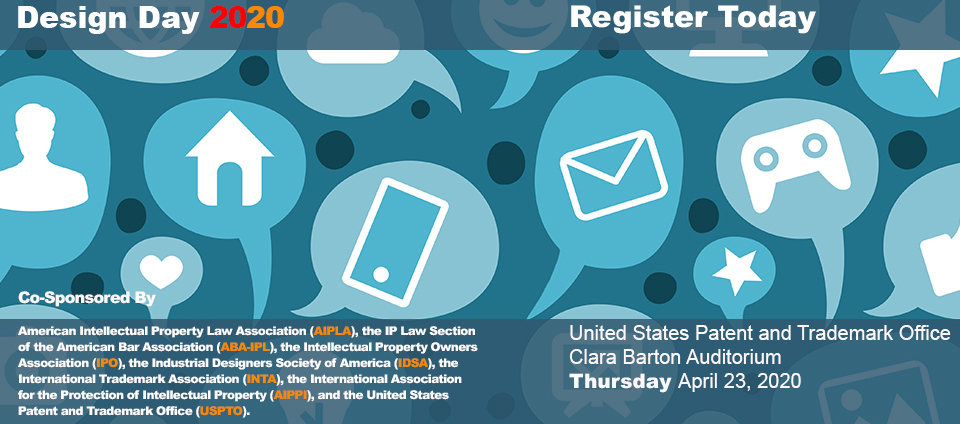 Spend the day at this free seminar with United States Patent and Trademark Office Design Examiners, Managers, Design Patent Practitioners and Industrial Designers from across the country. Join us for a lively and thought-provoking discussion about all aspects of design patents, from conception through enforcement. (There is no fee to attend; however, we ask that you register in advance.) No CLE credit is offered for this event.
Topics include:
Update from the Director of Technology Center 2900

Presentations from major corporations, including Whirlpool and Facebook, on strategic protection and enforcement of designs

Practical tips on using WIPO's Digital Access Service (DAS), which is growing in popularity for design practitioners

Presentation from American University professor, Christine Farley, tracing the history of design protection for the Mid-Century Modern furniture industry

Update on pending legislation to enforce U.S. design patents at the U.S. border

Case law summaries on important design patent decisions over the past year, from the Federal Circuit, district court, and PTAB

And more!
8:30 – 9:00 am Continental Breakfast
9:00 am –5:00 pm Registration
9:00 am – 5:00 pm Meeting
12:00 - 1:15 pm Lunch and Interaction
5:00 pm Closing
PLEASE NOTE: Design Day will also be webcast to all four USPTO regional offices: Silicon Valley, CA; Denver, CO; Dallas, TX; and Detroit, MI. Be sure to select the correct location for your participation. Separate instructions will be provided depending on the location where you plan to participate:
Alexandria, VA -- 300 total capacity
Dallas, TX -- 100 total capacity
Denver, CO -- 100 total capacity
Detriot, MI -- 100 total capacity
Silicon Valley, CA -- 100 total capacity
Be sure to indicate your affiliation when registering: Government, Private Practice, In-House Counsel, Industry, Industrial Designer, Academic or Other.