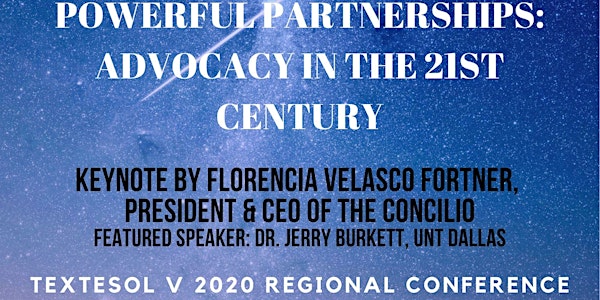 2020 TexTESOL V Regional Conference
When and where
Location
University of Texas Arlington Nedderman Hall 211 S. Cooper St. Arlington, TX 76013
Refund Policy
Contact the organizer to request a refund.
Eventbrite's fee is nonrefundable.
Description
Do you want to learn effective and innovative strategies for teaching ESL? Join us for the 2020 TexTESOL V Regional Conference. Our theme this year is "Powerful Partnerships: Advocacy in the 21st Century."

Some of the highlights of the conference include:
1 full day of workshops, demonstrations, and networking opportunities tailored to English Language professionals

Keynote address by

Florencia Velasco Fortner

, the president and CEO of The Concilio

Featured Speaker Dr. Jerry Burkett from UNT Dallas

Complimentary breakfast and lunch

Over 80 speakers and presenters

A poster session featuring the latest research-based practices

Opportunity to network with TexELT journal editors and staff

Exhibits and booths that allow you in person interaction with publishers and educational vendors
If you are registering with part of a district or organization, contact textesol5@gmail.com to obtain an invoice and promo code for your group. Participants will be able to use the free code to register themselves, and the organizer will mail the payment to TexTESOL V, P.O Box 1173, Fort Worth, TX 76101.
Conference Schedule:
Probable event timeline is as follows:
Breakfast and registration: 7:30 AM - 8:30 AM
Session 1: 8:30 AM - 9:15 AM
Session 2: 9:30 AM - 10:15 AM
Meeting and Keynote: 10:30 AM - 12:00 PM
Lunch: 12:00 PM - 1:00 PM
Session 3: 1:15 PM - 2:00PM
Session 4: 2:15 PM - 3:00PM
Session 5: 3:15PM - 4:00PM
Keynote:

Florencia Velasco Fortner, the President and CEO of The Concilio



For 25 years, Florencia Velasco Fortner has used her experience as a grassroots organizer and child advocate to positively impact low-income families throughout North Texas and Southern California. Before joining The Concilio, she worked as an organizer with the legendary Industrial Areas Foundation, diffused cultural clashes in Santa Ana's affordable housing communities, and helped launch Education is Freedom college access program with Dallas ISD.
It was her intervention work with gang members in L.A., however, that taught Florencia the critical role parents play in helping at-risk children. She recently wrote in The Dallas Morning News about discovering that a six-month intervention with a young girl had failed: "At that moment I had an epiphany. I had mistakenly assumed that it was enough that I cared intensely about helping her... Now it was apparent that if I wanted to make a difference in her life, I needed her mother's help."
Since then, Florencia has become a nationally-recognized expert on parental engagement. She is frequently interviewed by print and TV media, where she champions the importance of engaging parents as the most effective way to improve children's lives. She is also widely regarded as an expert on Latino culture, engaging Latino families, and the achievement gaps in low-income communities.
In 2005, Florencia joined The Concilio, which empowers high-risk families to take active roles in their children's health and education. Under her leadership, The Concilio has quintupled its assets and increased the number of families served from 2,000 to over 14,000. In 2014, The Concilio was named "Nonprofit Agency of the Year" by CNM Connect, and in 2015, Florencia received the "LA CIMA Nonprofit Leader Award" from the Greater Dallas Hispanic Chamber of Commerce. In November 2019, Florencia was named "Nonprofit CEO of the Year" by the Center for Nonprofit Management (CNM).
Florencia is an American Marshall Memorial Fellow and a graduate of Leadership Dallas, Power of Self, and Cultivating Women's Leadership. She is a member of the Dallas Summit, Dallas Assembly, and Hispanic 100. She serves on the Hispanic Ambassador Council for Communities Foundation of Texas, and the advisory boards of the Dallas Women's Foundation and Archives for Women of the Southwest at SMU. She also serves on the board of directors for Commit! and the Texas Leadership Forum.
Florencia is a pastor's wife at New Mount Moriah Baptist Church and serves on the Deaconess Board. She is a proud mother of a 17-year-old daughter.


Featured Speaker: Dr. Jerry Burkett, UNT Dallas


Dr. Jerry R. Burkett has 16 years of public education experience on the elementary and secondary levels in the state of Texas. He has served in a variety of roles including teacher, principal, and administrator, and currently serves as director of college and career readiness for an urban school district. Dr. Burkett's experience includes administration experience in Title I elementary schools; community engagement and parental involvement initiatives; implementing North Texas' first Science, Technology, Engineering, and Math (STEM) concept school on the elementary level; as well as incorporating partnerships with corporations and universities into the classroom experience.

He received his doctorate in educational leadership from Dallas Baptist University with specialization in alternative and traditional certification and its relationship to classroom management. He earned a Master of Educational Administration degree from Dallas Baptist University in 2004 and his Bachelor of Science in Education from Baylor University in 1999.

Dr. Burkett serves as an advocate for public education, writing and speaking on topics including school finance, educational leadership, and social justice issues in education. He was featured on the Scott Braddock Show on News FM 92 and the "SchoolPriorityMinute" produced by Make Education a Priority. Dr. Burkett actively works with legislators on the state and federal level to foster better understanding of education policy initiatives and needs.

In 2013 Dr. Burkett was selected as a member of the Phi Delta Kappa Emerging Leaders, Class of 2013-14 and earned Dallas Baptist University's Distinguished Alumni Award.

Dr. Burkett resides in the Dallas-Fort Worth metroplex with his wife and son. He is active in coaching youth sports, running, weightlifting, karate, and playing guitar.
For further questions about this event, please contact conference chair, Dr. MaryLynn Patton, mpatton@dcccd.edu.